Published in the March 8 – March 21, 2017 issue of Gilroy Life
By Sal Calisi
Since 2011, my staff and I at Odeum have taken great pride in being a part of the Morgan Hill community. Over the years, I have come to feel like I'm part of a wonderful family with the people we serve in our restaurant. We try to make every guest feel as if they our friends and we're celebrating life and great food together.
We really embrace and value the people who are our patrons. That's why I wish to apologize to the community and our patrons for diminishing some of your trust by my decision to serve at times tilapia instead of petrale sole as was listed on our menu.
I became a professional chef because restaurants are the Calisi family business. My father owns a restaurant in the Bronx in New York City. And I consider the people who step into Odeum — every person — as a valued member of the family. Just like family, for six years the people of the South Valley have made Odeum a part of their most important celebrations. It has been an honor to be a small part of your birthdays, anniversaries and company dinners. The warmth and trust this community has shown me has been a great honor.
Between October 2014 and March 2016, if you ordered the petrale sole from Odeum, you may have had tilapia instead. I take full responsibility for the decision to serve the tilapia.
At Odeum, I take great pride in the quality of food we serve our guests. I ask my suppliers to provide our kitchen with the highest quality ingredients, and I will pay top dollar for the best. That's why it's painful for me to learn that some people think I made the decision for profit. On the occasions the fish was substituted, a larger portion of tilapia was served to our customers.
I made the decision to serve tilapia, which comes from Mexico, because of the frequent inconsistency of the availability and quality of petrale sole that was shipped from the East Coast.
The tilapia was served when the quality of sole available was not up to our standards or was not regularly available. This, however, does not excuse the fact that the change was not always verbally communicated to our patrons or through a menu change.
I want to apologize to the community and to my staff for my lack of judgment. In every other area of our restaurant, and in every other area in my life, I try my best to honor our relationship by serving you the highest quality ingredients in our cuisine.
My heart is broken thinking the community may be questioning my commitment to quality. Obviously, this has been a painful experience for me, but it has also enabled me to grow as a man. I also have learned to appreciate even more the love and support I have felt from the South Valley community.
I have always felt a respect and warmth from the people here with what I want to achieve with the Odeum experience for our diners. Many people have told me that they still believe in me as an individual who always takes pride in doing the right thing in everything that I do. I'm grateful for that. I really want the community to know that I love the people who live here. I want to continue to support and participate in our town's activities and nonprofit organizations.
You were here for me, Morgan Hill. I want to continue to be here for you. I hope that, like family, you'll give me a second chance to earn the right to be a part of your celebrations. In the meantime, I will always have a seat for you at my table.
Sal Calisi is the owner and executive chef at Odeum, a Mediterranean cuisine restaurant in downtown Morgan Hill.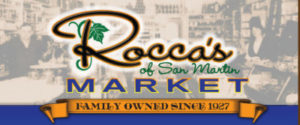 Latest posts by Marty Cheek (see all)