Marv Thomas and his wife Roxie still live in the home built in 1973
Published in the April 19 – May 2, 2017 issue of Gilroy Life
By Dan Hazen – Special to Gilroy Life
There's an appliance business in Gilroy started by a man who at one time wanted to become a pilot, worked in agricultural research and sold pesticides and fertilizers before learning to repair appliances. Now, 41 years later, Thomas Appliance Service still operates in Gilroy.
The road to Gilroy for Marv Thomas was filled with success and setbacks.
Born and raised in Powell Butte, Ore., his family moved to Tulelake when he was 7 after his father was awarded a homestead. This is where Marv would toboggan down hills in the winter with friends and Japanese-American children let out of Tule Lake Internment camp to romp in the snow and get away from the reality of World War II (in 1942 the camp was built as one of 10 camps in the U.S.). Although these were difficult times, Marv recalls his parents rented rooms to some camp workers. These were good people to know as they had access to the Army PX, which in turn got the youngster all the candy and chocolate he cares to remember.
"It also created a large dentist bill," joked Marv, and filled his mouth with gold inlays.
His mother became a notary public and served those interned. His father, the Tulelake mailman, also ran the family farm. His was a hard working family, and from a young age Marv, now 85, was responsible for helping milk the family's 35 Jersey cows. He fondly remembers milking the cows "as if they had spark plugs for udders," which for a young mechanically inclined lad brought a sense of familiarity to the task.
Marv grew up the son of Oregon State graduates and when he completed high school he followed his parents' footsteps to Corvallis, majoring in agricultural engineering. He also learned to fly planes with two friends, and attended ROTC training. Marv dreamed of becoming an Air Force pilot. It was in Corvallis he and his two flying friends purchased a used plane. And there they practiced takeoffs, landings and perfected their flying. Tragically, one day back in Tulelake, Marv's brother-in-law and flight instructor crashed and died when the controls malfunctioned. "I felt really bad and had been flying with the same instructor in the same plane just two days before," recalled Marv. This catastrophe deeply affected his parents, and at their behest Marv abandoned his dream of becoming a pilot. "I did regret giving up flying," he Marv, "but at the same time I was happy to honor my parents' request." After graduation the now-Second Lieutenant in the Air Force and was assigned to a vehicle squadron and stationed in England.
Upon his return to the states he took up residence in a boarding house in Berkeley, where he would meet his wife Roxie. Marv, then 26, was working for the Berkeley Experimental Agriculture Station. Roxie was 27. As Roxie was coming to the end of her stay in Berkeley working for Northrup-King Seed Company, Marv convinced her to go to San Francisco for dinner and a movie. That first date began their romance. They would marry in Fresno in 1957.
The couple has three daughters and have lived in the same home in Gilroy since it was built in 1973.
Marv started working for Ortho selling pesticides and fertilizers and the young couple moved to Watsonville. But, this was not to be Marv's calling. After moving to Tulelake in 1960 and working the family farm, Marv and Roxie permanently settled in Gilroy in 1964. Marv became a foreman for Joseph Gubser in Gilroy growing garlic. But he was also tiring of agriculture, so Marv enrolled in night school for household appliance repair and found he really enjoyed the work. By 1970 Marv was performing appliance repairs and TV antenna work. In 1976 Marv launched his own business. Today, decades later, Thomas Appliance Service of Gilroy is still in business.
Marv serves as a Presbyterian elder, deacon, and usher. He started "Flowers Around" for widows at Valentine's Day and "Tools Around" for the elderly in need of handyman services. He has been a Rotarian since 1977, and has worked with the Gilroy Police Department removing graffiti.
Marv is also launching a Sudoku site at www.starsinsudokuland.com. A man of many parts who in the words of his father was never afraid to "hitch his wagon to a star."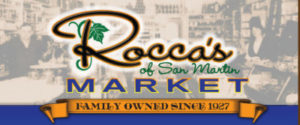 Latest posts by Marty Cheek (see all)