'A Funny Thing Happened on the Way to the Forum' coming to Gilroy stage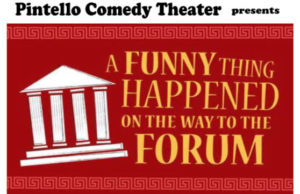 The comedy of ancient Rome is coming to the South Valley. Gilroy's popular comedy venue Pintello Comedy Theater will perform the musical "A Funny Thing Happened on the Way to the Forum" for four weekends starting Friday, Sept. 1.
The 1962 Tony Award-winning Broadway hit created by Larry Gelbart, Bert Shevelove, and Stephen Sondheim was inspired by the farces of the ancient Roman playwright Plautus who lived from 251 to 183 B.C.
The musical tells the bawdy story of a slave named Pseudolus and his attempts to win his freedom by helping his young master woo the girl next door. It uses elements of farce, including puns, the slamming of doors, cases of mistaken identity (frequently involving characters disguising themselves as one another), and satirical comments on social class.
Presenting this energetic musical comedy is quite a project, and Pintello Comedy Theater is up to the challenge, said Whitney Pintello, director of the show.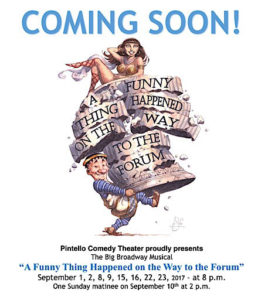 Audience members from throughout the South Valley will be sure to laugh wildly at the talented actors, singers and dancers, catchy tunes, and witty humor.
"There's great enthusiasm from the stage, and from audiences," she said. "This show is timeless."
"A Funny Thing… " contains lots of funny things happening on the way to Rome's famous Forum in the heart of the ancient city. Besides Pseudolus' goal to gain his freedom, Hero falls in love with Philia, Senex dreams of having a maid, Domina demands order, Marcus Lycus tries to please everyone, Erronius trudges in circles, Miles Gloriosus boasts of his prowess, and Hysterium can barely keep up. Add in the dancing courtesans and manly Proteans for an evening of farcical fun.
Setting the pace as Pseudolus is Pintello Comedy Theater's Dave Leon (the Trekkie Monster in "Avenue Q," and winner of the "25th Annual Putnam County Spelling Bee").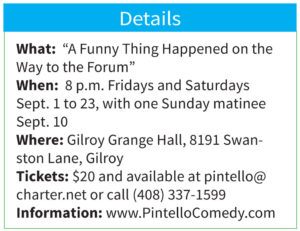 He also serves as musical director. The performers are Vanessa Alvarez, Lawrence-Michael Arias, Taunya Barrera, Alex Cox, Vicky Glenn-Perret, Matt Haluza, Duane Holt, Dave Leon, Joline Masten, Ronnie Misra, CJ Patereau, Rod Pintello, Jery Rosas, Sarah Smith, Andrew Stebbins, James Swan and Jennifer Young.
"From elegant ballads to naughty duets to full-scale harmonies, this troupe can do it all," Leon said.
Produced by Rod and Marion Pintello, the musical comedy will be shown in the Gilroy Grange Hall at 8191 Swanston Lane in Gilroy.
This is the Pintello family theater troupe's 60th show and their 15th year entertaining South Bay residents and teaming up with more than 100 different actors.
Pintello Comedy Theater continues to present full-length comedy plays featuring local actors, comfortable table seating, wine, coffee and snacks, and their trademark friendly welcome.
"We are proud to be featuring local wines with our refreshments, too," said producer Rod Pintello.
Bringing four new comedies to the stage each year at the Grange Hall is a labor of love, Marion Pintello said.
"We're enormously pleased with the enthusiasm of our audiences. Our patrons have become friends," she said.
Pintello family members Rod, Marion, Whitney, Simon and Charley are happy to welcome everyone to the fun and friendly atmosphere of their theater at the Grange Hall in Gilroy. They're sure their patrons will agree with their motto: "There's Something Funny Going on Here!"