Money raised also helps at-risk youth programs in Gilroy
Published in the August 23 – Sept. 5, 2017 issue of Gilroy Life
By Marty Cheek
The concepts of community policing play an important role in ensuring the daily safety of the more than 55,000 residents of Gilroy. A bedrock of that public safety is the Gilroy Police Foundation, a group of local volunteers who work to raise awareness and community support for the unmet needs of the Gilroy Police Department.
Since the nonprofit was formed two years ago it has contributed in many ways to public safety in the South Valley region. In its first year, with the financial generosity of garlic grower Don Christopher, the group was able to acquire for the GPD a new K-9 police officer named Scottie, said GPF volunteer Linda Wieck.
"We also purchased Scottie his bulletproof vest," she said.
Money raised by the foundation added an extra night at the Late Night Gym and provided funds to help feed the youth in the city programs. Other items the foundation helped purchase include medic packs for each of the patrol units, she said.
"The medic packs can be used to treat officers or a partner if they have an injury or gunshot wound," she said. "Shortly after the patrol units received their medic packs, officers Adam Moon and Daniel Pineda used one of the packs to save the life of a gunshot victim in Gilroy."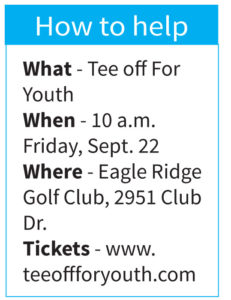 Most recently the foundation outfitted the GPD's mounted police unit with custom-made saddles to replace the 25-year-old saddles the officers were making due with. Two saddle purchases have been completed and the remaining four saddles are in process.
To help pay for the equipment and services, the foundation will host its Tee Off for Youth Golf Classic Friday, Sept 22, at Eagle Ridge Golf Course. The fundraising event this year will support the South County Youth Task Force programs and services and other youth initiatives. The group has a goal of raising $10,000 at this year's golf game.
"The annual event was created to raise funds to help pay for programs and services for at-risk youth in Gilroy," said Denise Turner, who decided to spend time volunteering with the foundation after she retired as Gilroy's police chief last year. "All dollars raised here stay here."
The golf event was originally sponsored by Mayor Don Gage and the Gilroy Rotary Club, she said. It moved to the Gilroy Gang Task Force. In 2016, the GPF partnered to co-host the event and this year the GPF will be the host.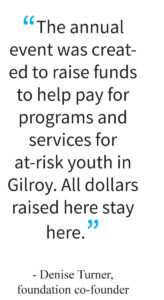 "Golfers in the region love this event and participate year after year," she said. "What makes our event different is our ability to bring a professional golfer to the event."
In 2016 and 2017, the foundation brought Dave Stockton to host a golf clinic, do a meet and greet with golfers and help raise funds during the auction. Stockton has won multiple PGA Tours and the Champions Tour.
The Gilroy Police Foundation is based on a model similar to Morgan Hill's Community Law Enforcement Foundation, Wieck said.
"I have been involved with CLEF as a volunteer when I was living in Morgan Hill, and I still help them with their annual Cops & Robbers Ball," she said. "Once I moved to Gilroy I wanted to get involved in the community and realized there was no police foundation in Gilroy. Sometime in 2014, I met Chief Denise Turner for coffee to discuss the idea of starting a foundation that supported the unmet needs of the Gilroy Police Department."
Turner liked the idea but was concerned that the foundation might have difficulty raising money competing with other nonprofits in Gilroy. Wieck told her that if CLEF could get the community's support for its police department in Morgan Hill, than a foundation in Gilroy would also be successful. She assured Turner that Gilroy residents would rally around public safety and community policing needs.
"I told her my only concern was my being new to Gilroy and not having a network to form a board," Wieck said. "Denise having the connections took that role on, and together we work to get the Gilroy Police Foundation up and running."
Turner worked on helping find interested board candidates and Wieck worked on all the paperwork. Several key community members stepped forward and agreed to become part of the creation of the new foundation.
"We got a lot of support from then CLEF Board President Sharron Daniels and Morgan Hill Police Chief David Swing," Wieck said. "Sharron shared a copy of their bylaws so we could create our own and met with Denise Turner and me several times, not to mention answering numerous emails and calls from me."
Swing came as a guest to an initial meeting that Denise Turner set up with potential board members. He explained what CLEF does for the MHPD and that Gilroy's police department would benefit significantly with a foundation that supported the public safety needs that the city budget is unable to pay for.
"His talk was instrumental in us getting a full board quickly," Wieck said.
The original board was made up of Mark Turner, Mike Thompson, Mary Donahue, James Keen, Wieck, Rui Bronze, Jane Howard and Teri Freedman.
The reputation of the Gilroy Police Foundation for community involvement grew quickly. Its volunteers participate each year in National Night Out, attend Gilroy Chamber of Commerce events, and go to the Coffee with a Cop chats. The foundation provides support for the police personnel through "acts of kindness" during National Police Memorial week and during department ceremonies, Turner said.
"The foundation has been a very positive public relations face to the GPD," she said. "They have been fundraising and creating more community awareness to help improve relationships. The officers feel supported. We strive to help keep that positive image and support the men and women who bravely serve on the front lines to keep us safe."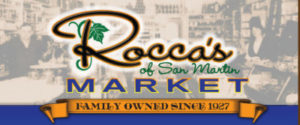 Latest posts by Marty Cheek (see all)