Many of the vegetables and herbs used in the Farm-to-Table meal were harvested from the garden
Published in the September 20 – October 3, 2017 issue of Gilroy Life
Fresh energy for the local nonprofit could be seen in the garden's major annual fundraiser earlier this summer, — an outdoor gourmet meal hosted in the downtown garden on Eigleberry Street between Sixth and Seventh streets. At the June 21 Farm-to-Table Dinner, 50 Gilroyans gathered at a long farmhouse-style table surrounded by fragrant lavender shrubs, rustling fruit trees and leafy tomato plants. They waited for their five-course meal of leek poached halibut, baby heirloom squash, roast lamb, and a variety of salads, soups and artisan appetizers prepared by local chef Dave Jamrock.ike a hardy plant, the Gilroy Demonstration Garden has worked to put its roots down deep. It's now poised for a season of growth.
Satori Cellar's red wine blends and Hermitage Brewery's beer flowed into glasses as guests mingled under the lingering sunlight of a summer evening to enjoy the soothing music of acoustic guitarist Jeff Smith. Many of the vegetables and herbs used in the meal were harvested by the chef from the urban garden itself.
"In general, it was a great evening of friends, family and community gathering," said Judy Hess, Gilroy Demonstration Garden's director.
Garden volunteer Peter Ruddock said the evening had an atmosphere of "fresh energy" about it.
"There were a lot of people who were new, forming their community around the garden," he said. "We had been in a little bit of a lull, but we are really coming back."
If Ruddock could describe the Gilroy Demonstration Garden in one word, he would pick "resilient."
"I have seen other gardens, a number of them in the South Bay, have their ups and down," he said. "They weather the downtimes. We weathered those downtimes with a solid community of people who believe in the garden."
The Gilroy Demonstration Garden is a three-quarters-of-an-acre urban farm available for public use. Its purpose is not just about growing food. It's about growing the social connections between people in Gilroy.
"The goal and mission of the garden is to create a community gathering place," Hess said. "I envision everyone enjoying the garden using the space as a gathering place in downtown."
This tranquil place to connect to nature is offering another Farm-to-Table Dinner in September. Hess's hope is that the long table amongst the fragrant lavender bushes will be full once more.
As the Gilroy Demonstration Garden grows, its leaders will be looking for ways to expand the nonprofit's impact on the community with more gardening classes, day camps, teen internships and workshops for all ages. The organization is always looking for dedicated volunteers with a passion to get their hands into the soil.
"We are here for our community and want folks to realize how important healthy food and healthy relationships are," Hess said.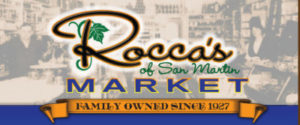 Latest posts by Carly Gelsinger (see all)