Calendar of Events – Published in the October 4 – 17, 2017 issue of Gilroy Life
Ongoing
Women's Support Group
An eight-week personal study with other caring women healing from post abortion. These are individual or group sessions. Call 408-847-8880 for more information.
Mondays
Free guitar lessons
Gorden Gibson teaches free guitar lessons at the Gilroy Senior Center, 7371 Hanna St., from noon to 1 p.m. For more information, call (408) 846-0414.
Line dancing lessons
Enjoy line dancing lessons from 7:30 to 9:30 p.m. at the San Martin Lions Club, 12415 Murphy Ave.
Second Monday
Parkinson's support group
Meet at the Village Green Senior Living Center, 7600 Isabella Way, from noon to 1:30 p.m. For more information, call Judy at (408) 607-8254.
Mondays, Thursdays
Duplicate Bridge
Games takes place at 1:20 p.m. Mondays and 10 a.m. Thursdays at the Gilroy Senior Center, 7371 Hanna St. Details: (408) 921-8512 or email win.stone@charter.net.
Tuesdays
Ladies Golf Club
The Gilroy Ladies Golf Club is looking for new members. For more information, call (408) 779-0886 or (408) 776-7509.
Tuesday Nights Together
Enjoy programs for all ages that includes dinner from 6 to 7:45 p.m. at Gilroy Presbyterian Church, 6000 Miller Ave. They offer fun, age-specific programs for children and youth, as well as five-week parenting and spiritual gifts classes for adults. For more information and to register, visit www.gilroypres.org.
Second Wednesday
SV Woodworkers meet
Enjoy working with wood and sharing your woodworking knowledge? Then join the South Valley Woodworkers, serving South San Jose, Morgan Hill, Gilroy and Hollister. The group meets regularly at 7 p.m. in Morgan Hill. For more information, visit www.southvalleywoodworkers.org.
Thursdays
4-H meeting
Learn leadership and life skills at the Pacheco Pass 4-H meetings from 7 to 8 p.m. Details: email pachecopass4hclub@gmail.com or call (408) 824-8201.
Every Friday
Friday Night Bingo
Doors open at 4 p.m. with early bird games starting at 6 p.m. at the VFW, 74 W. Sixth St.
Celebrate recovery
Group meets at 6 p.m. for food, 7 p.m. for large group discussion and 8 p.m. for small groups, at New Hope Community Church, 8886 Muraoka St. Details: (408) 398-5107.
Late evening gym
Come to a safe space to play basketball, dodge ball, video games and other games, activities, food and fun from 6 to 9 p.m. at the El Portal gym. This is for ages 13 to 19 though younger children are allowed if accompanied by a parent or sibling older than 18. Bring a parent or guardian to get a permission slip if you are attending for the first time. For more information, call (408) 846-0460 or (408) 846-0313.
Second Friday
Horsemen meet
The San Martin Horsemen's Association meets at 7 p.m. at the San Martin Lion's Club, 12415 Murphy Ave. For more information, visit www.smhorse.org.
Every Saturday
Poetry readings
Join others for an open poetry reading from 3:30 to 5 p.m. at the Gilroy Library, 350 W. Sixth St.
First, third Sundays
Grief Support Group
This group provides a safe and respectful place to share grief. It meets at 2 p.m. at the United Methodist Church, 17175 Monterey St. For more information, call (408) 607-5779 or email platnumer@aol.com.
Oct. 6
Spaghetti Dinner
St. Mary School's Annual Fall Spaghetti Dinner will be held from 5 to 8 p.m. at the school. Take-out orders begin at 4:30 p.m. and end at 8:30 p.m. Enjoy dining in the gym or picnic-style out on the field with live DJ music, or take advantage of the take-out service. Dinner includes spaghetti with meat sauce, salad, garlic bread, dessert, punch, coffee and wine. Ticket prices are $8 for children and seniors (15 and younger and 65 and older) and can be purchased at the school office, from a student, or on the night of the event at the door. Details: (408) 842-2827.
Oct. 7
Visit William Weeks' legacy
The monthly historic walking tour will visit Gilroy's legacy of William Weeks buildings. This prolific Central Coast architect gave the city a variety of design in homes, commercial buildings, a hospital and an orphanage. Meet at the Gilroy Museum, 195 Fifth St. at 10 a.m. for the two-hour free walking tour. Reservations are appreciated by calling the museum at (408) 846-0446.
Oct. 8
Holiday Harvest Bazaar
A holiday shopping event with all your favorite local craft and direct sales vendors takes place from 2 to 7 p.m. at Old City Hall Restaurant, 7400 Monterey St. Grab your friends and enjoy this fun event with complimentary mimosas and appetizers.
Oct. 14
Olive Festival
The Fourth Annual San Benito Olive Festival will take place from 10 a.m. to 5 p.m., at the San Benito County Historical Park. This one-day fresh culinary event will delight visitors with samples offered by award-winning olive growers, world-class vintners and craft brewers. Festival-goers can enjoy a wide variety of entertaining activities, such as cooking demonstrations, hands on crafts, live bands and cultural dance performances. Visit www.eventbrite.com for tickets.
Garlic City Classic
The 25th Annual Gilroy Field Competition begins at 5 p.m., at Gilroy High School. It features 18 high school marching bands and color guards from throughout Northern California. Tickets are $12 for adults, $8 for students, active uniformed military and children younger than 5 are free. Parking is $5. Details: Text or call (669) 500-BAND.
Oct. 17
Support Miller Red Barn
Visit Victoria's Mexican Restaurant, 757 First St., from 11 a.m. to 9 p.m. for Taco Tuesday and support the Miller Red Barn Association restoration fund. Details: (408) 848-1052.
Oct. 20
Pancake breakfast fundraiser
The Live Oak Adult Day breakfast fundraiser will be held from 8 to 9:30 a.m. at the center, 651 W. Sixth St. It features all-you-can-eat pancakes, fresh fruit, juice, coffee, tea and hot chocolate. There will be door prizes and live entertainment, all for the price of a donation at the door.
Send calendar items to editor@gilroylife.com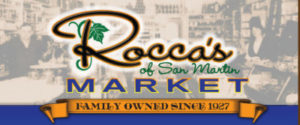 If you wish to send a Calendar Page item to Gilroy Life, please send your event's details to editor@gilroylife.com. If you have a good quality publishable photo or a flyer of the event, please feel free to send that to the same email address.

Latest posts by Calendar Editor (see all)