Published in the Oct. 18 – 31, 2017 issue of Gilroy Life
Halloween is one of my favorite holidays. My parents always made a big deal of it when my brother and I were young. I spent my first decade-plus in the Los Angeles area, and our family would go all-out with Halloween decorations, scary music, Mom-made costumes — the whole bit.
As I got a little older, I went through a period of thinking I was too cool to dress up, and then when I was at Cal Poly, it was more about the Halloween parties than the actual costumes. But I do remember scaring the daylights out of my condo neighbors one year by standing in my second-floor bedroom window dressed as Michael Myers from the "Halloween" movies. (I apologized later and we all had a good laugh.)
My childhood in Los Angeles and my college days in San Luis Obispo are long-ago memories, but I still love Halloween. Though I now live in the country where not a single trick-or-treater has ever shown up — and I never had children of my own to pass along Halloween traditions — that doesn't stop me from enjoying it.
Do I wear costumes? I sure do. My current office — as well as my previous one — has Halloween festivities each year with potlucks, pumpkins and costumes. Fortunately, I have a pretty steady hand and my jack-o'-lanterns are usually a hit. My steady hand is also beneficial with Halloween makeup, which is my favorite aspect about it all.
I love creating scars, wounds, adding facial hair, using prosthetics, and playing around with anything else I can get my hands on. I have drawers full of wigs, a beer belly, tubes of fake blood, various makeup and more. In September, I made the first of my annual visits to both Halloween City in Watsonville and Spirit Halloween in Morgan Hill to get some ideas — and to pick up some fake skin. You can never have too much fake skin.
In recent years, I've been a zombie bride, Red Riding Hood, a pirate, and — probably the most popular — a man. This year I'll continue my tradition of taking a pretty standard outfit and putting a "gory" or "special effects" spin on it. It will involve a prom dress — but not "Carrie."
So if you see a woman in a sparkly dress with a knife though her head driving to work or grabbing a burger at lunch on the 31st, don't worry. It's probably just me. Flag me down, say hi and let some of my spooky Halloween spirit rub off on you — if you dare.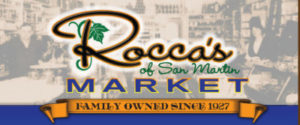 Andrea "Andi" Joseph worked in newspapers for 18 years before transitioning to her current career as a website content writer and marketer. She lives south of Gilroy with her two dogs, Bailey and Cricket. Email her at andij75@gmail.com.

Latest posts by Andi Joseph (see all)