Published in the Oct. 18 – 31, 2017 issue of Gilroy Life
On every Garlic City street,
You'll hear the cry of "Trick or Treat!"
From home to home
Costumed children roam,
And from neighbors they might meet,
They beg for some tasty sweet.
Ghosts and ghouls stroll about, it seems,
As odd creatures out of October dreams.
During this time of year
As winter's chill draws near
We join in mischief that must mean
It's time to celebrate Halloween.
On All Hallows' Eve night,
We hope you find delightful fright.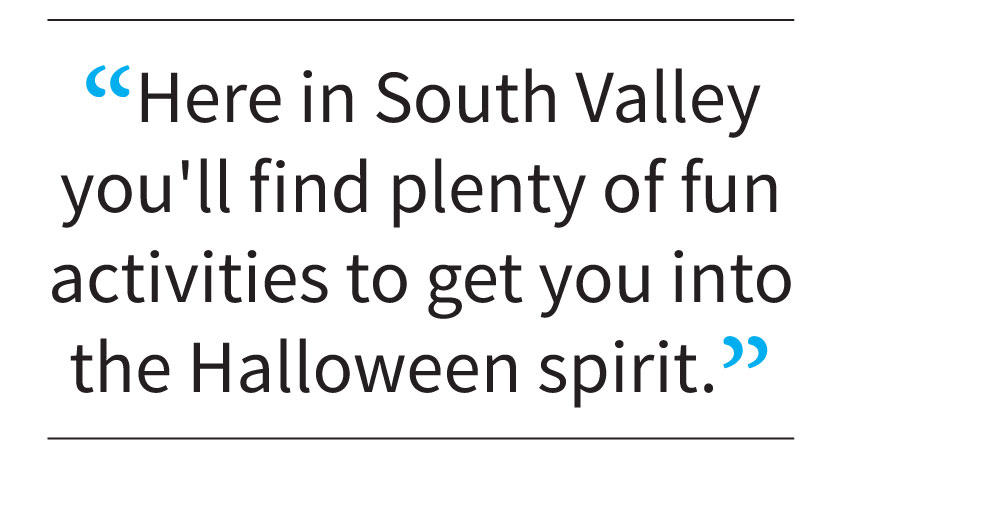 Here in South Valley you'll find plenty of fun activities to get you into the Halloween spirit. Among the top attractions we recommend is heading with the kids to Gilroy Gardens Family Theme Park to spend time exploring the grounds during the "Scary Boo!" event. Running weekends 11 a.m. to 6 p.m. through Oct. 29, the park gets into the Halloween spirit with scarecrows, cornstalks, a hay maze, and much more to delight children and parents. The kids can even get a goodies bag when they complete a Scavenger Hunt Map and return it to the Welcome Center. Children 12 and younger may come dressed in their favorite costumes. (Nothing scary, please!)
As the sun goes down, Gilroy Gardens lights with a spooky glow 7 to 10 p.m. Fridays to Sundays as it celebrates Halloween@Night. The park will provide scares and dares, tricks and treats, and plenty of spooky-but-not-too-scary night-time fun for all ages. (Ride attractions will not operate at this event.)
In Morgan Hill, take the family to the Uesugi Farms' annual Pumpkin Park to pick out the perfect giant orange squash for your front porch jack-o'-lantern. While there, enjoy attractions including train rides and hayrides to the butterfly valley and corn maze. They'll have various family entertainment all month long. The park draws more than 100,000 visitors this month including many who come to watch its internationally sanctioned Pumpkin Weigh-Off, a 27-year tradition held Saturday, Oct. 14.
Around sundown Tuesday, Oct. 31, downtown Morgan Hill brings out more than a thousand children and adults dressed as zombies, vampires, princesses and superheroes at the popular Safe Trick-or-Treat Night when merchants and nonprofit organizations give out candy. Monterey Road is closed to vehicle traffic for the event and there is plenty of security to ensure parents have a fun and worry-free way to celebrate the night with their children.
We hope you and your friends and family have many pleasant hours enjoying this month's autumn festivities.

If you would like to share your thoughts about this editorial, please email Robert Airoldi, the Gilroy Life editor, at editor@GilroyLife.com or call him at (408) 427-5865.

Latest posts by Gilroy Life Editorial (see all)