Also coming are the Harvest@Night in November and Holiday@Night in December
Published in the Oct. 18 – 31, 2017 issue of Gilroy Life
Nearly 3,000 visitors come every weekend after sunset to Gilroy Gardens Family Theme Park during October to lose themselves in fall-time fun wandering the grounds transformed into an eerie supernatural dimension.
Since the Halloween@Night attraction opened Sept. 29, park guests have enjoyed the skeletons, spiderwebs and laser in fog displays, among other illuminations, that give them a surreal nocturnal adventure.
"It's the very first year children and adults can enjoy the park at Halloween," said Gilroy Gardens General Manager Barbara Granter. "It's a totally different way to enjoy Halloween, so we're pretty excited. It's a tiny bit spooky. There's plenty of lighting in the trees and specialty lighting in the park for children to enjoy. We also layered in bits and pieces of Halloween-themed fun for them."
Added attractions include a story teller who narrates slightly spooky tales appropriate for families with young children. The South County Backroads ride at night includes comical skeletons and other displays to add a supernatural element to the course. The Marketplace has crafts for children where they can paint and decorate their own pumpkin and make a goodies bag to go trick-or-treating throughout the park. A tic-tac-toe game involves pumpkins.
"We're also playing some classic television shows in the Lakeside Amphitheater so you can see episodes of 'The Munsters,' 'The Adams Family' and 'Bewitched,'" Granter said. "It's a really gentle, retro Halloween for families — and it can be a date night for young adults."
Halloween@Night is one of three nighttime attractions organized through the rest of the year. In November, it will be replaced by Harvest@Night, an event tailor-made for millennials where they can stroll the gardens enjoying cuisine from food trucks and sipping on wine or beer. In December, the popular Holiday@Night attraction returns with the park illuminated to reflect the season of Peace on Earth.
"The big thing is that is that the gardens at night will always show off that spectacular property as being beautiful," Granter said. "People will come away thinking, oh, my gosh, that's the prettiest place on Earth. It's about the experience on how pretty the gardens are at night."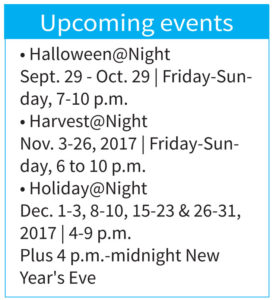 The idea for Halloween@Night and Harvest came about from the well-attended nighttime Lumination lantern festival created last year by artists from China. Many people said they enjoyed walking through the park at night and viewing the giant lantern sculptures, Granter said.
"It was a wonderful experiment and so we decided to team up with a company that produces these sorts of events to see how we can turn the evening into something special in the gardens," she said.
Halloween@Night is especially popular with families who have young children looking for a non-scary environment to enjoy an autumn evening, she said.
"What we hear the most is that it's really nice to have a safe place for children to experience their first Halloween in that it's their park, it's not scary, and they trust that we're not going to try to scare the children," she said. "Parents don't have to worry about if they have to monitor the experience for their child. They know their child is going to enjoy it."
Saturdays have been the most attended days for families. Granter recommends people attend Fridays and Sundays when the number of people is fewer and they have less wait times.
"Fridays are after work and Sundays are a school night, but I would encourage guests to come on a Friday or a Sunday because it isn't as busy," she said. "On a Friday and Sunday, it's a lot easier for families to see everything."
She especially recommends a visit to Claudia's Garden which is lit up by colorful lasers passing through artificial fog streaming off the water. "It's magical," she said. "That's the word I hear the most. It's 'magical.'"
Bonfante Falls is lit up with changing colored lights on the cascading water, which visitors can follow to the lake. Along the Lakeside Trail, they can wander along the path and see the Halloween light spectacle reflected on the water for a supernatural effect.
"The lake and the park is a whole new vista that people don't see during the daytime. It's a whole new experience," Granter said.
Tickets to attend Halloween@Night start at $20 if purchased online. Daytime visitors to Gilroy Gardens can stay for the nighttime attraction by paying an additional $10. Premium Pass Holders get in free. The majority of rides at the park are not activated during Halloween@Night.

Latest posts by Marty Cheek (see all)