Published in November 15 – 28, 2017 issue of Gilroy Life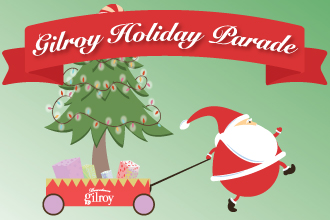 Holiday preparations are well underway in downtown Gilroy as the community prepares for the annual Holiday Parade, Tree Lighting and Doggie Dress-Up taking place Saturday, Dec. 2.  The day kicks off at noon with the annual Doggie Dress-Up event and canine pictures with Santa by the Christmas tree at Fifth and Monterey streets.
This part of the annual event is a benefit for South County Tail Waggers, an organization dedicated to saving dogs in South Santa Clara County. The Tail Waggers provide foster homes for dogs, as well as provide low-cost, mobile vaccinations and spay and neuter clinics.  Participants are encouraged to register their furry friends at www.sctailwaggers.org. For a small donation to SCTW, participants can enter the contest and have their pooch take a photo with Santa, too. Goodie bags are available for the first 25 registrants, and the top three costumes will win an additional prize. Registration is available on the day of as well.
At 3 p.m., performances on the Main Stage begin and continue on the half hour until the start of the parade. Performers scheduled to appear include: Studio Three dancers, the South Valley Middle School Symphonic Band, Upward Cheerleaders, Pac Point Cheerleaders, and the GUSD Elementary School Choirs. More performers will be announced soon. Our vendor corner on Fifth Street between Monterey and Eigleberry streets will also open at 2:30 p.m. through the end of the parade. Enjoy handcrafted goods and holiday treats and support local nonprofits while waiting for the parade to begin.
The Holiday Parade begins about 5:30 p.m. and features more than 40 community groups and organizations.  The parade culminates with Santa's arrival, accompanied by the 2017 Grand Marshal, Sienna Arioto and the Arioto family. Sienna and Santa will light the Christmas tree and we will recognize our Downtown Star of Light recipient as well. Local celebrities Mark Turner (Gilroy Chamber of Commerce CEO) and Jane Howard (Gilroy Welcome Center Executive Director) will once again emcee the parade from the stage at the intersection of Fifth and Monterey streets.
Participant and vendor applications are still available online: www.bit.ly/18AsCZ5 or contact the Gilroy Downtown Business Association for one to be sent to you (email me at melanie@downtowngilroy.com). Hard copy applications can be picked up at the Gilroy Chamber of Commerce.
Our downtown business community will be open for visitors throughout the holiday season, ready to welcome visitors and residents doing their holiday shopping. You never know what you'll find in our downtown businesses — perfect presents for everyone on your list and things for you, too. Spend the day in downtown and dine at any one of our downtown restaurants. Enjoy a hearty breakfast at O.D.'s or Garlic City Cafe, delicious Mexican food for lunch at Cielito Lindo, Los Pericos, Station 55 or Carnitas Michoacan, and stay for dinner at The Milias, VIX, or Old City Hall. And end the night with a nightcap at Bartenders Union or Bella Viva.
We look forward to spending Dec. 2 with you and your friends and family for another fantastic community event in downtown Gilroy.  Mark your calendars. Santa is coming to town!
Melanie Corona is the executive director of the Gilroy Downtown Business Association. She is married to a lifelong Gilroyan. They have three children, a son in sixth grade at Brownell and two daughters — first and fourth graders — at Luigi Aprea.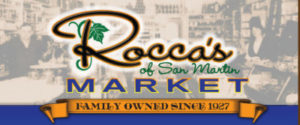 This guest column represents the views of the writer and not necessarily that of Gilroy Life. If you're interested in writing a guest column for this newspaper, please email the editor at editor@gilroylife.com.

Latest posts by Guest Column (see all)