Published December 3, 2017 on GilroyLife.com
Tandy Beal and Company is back with her imaginative, artistic, ingenious production "Joy". A glittering concept of talented people presenting their acts on a stage instead of a tent or arena. With a light touch of early Cirque du Soleil the acts present well in the intimate Hammer Theatre.
The show moves at a good pace and keeps everyone alert, the young Mongolian contortionists amazingly  bend and fold,  Natasha Kaluza works up to  swirling 50 hula hoops at one time, Etomlagn Hailu Getachew from Ethiopia juggles objects with her feet, Saki dances with ropes, ball and ribbon,  Dancers costumed in outside of the box wardrobe keep attention.  Formerly from Cirque de Soleil,  Razz. (Jeff Razz)  and Pino (Diane Wasnak) a couple of ultimate clowns that present their amusingly, droll moments with detail that is masterful.
The most inventive addition is capella vocal group " SoVoSo" – they provide rhythm, blues, jazz, pop, gospel  and sound effects throughout the performance only with  their voices. A talented six member group that is the musical accompaniment for the show. A unique addition that presents an enjoyable difference.
Producer/Director Tandy Beal believes that laughter chases troubles away and perhaps generates kindness and that is what she bases her shows on,  creative fun, joyous production numbers.  
For a distinctive, unique experience Tandy Beal's "Joy" is a definite holiday show that covers the Circus, Dance and Live Music in ways you have never seen or heard before.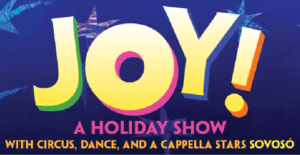 "Joy"
Where: Hammer Theatre Center
101 Paseo de San Antonio. -San Jose
When:  New dates will be made available for the 2018 schedule
Running time: Two hours with one intermission
Reservations and information: www.holiday-joy.com

Camille Bounds is the theater columnist for the Morgan Hill Life and Gilroy LIfe newspapers. She has performed on Broadway and traveled around the world. She can be reached at: bounds17@gmail,com

Latest posts by Camille Bounds (see all)