Parade scheduled for Dec. 17, details coming soon
Published in the December 13 – 26, 2017 issue of Gilroy Life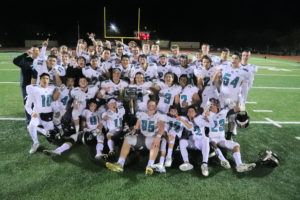 Neither Gilroy nor Christopher high schools have won a Central Coast Section football championship. Now, the city will celebrate with a parade scheduled for 1 p.m. Dec. 17 as both high schools brought home championships.
While details are still being ironed out, parents and coaches urged the public to save the date.
"This is huge because Gilroy (GHS and CHS) has never won a championship," Mayor Roland Velasco wrote on his Facebook page this week. "Now we have two teams that won!"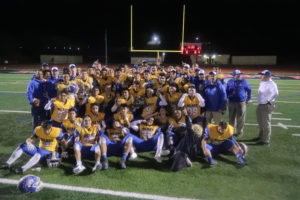 The GHS Mustangs captured their first football — Division V — title beating Menlo School 38-21, Dec. 1, completing a 13-0 season.
Joseph Barnes scored five touchdowns and ran for 234 yards and Tony Andrade recorded four sacks and recovered two fumbles.
The CHS Cougars brought home its first CCS championship — Division IV — with a 24-7 win over Leland, finishing the season with an 11-2 record.
For the Cougars, Tyler Davis scored two touchdowns and ran for 163 yards and Ethan Crawford had two interceptions in their win.
Above right: The Gilroy and Christopher high school teams after winning CCS championships.       Photos by Robert Eliason