Published in the December 27 – January 9, 2018 issue of Gilroy Life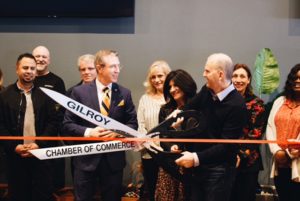 Twenty-six years ago Pastor Malcolm MacPhail stood on the top of Mantelli Drive, looking over the city of Gilroy and prayed to one day be able to reach and serve 10 percent of the community through the church. The weekend of Dec. 16, New Hope Community Church celebrated a ribbon-cutting ceremony for the relaunch of their new service times and remodel of their building.
Now, in 2017, New Hope was able to see that vision Pastor prayed for come to fruition. New Hope wants to thank all who have helped make this happen, including Gilroy Chamber of Commerce President Mark Turner and Mayor Roland Velasco. Their doors our open so come visit them Sunday mornings at either of their two services, 9 and 10:45 p.m. Glad to hear — and best of luck to the people of New Hope in the New Year.
The Gilroy Chamber of Commerce Board of Directors approved a plan to recognize those in the community who provide exceptional customer service. The program is called, "Customer Service Counts." Nominations for the Customer Service Counts award can be submitted to chamber@gilroy.org. Please provide the nominee's name, place of employment, contact info, and a brief description of how the nominee went above and beyond the call of good customer service. Individuals will be recognized at the Chamber's monthly breakfast. Great idea!
Attention all schools and youth groups. The Fleurs Garden Club is asking these groups to apply for "seed money" from the South Valley Fleurs' EduGrow Planting-to-Learn Program. For the past six years, South Valley Fleurs Garden Club has supported education in horticulture by offering grants to schools, teachers and youth groups, such as the Scouts and 4H programs, that wish to include gardening in their programs, or fund a project involving horticulture. The club has granted funds for new and existing gardens, habitat development, soil amendments, tools, and irrigation supplies.
The garden club believes that Planting-to-Learn programs and projects are an easy way to implement science standards and help connect children with the source of their food, as well as their natural environment. These programs also help build community by involving schools, students, parents and local retailers in the process of funding and maintaining gardening projects.
Schools and nonprofit youth groups in Morgan Hill, San Martin, Gilroy, and San Benito County are invited to submit grant applications. The EduGrow curriculum is aligned to the California State Standards for Science. The application deadline is Feb. 1. To receive a grant application form or request more information, email Betsy Ding at dingbetsy@gmail.com.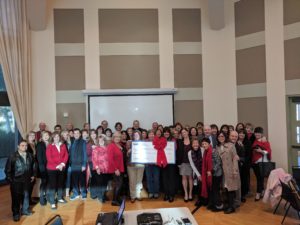 Coldwell Banker Residential Brokerage in Northern California challenged its branch offices across the region to raise money for charity and 15 offices from Carmel to Santa Rosa raised more than $100,000 in the recent fundraiser.
"Any time Coldwell Banker Residential Brokerage has a chance give back to charitable organizations in our local communities, we're thrilled to do it," said Nancy Robinson, regional vice president, Coldwell Banker Residential Brokerage, Northern California. "I'm proud of the effort our branch staff and affiliated agents have put into making this our most successful fundraising season yet. We look forward to growing this number annually."
A couple of notable fall events that helped raise funds were the Gilroy and Morgan Hill offices that organized the Party in the Vineyard at Fortino Winery and raised nearly $37,000. Second place went to the Saratoga and Los Gatos offices that raised more than $30,000. The funds were given to the Lucile Packard Children's Hospital Stanford, DreamPower Horsemanship and various other local charities.
"Coldwell Banker Residential Brokerage has raised nearly $185,000 in support of the Children's Fund at Lucile Packard Children's Hospital Stanford," said Stacy Neiman, director of corporate relations at Lucile Packard Foundation for Children's Health. "More than one-third of our patients have public insurance, which does not cover many aspects of care. This support means we never have to turn a patient away due to their family's financial circumstances."
Another example of a local company that believes in giving back.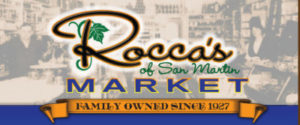 Robert Airoldi is the editor of Gilroy Life newspaper. If you have a story idea or an Around Town column item you want to tell him about, you can reach him at (408) 427-5865 or at editor@gilroylife.com.
Latest posts by Robert Airoldi (see all)