Hundreds watch parade for Gilroy, Christopher high school football teams
 Published in the December 27 – January 9, 2018 issue of Gilroy Life
By Ivan Silveira Aguilarte
Gilroy residents will hold the double championship football season celebration of Sunday, Dec. 15, 2017, in their memories for many years to come. For the first time in the city's history, both the Gilroy High School Mustangs and the Christopher High School Cougars earned a combined recognition for their grid-iron success.
The Mustangs won the Central Coast Section Division V Championship Dec. 1 after beating Menlo School 38-21. The team completed a perfect 13-0 season. Twenty-four hours later, crosstown rivals the Cougars earned the CCS Division IV Championship, beating Leland High School 24-7. The team had an 11-2 season.
Even before the parade started, the passion the players brought to the streets was evident in the fans' eyes. Hundreds lined Sixth Street as the parade of champions, cheerleaders, coaches, city dignitaries and marching bands pulled out of the Gilroy Medical Center parking lot. Many of the spectators wore school colors or sported banners supporting their favorite high school football team.
Santa Claus served as the co-pilot of Gilroy fire engine E47, and the crowd was showered with candy canes as the truck went by. Behind them were Mayor Roland Velasco and Gilroy Unified School District Superintendent Deborah Flores in a convertible vehicle. The celebration began with a lot of energy around the football heroes while the gauntlet of fans cheered: "Champions! Let's go, Mustangs! Let's go, Cougars."
Both high school bands and their cheerleading squads entertained the crowd with celebratory music and spirited routines. During the parade some family members and friends of the football players talked about the good feelings of this year's season's triumphant ending.
"It probably softens any kind of crosstown rivalry they might have," said longtime Gilroy resident Melanie Troini. "It's so great the two teams can both celebrate in the same year. I'm so excited for them."
Mia Dominguez, a Gilroy High cheerleader, felt the success of both football teams' having a winning season was extraordinary.
"It was really crazy. Honestly, I didn't know if we were gonna do it or not, and we really did," she said. "I am so proud of our schools … I am really glad the community just came together and supported each other for once because usually Gilroy and Christopher are rivals. But we came and celebrated together."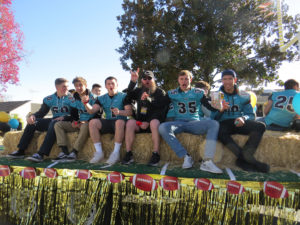 For Mustang player Brandon Weiler, the training and long hours of practice were well worth all the effort for the thrill of winning the CCS Championship.
"It feels so good," he said. "We finally get recognition of all the hard work we have been doing this season. It is pretty important for us. Both teams are good."
Taylor Davis, who plays linebacker and running back for Christopher High School, also found the victory exhilarating.
"This is a different feeling. I have never done anything like this before," he said. "This will be a special memory for the rest of my life. I won't ever forget it."
The parade and the community celebration at Christmas Hill Park put the players and fans in a good mood. For head football coach Tim Pierleoni of Christopher High, this has been a personal goal for many years and his players made happen.
"Personally, this is huge. I graduated from Gilroy High, so for me it is a great thing to see the school that I am an alumnus of win the section championship, and the team that I coach win the section championship at the same time," he said with heartfelt excitement in his voice. "I have been working hard for a section championship since 1979 when I started playing varsity football at Gilroy High School, so it has been my goal for many, many years and is a huge deal for me, but it's all about the kids. They played really hard."
Debbi Sanchez, a Gilroy resident who is the event coordinator at Fortino Winery, took a break from her Christmas shopping with her husband, Mike, to attend the parade because the couple knew it was a big celebration for the community.
"It is fantastic that we have two fabulous football teams that came together to celebrate, and their community came out to support them," she said.
The parade of champions was more than a celebration for the community. It was also a moment to inspire the next generation of football players that will soon be taking their first steps on the field, said Gilroy High School player Marcos Hernandez.
"It is very important for the new players and for those that now want to play for us. These achievements will inspire them," he said.
Coach Pierleoni agreed. "To win a CCS championship is a big deal and it will push our program a little farther and make more kids want to come to Christopher, and it also shows the hard work of my coaching staff," he said.
Gilroy High head coach Jubenal Rodriguez explained how important the victory is as a key to potential championships for both schools in the upcoming years.
"This win is huge because, hopefully, more players will come out for the game of football for Gilroy and Christopher," he said. "Right now, the numbers are declining, parents are unsure about the safety of the sport. But if you bring your kid to Christopher or Gilroy they will be safe, I promise you that."
The parade ended at Christmas Hill Park where friends, family and football players hugged each other, took pictures for posterity and kept celebrating one of the most memorable moments of their lives.
"I am very proud of our Christopher and Gilroy High football players and coaches for their outstanding performances this season," said GUSD Superintendent Flores. "Each team's hard work, perseverance, and skill culminated in a division championship, which has not occurred in Gilroy since the CCS was formed in 1965. This is a big moment both for the school district and for the Gilroy community.  What a wonderful day!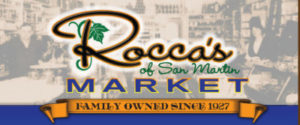 Ivan Silveira Aguilarte is a reporter for Gilroy Life.

Latest posts by Ivan Silveira Aguilarte (see all)