Class starts Jan. 31 to teach how to calm the mind, open the heart
Published in the January 10 – 23, 2018 issue of Gilroy Life
With the arrival of 2018, Paula Whang-Ramos extends an invitation to South Valley residents to make a New Year's resolution of "returning to peace."
"We know that 2017 was a difficult year for a lot people," said the spiritual director at the Blue Lotus Meditation and Yoga Center in Gilroy. "One of the things that we were contemplating is what could we offer to support ourselves through the challenges we face … As a meditation community, every week when we come together we reaffirm our own commitment to return to peace again and again."
Every week, people come from Hollister, San Martin, Gilroy and Morgan Hill to practice spiritual yoga and community meditation at the nonprofit organization's classes held in the Dry Creek Village shopping center on the corner of Church Street and Welburn Avenue. They learn to use yogic lifestyle practices to quiet the distracted mind and become more aware of how their thoughts, words and actions can cultivate peace in their own lives so that peace can then overflow into their relationships and interactions with others.
Whang-Ramos encourages South Valley residents to try out a new class Blue Lotus will be offering every Wednesday for five weeks starting Jan. 31. Called "Living Yoga: The Eternal Way," the class will help to keep New Year's resolutions to live more fully by teaching ancient yogic meditation and lifestyle practices to calm the mind and open the heart.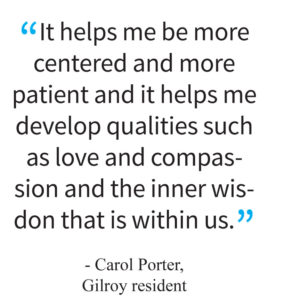 "The focus of returning to peace and looking at any moment is whether my thoughts, words and actions are supportive of peace or not," she said. "What can I do to shift my consciousness to be more aware of cultivating peace in my own life so that I have more strength inside to deal with any life challenges that arise? Meditation enables us to recognize our distracted mind and be less reactive, so we can direct our attention to more peaceful ways of being."
Everyone has the power within them to return to peace, she said. They just need to develop habits such as checking in with themselves several times a day to find themselves in a peaceful place. And if they find themselves getting distracted, frustrated or overwhelmed, they can learn meditation skills and breathing exercises at the Blue Lotus Center that will enable them to return to the core of calm inside them.
People who practice meditation techniques can get many benefits besides spiritual enlightenment. Meditation helps reduce the stresses of life most people go through daily. It helps practitioners master the emotions of the mind and improve concentration, mental focus and creativity. It also has health benefits such as inducing a relaxation in the body which increases the compound nitric oxide that causes blood vessels to open more, thus helping reduce blood pressure. A study published in 2008 in the Journal of Alternative and Complementary Medicine provided data that 40 of 60 high blood pressure patients who started meditating were able to stop taking their blood pressure medication. It also improves immunity and can help slow down the aging process, other studies have found.
"Sometimes people think yoga means a form of exercise. But yoga in its original definition means returning to your central wholeness and goodness," Whang-Ramos said. "In the class, we will look at some very practical teachings available from these ancient writings about how we can live in wholeness."
Blue Lotus classes are open to everyone and are free to join. The center suggests a $10 donation  per hour to help keep its doors open because it operates 100 percent from donations.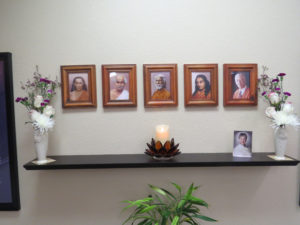 Whang-Ramos is a licensed psychologist with a Ph.D. This academic training gave her a strong background in western science, something that helps in gaining a science-based perspective of eastern philosophies such as yoga.
"My inner heart calling has always been to offer the highest healing that I know of that is available," she said. "When people come seeking support, I have to, to the best of my ability, offer whatever is the highest healing path available."
In 1988 when she was in her early 30s, she was diagnosed with cancer. The disease helped open the door for her to the practice of meditation.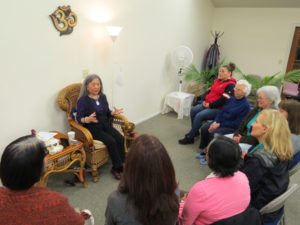 "It turned my world upside down," she said. "All of the external things the doctors were telling me were not bringing peace and clarity to how I dealt with that situation."
The "energetics" of meditation and tai chi gave her clarity and peace to go through the journey of recovering from the disease. Over the years, she continued to use these practices on herself to continue her spiritual and emotional growth.
About 15 years ago, Whang-Ramos decided to take the next step in her spiritual journey. She began training for a masters of divinity degree at the San Jose-based Center for Spiritual Enlightenment.
"How I and Blue Lotus evolved was sort of an organic process," she said.
The teachings she received in classical yoga are universal and simple and profound in how they can help share in peace. She decided to share meditation and yogic practices in South Valley, starting a small meditation group that met regularly. More people became interested and so she received the blessing from the CSE to start the Blue Lotus Meditation and Yoga Center.
On the first Wednesday evening of 2018, about 10 meditators joined Whang-Ramos at the center for an hour-long session in meditation. It began with a gentle gonging tone as she stroked a mallet on a Tibetan singing bowl to help center the mind with the sound. The gentle clap of rain on the roof added its effect to create a relaxing atmosphere in the room as the meditators sat in a circle on cushioned chairs and, with eyes closed, connected with their inner calm.
Among them were Carol Porter of Gilroy and Danielle Davenport of Morgan Hill. After the session, they described why they participate in meditation at Blue Lotus.
Porter finds that meditation in a supportive community provides tremendous benefit to her spiritual growth as well as her physical health.
"All my life I've been interested in spiritual enlightenment, and I want to live from my soul and my heart, not just from essential material things," she said. "It helps me relax. It helps me to let go of stress. It helps me be more centered and more patient and it helps me develop qualities such as love and compassion and the inner wisdom that is within us."
Davenport first found out about Blue Lotus through friends. She came to try out the group meditation. She has done yoga and meditation for about 15 years.
"What I think is so great, it's a practice, right. And sometimes I lose sight of the practice," she said. "And coming to a place like this keeps you focused and recharges you. Coming here keeps me in the practice."
With the New Year, Blue Lotus meditation and yoga classes can help South Valley residents improve themselves spiritually, emotionally, and physically, Whang-Ramos said.
"Our inherent state is clarity and wisdom," she said. "That's essentially what's at our core of who we are. So if we're not experiencing that in our daily life, it can give us a reflection of how far we are we from our real selves. Yoga and meditation is that path back to our true self. Everyone wants more peace and happiness, that more eternal, unshakable happiness, that more mature, grounded happiness."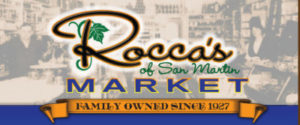 Latest posts by Marty Cheek (see all)