Published in the January 24 – February 6, 2018 issue of Gilroy Life
Twice a year in San Jose the jazz scene explodes with a plethora of live music acts throughout the downtown area.  The San Jose Jazz Summer Fest which comes every August has been a musical fixture for 37 years. However, the less publicized San Jose Jazz Winter Fest is relatively new and now starting its eighth year Feb. 15 to 28, featuring more than 25 concerts.
On stage, the acts deliver an electrifying performance exploding with infectious dance grooves and punk rock energy powered by horn and accordion-driven riffs, a fierce rhythm section and a vintage sound. Café Stritch will host some of the Bay Area's premier youth jazz ensembles. San Jose Jazz Winter Fest 2018 features some of today's most distinguished artists alongside leading edge emerging musicians.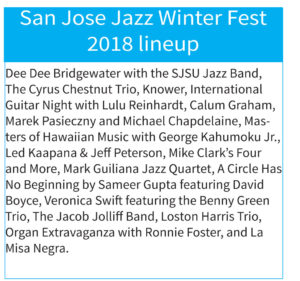 The Jazz Beyond series, co-curated in partnership with San Jose Jazz and local production house Universal Grammar, highlights buzzy young stars pushing the boundaries of jazz, soul and hip-hop and the Next Gen performances showcasing top regional student jazz ensembles.
This year's Next Gen line-up includes Progressions Nucleo with the Stars of International Guitar Night, Kuumbwa Jazz Honor Band, the Folsom High School Jazz Band, the Lincoln High School Jazz Band, the SJZ High School All Stars, Homestead High School and the Santa Clara University Jazz Combo.
San Jose Jazz Winter Fest 2018, encompasses the South First Street arts district in downtown, and for the third year expands to Palo Alto and new this year to The Hammer Theatre and Art Boutiki. With new venues, bars and restaurants joining many existing cultural institutions, Winter Fest 2018 showcases San Jose's vitality as an arts mecca.
"Winter Fest is a microcosm of our Summer Fest programming that truly represents the richness of the South Bay community," says SJZ Executive Director Brendan Rawson. "We couldn't be more thrilled to have jazz icons Dee Dee Bridgewater and Cyrus Chestnut as headliners of Winter Fest. San Jose Jazz is beyond excited for the return of the Hammer Theatre and the opportunity to reach audiences in Palo Alto at the Oshman Family JCC. Our efforts to present inspiring artists across the San Jose metro area has a simple goal of bringing the community together through the power of music."
Concert tickets are $5 – 40, VIP Passes are $260 and Next Gen student ensemble shows are free. SJZ members receive 15% off any advance purchase of single tickets. You can find all the details online at sanjosejazz.org/winterfest or call (408) 288-7557.                             •           •             •
On another note, one of the best places in downtown Gilroy to see live music and enjoy a full bar and old school dining is The Milia's on the corner of 6th and Monterey streets. The music is flowing almost every night of the week and so are the cocktails.
Got a music tip? Email harmonicaman1@yahoo.com.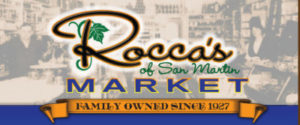 Mark Fenichel serves as the chief ad rep for Morgan Hill Life newspaper.

Latest posts by Mark Fenichel (see all)