Published in the March 7 – 20, 2018 Issue of Gilroy Life
It sure was quite a scene seeing a plane land on U.S. 101, but that's exactly what happened shortly after 11 a.m., Feb. 18. According to the California Highway Patrol, the pilot, 62-year-old Wayne Wright from Aptos, was en route to the Watsonville Airport coming from Davis, when he lost engine power at 6,500 feet. At the time he was about eight miles from San Martin. He contacted the San Jose Air Traffic Control and told them of his situation and said his view of the ground below was obstructed due to clouds. Eventually, Wright was able to get below the clouds and was able to gain a view of the freeway. He told air traffic control that he could not make the airport and would attempt to make an emergency landing on the freeway.
As he was descending, he observed traffic beginning to stop in a cascading effect toward him. He made a split-second decision to land his aircraft in the center divide of northbound U.S. 101 just south of Tennant Avenue so his wing would only extend into the fast lane, and lessen the chance of colliding with traffic on the freeway. Wright safely landed his plane in the center divide of U.S. 101 northbound facing in a southbound direction. No injuries occurred and there were no collisions as a result. The plane was towed from the freeway to the San Martin Airport where it will be inspected.
What an awesome job done by the pilot, avoiding what could have been a  tragic disaster. And also, good job to the pros at Air Traffic Control for their help.
It's that time of year for aspiring beauty queens to apply to become the 2018 Gilroy Garlic Festival Queen. Young ladies between the ages of 18 to 24 who live in Gilroy, Hollister, San Juan Bautista, San Martin, Morgan Hill, or Aromas are eligible to enter. Complete contest rules and online application forms are posted on the Gilroy Garlic Festival website at gilroygarlicfestival.com/festival/miss-gilroy-garlic. Entries must be received by 4 p.m., Friday, March 16, 2018. For additional information, call (408) 842-1625.
And, if you have a hankering for some creative expression, consider entering the Gilroy Garlic Festival Association poster contest.  Artists across the country are invited to submit their original artwork for the chance to win cash prizes in the 2018 Gilroy Garlic Festival Art Poster Contest.
The first-place winning entry will be reproduced as a high-quality, limited-edition poster to be sold at the 40th annual Gilroy Garlic Festival on July 27, 28, and 29. The 2017 contest winner was Diane Grosman of Winter Haven, Florida.
Cash prizes of $500 for first place, $250 for second place, and $100 for third place will be awarded. Up to 10 non-winning entries will be eligible for the "Association's Choice" award, decided by the festival's committee chairs and board members. The top vote-getter will receive a $200 prize. More than 100,000 people attended the Gilroy Garlic Festival last year, up 20,000 people from 2016. The three-day event serves up delicious food and drink, cooking contests, celebrity chefs, and live entertainment.
Complete contest rules and applications are posted online at www.gilroygarlicfestival.com/festival/poster-contest. Entries must be received at the Gilroy Garlic Festival Association office by 4 p.m. March 16.
If you didn't see Limelight Theater's hilarious production of "The Savannah Sipping Society," starring Roberta Vinkhuyzen, Rachel Perry, Christy Wait and Valerie Vanni, you missed one heck of a show. No worries. Now you have the chance to see another of the theater's shows, this one a musical that follows the life of Rosemary Clooney. It's titled "Tenderly" and opens April 27.
The musical offers a remarkably personal picture of the woman, a star singer in the 1950s, whose unparalleled talent and unbridled personality made her a legend. With her signature songs woven throughout the show, we learn the story of her success as well as her struggles with drug addiction, depression and a fading career. Limelight has again partnered with the creative team that produced "Always … Patsy Cline."
This show, like most of the theater's productions, is sure to sell out. Visit www.limelightactorstheater.com to get your tickets. See you at the theater!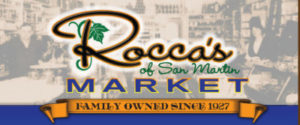 Robert Airoldi is the editor of Gilroy Life newspaper. If you have a story idea or an Around Town column item you want to tell him about, you can reach him at (408) 427-5865 or at editor@gilroylife.com.
Latest posts by Robert Airoldi (see all)