Tickets for both South Valley Symphony and Bach to Blues on sale now
Published in the March 7 – 20, 2018 Issue of Gilroy Life
March is the month for music at Gavilan Community College. The South Valley Symphony will introduce young people to classical music at its NextGen2018 concert starting 7:30 p.m. Saturday March 10. And the popular Bach to Blues concert will be held at 7 p.m. Saturday, March 17.
South Valley Symphony Music Director Anthony Quartuccio will conduct the youth-focused concert and encourages families to bring their children to enjoy a range of young musicians. The featured guest soloist will be Mai Matsumoto, the winner of the Navaroli Young Musicians Competition, who will perform Tchaikovsky's Violin Concerto in D major.
A Gilroy resident, Al Navaroli loved music, and served as a longtime supporter and board member of the South Valley Symphony, from 1995 until his death in June 2008.
"His personal promotion of the symphony was geared at increasing public exposure to this wonderful genre," Quartuccio said. "Part of his work was to bring guest artists to the symphony, but also to increase an effort to attract young musicians to perform."
For the first time ever, the symphony will feature a brass choir featuring honor students from local South Valley high schools. They will perform "Canzona septimi toni No. 2" by Gabrieli, he said.
"No South Valley Symphony Concert would be complete without the orchestra performing a couple of popular classical pieces and included on the program are 'The Overture from A Girl from Algiers' by  Rossini and the ballet suite from "Faust" by Gounod," he said.
"I want our community to know what our symphony is doing to provide all the amenities for our young people," he said. "It's amazing the amount of great talent that is here."
Bach to Blues
St. Patrick's Day, Gavilan will hold its Bach to Blues annual faculty concert with special guests.
All proceeds benefit the Gavilan College Music Department. The performing artists scheduled include Maria Amirkhanian, Dahveed Behroozi, Alberto Marqués, Nate Pruitt & Primary Colors, Sam Sotelo, and the winner of the Marian Filice Youth Piano Competition. The Gavilan Performance Ensemble will also be a part of the concert. It is composed of Gavilan music students in the Music 12 and Music 14 classes. They study, rehearse, and perform a broad spectrum of musical genre and styles, with extensive consideration of contemporary commercial repertoire and performance modes.
The Marian Filice competition is for piano students ranging from 5th — 12th grades.
It will be held 10 a.m. March 4 at the Gavilan College Theater.
The competition is named after Marian Filice who taught piano privately and was a supporter of the arts. Her passion for the piano inspired generations.
The Gavilan College music department hopes that the competition will inspire young musicians in the community and encourage them to strive for musical excellence.
"I look forward to our Bach to Blues concert every year," said Gavilan College President Kathleen Rose. "It is a highlight of our cultural calendar. This year I am looking forward to connecting with friends and music lovers at the concert and the President's Circle reception beforehand."
The Gavilan College Educational Foundation is hosting a private reception in the Library Art Gallery exclusively for President's Circle donors before the Bach to Blues concert.
Donors will enjoy appetizers and wine tasting sponsored by Morgan Hill's Guglielmo Winery.
For more information, contact Bobbi Jo Palmer at the Foundation at (408) 852-2826, or email bpalmer@gavilan.edu.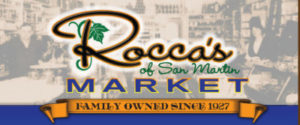 Latest posts by Marty Cheek (see all)