Published in the March 7 – 20, 2018 Issue of Gilroy Life
This year, Passport Weekend is Passport Month with many of the participating wineries extending their live music every weekend. Satori will have live music March 18 with Just Friends, March 25 it's Wishful Thinking, and Saturday March 31 it's The Just Picked String Band.
The Stomping Ground is the property Jason-Stephens, Alara Cellars, J Winston and Calerrain are located. It will be the future home of a few additional wineries, a restaurant, breweries and live bands. It is located behind Target in Gilroy. For Passport Month they will present Crepe Em Coming Food Truck and Matt Masih Trio March 10, Fresh Catch Poke Food Truck and Bandadosu March 17, Gold Rush Eatery Food Truck and Acoustic Madness March 24. Seeker Vineyard will have The Just Picked Bluegrass Band March 17. Clos LaChance is a mecca for live music all summer long. (More on that coming soon). March 11 features Paul Kent, an outstanding solo rock guitarist; March 18 Carlos Padilla; and March 25 it's the guitar vocal duo Free Spirit. Morgan Hill Cellars will have their special passport day Saturday March 17 in celebration of St. Patrick's Day with the band 4 Of Hearts. They will add some Irish tunes to their set according to lead singer Chris O'Connor.
On another note, the California Bluegrass Association, under the guidance of local banjo player and concert promoter Tim Edes, produced another successful sold-out concert at the Grange Hall in Morgan Hill last month featuring the band Volume Five. I got to hang out with some of the band after the show and was impressed with the lightning speed, tone and accuracy of the mandolin player and vocalist Jacob Burleson who appeared to look very young on stage and even younger face-to-face. But it was obvious he was experienced and had been playing for quite some time. I had one question and I asked him point blank how old he was. He embarrassingly grinned at me with a boyish smile and said "18." How can someone so young be so good and so humble?
The live music scene is changing according to a Facebook post alerting us that The District is closing its doors. But Station 55 picks up the slack with live music in their new Top Floor Bar. DJ's March 10 and 17 then they go with live bands Saturdays beginning March 24.
Got a music tip? Email Fenny at sales@morganhilllife.com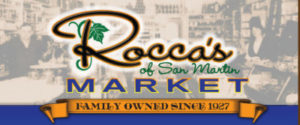 Mark Fenichel serves as the chief ad rep for Morgan Hill Life newspaper.

Latest posts by Mark Fenichel (see all)