Published in the March 7 – 20, 2018 Issue of Gilroy Life
Ever thought about making your own wine, then realize there are so many steps involved in the process, you gave up along the way? For most wine makers it's a hobby. And for those who are passionate and excel in producing exceptional quality wines consider wine making a dedicated craft and a creation of their soul.
So where to begin? Some start with purchasing grapes from local vineyards in the Santa Clara Valley or they seek out prime growing locations such as the Lodi, Paso Robles, Sonoma or Santa Lucia Highlands to source grapes. Growing your own grapes is another option that is a much harder challenge and requires more patience, diligence and knowledge of farming as well as an understanding of the terrain. Already over the first step?
For those who are less patient and want a hint of what it's like to make your own wine, check out some of the local wineries like Guglielmo and Martin Ranch that offer the public an opportunity to bottle their own wine.
This fun bottling event has been taking place at Guglielmo since their early days and they recently celebrated their 59th Bottle Your Own Wine event Feb. 3. The winery remained busy all day as guests were anxiously waiting to fill their own bottles.
A beautiful red blend comprised of Teroldego (52 percent) Ruby Cabernet (9), Barbera (9), Merlot (8), Zinfandel (7), Petit Verdot (6), and Mixed Reds (9), all from Guglielmo's Private Reserve Wines completed the blend.
A few of the locals described the experience as more work than they thought, not realizing the process involved to clean, dry, fill and seal the bottles. The wine is carefully handled and bottled for each guest. Seasoned wine club members were delighted they had finally gotten the bottling process down to a science. They were very excited to show off each bottle they had completed. The excitement in the air was contagious and made you feel as if for one moment you were really making your own wine. It's quite gratifying to feel the ownership of knowing the work you achieved to bottle your own wine. Guglielmo has been taking pride in this tradition for several generations dating back to the original founders, Emilio and Emilia Guglielmo. They were delighted to spend this "bottling day" with their guests while sharing entertaining stories, traditional Italian music and an assortment of breads and cheeses. If you missed the last one, mark your calendar for the 60th Bottle Your Own Wine event May 5.
That's why I suggest you leave the wine making to the experts and let them share their wines with us. The wines to watch right now are the Tempranillo from newcomer Janu Goelz of Alara Cellars and the Reserve Cabernet Sauvignon from another new comer J. Winston. I was fortunate enough to share in these new wines at the Wineries of Santa Clara Valley Industry Mixer held at Guglielmo Wineries last week. The Alara Cellars Tempranillo shows a beautiful garnet color in the glass with dark fruit on the nose that follows through on the palate with cherry, plum and dried fig. The Reserve Cabernet Sauvignon coming from J. Winston has a beautiful floral bouquet on the nose. The flavor profile is delicate yet full of cranberry and black currants with a smooth finish.
Both wineries can be found at the Stomping Grounds in Gilroy. Whether or not you get to partake in bottling your own wine, hopefully you have an appreciation for all the hard work that goes into a delicious glass of wine. Cheers!
Rachel Traylor Gratale works for Young's Market Company as a sales ambassador. She is a wine enthusiast with a background in restaurants & hospitality, management, sales, branding and design and coordinates events for the Wineries of Santa Clara Valley Association and can be found pouring at Sarah's Vineyard on weekends.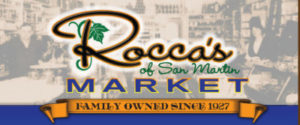 This guest column represents the views of the writer and not necessarily that of Gilroy Life. If you're interested in writing a guest column for this newspaper, please email the editor at editor@gilroylife.com.

Latest posts by Guest Column (see all)