Published in the April 4 – 17, 2018 issue of Gilroy Life
The seeds of Gilroy's future leaders can be planted this spring. We encourage members of the Gilroy community to support the Leadership Gilroy training program, which in 2018 marks its 20th-year anniversary.
Since 1998, more than 300 graduates have completed the 10-month program. Many have gained so much from the experience that they've gone on to become prominent leaders in Gilroy's business, education, faith, nonprofit and government organizations.
Gilroy Mayor Roland Velasco graduated in the 2001 Leadership class and now participates in the Government Day session. Gilroy Life publisher Marty Cheek graduated in last year's class and whole-heartedly recommends the program to people who want to enhance themselves personally as well as professionally.
Many of the graduates serve the community as stronger and better skilled leaders. They are more connected to and passionate about their community, and they have built relationships within their community they might not have otherwise had.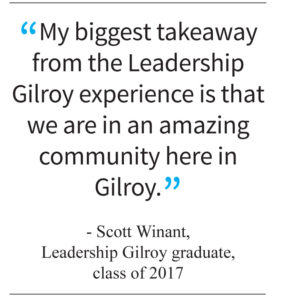 Women and minority members who go through the Leadership Gilroy program especially find in themselves the confidence and the communication skills to rise to positions of influence to enhance the quality of life for all here in Garlic City.
During the intensive training program, participants develop vital leadership and team-building skills, and gain a deeper understanding of the local community. They forge long-lasting friendships as they have a lot of fun along the way.
Leadership Gilroy is an excellent resource for anyone seeking personal or professional development as a leader. The program challenges participants to consider how they can grow personally, professionally, and/or within the community by covering a wide range of topics such as team-building, communication, ethics and diversity, conflict resolution, and change management.
The Leadership Gilroy program promotes awareness of community issues and provides exposure to various sectors of the community, including economic development, social services, public safety, education, media, local and state government, agriculture and history. Both Gilroy natives and those who are new to the community will learn much about the city they call home.
Each year's class performs a community service project. This exercise provides them with the opportunity to practice all the new skills they've been learning. Recent projects have included the Celebrate the Arts! mural downtown, the HeartSafe Gilroy initiative with AEDs and CPR training, Spokes4Folks Bicycle Drive, Have a Sole Shoe Drive, the inception of the Farmers Market and Demonstration Garden.
If you have a desire to grow as a leader and give back to the Gilroy community, consider attending the annual Spring Fling fundraiser 5:30 p.m. Saturday, April 14, at Sarah's Vineyard on Hecker Pass Highway. The cost is $75 per person and guests enjoy a delicious catered dinner and live music and other entertainment. More importantly, they'll be able to chat with alumni about their experiences with the program.
If you can't make it to the Spring Fling but you are interested in participating in the program next year, we suggest you contact Executive Director Andrea Gamble and meet for coffee to discuss the program and ask her any questions. Registration for the program opens in June.
Businesses or nonprofit might wish to consider sponsoring an employee or volunteer. Visit leadershipgilroy.org for an application and additional information.
"The program is open to anyone who is interested in growing as a leader and becoming more involved in their community," Gamble said. "The program experience is one that people really enjoy and talk about for years to come."
Strong leaders are the foundation for a stronger community that everyone can benefit from. When people find their passion and are empowered with skills, they begin serving on boards and commissions and positions of leadership.
Many of the participants continue to make an impact after completing the program by creating something special or meeting a need they see in the community. This is important to promote Gilroy's health and future prosperity.
"My biggest take away from the Leadership Gilroy experience is that we are in an amazing community here in Gilroy," said Heritage Bank employee Scott Winant, a graduate of the 2017 class. "I enjoyed getting to know business leaders, seeing the community outreach that occurs, and making connections with people in different industries that you normally may not have gotten to know."
Consider joining the 2019 Leadership Gilroy class. The experience will change your life — and will help you give back to the community in ways you might never have imagined.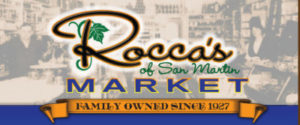 If you would like to share your thoughts about this editorial, please email Robert Airoldi, the Gilroy Life editor, at editor@GilroyLife.com or call him at (408) 427-5865.

Latest posts by Gilroy Life Editorial (see all)