Poppy Jasper International Film Festival will show foreign and domestic films
Published in the April 4 – 17, 2018 issue of Gilroy Life
Film fans will enjoy some of the most entertaining and challenging cinematic works at this year's Poppy Jasper International Film Festival. The annual event will be held April 5 to 8 in locations in downtown Gilroy and downtown Morgan Hill.
Film is an art and it is something that should be celebrated, said festival director Mattie Scariot. She promises audiences will see some excellent movies both foreign and domestic they wouldn't be able to see at a regular theater.
"Going to a film festival is taking a chance in seeing film," she said. "This is an opportunity to step outside of your comfort zone. At the same time, you're celebrating the arts and supporting the arts and supporting a local festival that's run by 100 percent volunteers."
Among the foreign films, she highly recommended the "Inevitable Fate of Mr. Tourani," a dark comedy made by Iranian filmmakers about people waiting with a man who is dying.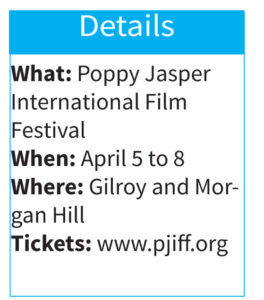 "It was a little bit risky to put this film in the festival, but when I understood what they are trying to do with the film, I thought it was really funny," Scariot said. "It's based on something in the Iranian culture that (most Americans) are not use to seeing. We're not use to seeing people annoyed by someone who is not dying quickly enough."
The film gives a perspective of Iranian culture that shows the comic side of human nature, she said.
"It is pretty funny if you have a little bit of a dark sense of humor. I really liked it," she said. "I thought it was beautifully edited and really well shot. These guys know what they're doing."
The PJIFF also released its "Best Of" selected by a team or film-savvy jurors:
Best Feature Documentary — "F**k It, It's Over" — England
Artist Henrietta Sophia Wallace Dunlop was raised in early 1970s Soho London when it was a hub for artists — a place with a unique vibe and character.
Best Short Documentary — "Grey Matter" — Oklahoma
An advanced writing cohort goes inside Mabel Bassett, Oklahoma's largest maximum-security prison which incarcerates more women than any other prison in the country.
Best Comedy Short — "In the Waiting" — California
Lisa, an insecure actress, meets Mina, a confident YouTuber, in the waiting room of a production company in order to audition for a part in a laundry detergent ad. As they wait to audition, competition gets the best of them both.
Best Local Night Film — "Making of a Gangster" — California
A feature-length documentary that takes aim at the biggest issue of "gangsta" transformation — the mindset. The psychology of the gang members is studied in interviews with members, former members and clinical psychologists.
Best Foreign Comedy — "My First Time" — Israel
Tonight, Maggie is "doing it" for the first time. She meets Kobi, a guy cute enough for her purposes. But Kobi discovers Maggie's real intentions while she is enroute to his apartment …
Best Foreign Drama — "With My Own Two Hands" — France
A documentary that chronicles some of the most relatable and poignant moments in one person's life, from birth to death, as expressed by his hands.
Best Youth Film — "The Search for the Lost Family" — Germany
A school in Germany teaches disadvantaged kids to make a short film in stop-motion animation out of paper. Their film is about a little elephant that loses his family and how fairy helps him find them.
Best Short Drama — "The Secret Nobody Knows" — New York
Inspired by an e.e. cummings poem, this story of romance is set in 1952 during the Korean War. Kate and Tom spend their last few hours together before his military deployment.
Best Animation — "Plastic" — France
A bird leads the audience into a world of "plastic" colors.
Best First-Time Director — "Eternal Recurrence of a Deep Sleep" — Iran
The film follows random people in the streets on a strange night.
Best Film Directed by a Woman — "Schoolyard Blues" — Sweden
On a boy's first day at school, his big brother shows up unexpectedly to follow him to assembly on a mission to teach him the facts of life, starting with the merciless demands of the schoolyard.