Local students spend 17 minutes remembering those who lost lives
Published in the April 4 – 17, 2018 issue of Gilroy Life
As more than a million people across the U.S. took part Saturday, March 24, in the March for Our Lives demonstrations, an estimated 400 South Valley residents, ranging from children to senior citizens, participated in a locally organized march through downtown Morgan Hill to promote student safety from gun violence.
Traveling from Gilroy, San Martin and San Jose, the participants met at the amphitheater at the Morgan Hill Community Center. Carrying signs, they made their way down Monterey Road, turned right at Third Street, made another right on Depot Street and returned to the amphitheater to hear speeches by students, teachers and elected officials. The peaceful protest came 10 days after students across America walked out of classrooms as part of a nationwide effort to protest gun violence and push lawmakers to strengthen gun control laws. The walkout took place on the one-month date of the tragic shooting where 14 students and three teachers were gunned down in a mass shooting at Marjory Stoneman Douglas High School in Parkland, Fla.
Among the children marchers in downtown Morgan Hill was Adam Arellano, a Luigi Aprea Elementary School third-grader. He carried a sign that read: "We are students. We are change."
Asked why he was participating in the event, he replied, "So people don't really have guns in schools. I want a safer world."
His grandmother, Janet Barke, said they were participating in the March for Our Lives event to try to bring "real change" to America's firearm policies.
"We want stricter gun laws. It's not the same as it was 300 years ago or even 50 years ago," she said. "I don't want to take people's guns away who hunt. But you go to a gun range 10 or 15 years ago there were different weapons. You go now, it's all assault rifles. It's crazy."
After the Parkland mass shooting, an attitude changed across America as students began to take a more activist role, she said.
"I encourage that change. I'm so tickled," Barke said. "I totally support those kids. I salute them for standing up because they're a really strong voice."
Adam is part of the next generation, a big reason she wanted to make sure he is aware of the impact his involvement in the march can have on bringing changes to the laws to make schools safer for students, Barke said.
"He might not understand everything that's going on," she said. "I try to talk to him without scaring him but letting him know about the reality. It is scary."
Morgan Hill resident Jennifer Apel was encouraged by the large turnout for the march, she said.
"We're just representing a smaller community and we want to speak out against something that is completely unreasonable," she said. "It's a traditionally American thing to step out and show your dissent and just mobilize and unite."
At Sobrato, Live Oak, Central and Oakwood high schools in Morgan Hill, students participated in classroom walkouts they organized to show solidarity with students across the nation at 10 a.m. March 14 and remember the 17 people who died at Parkland from AR-15 bullets.
Students at three middle schools and four high schools in the Gilroy Unified School District participated in student-led 17-minute remembrances of the Parkland victims starting at 10 a.m. March 14, said Superintendent Deborah Flores.
At Gilroy High School, Flores joined an estimated 500 students at the campus's student center where activities were held. Students wrote messages of hope on a large poster with the 17 victims' names on it.
At Christopher High School, about 300 students gathered around the flagpole on the campus where they released 17 balloons in memory of those killed.
"There was good participation. They were very respectful, appropriate, and did a great job," Flores said. "We are proud of our students. I think they did a great job in planning those events and leading them."
In a speech to the marchers from the amphitheater stage, Live Oak teacher Q A Nguyen said he has seen a shift in his students' attitude after Parkland.
"The atmosphere changed. Before, it seemed like everyone was debilitated by this fear," he said. "But now this fear turned into anger and rage. And that anger and rage turned into a wakeup call, a highly sensitive awareness, a motivation to be heard, a call to action. It seemed like our youth picked up the mantle."
Live Oak senior Cheyenne Duarte said her generation has decided to take a stand against gun violence.
"School is supposed to be about GPAs, football games, band practice and AP tests. However, school is now code-reds and code-blues," she told the crowd. "School is putting up impenetrable structures and numerous drills. School is fear and nervousness. School is knowing the exit for every classroom. School is day-dreaming, maybe 'nightmaring,' about which classroom is the safest. School is now a threat."
Through the protests, students across America are encouraging elected leaders to change the laws and demand safer schools.
"We are no longer going to be numb to the droning of politicians and media telling us we are not worthy of attention, that our opinions don't matter," she said. "We are taking a stand to change legislation and demand safer school environments. We protest the ability to easily obtain semi-automatic or assault rifles."
San Benito County Supervisor Robert Rivas joined the downtown Morgan Hill march because he sees it as an encouragement in the politically polarized climate if people start coming together with a goal "to change the narrative" and stop the estimated 15,000-gun deaths every year.
"I'm here with all of you to stand together and stand with our students in honor of the many victims of gun violence across this country," he told the crowd. "I'm here to stand with you to say, 'Enough is enough!'"
Santa Clara County Board of Education Trustee Claudia Rossi assured marchers that "there is change in the air today" through the leadership of students.
"That change is being led by our sons and daughters," she said. "They're leading the way because they were changed by the fact that children were looking forward to summer vacation, asking their girlfriend to the prom, planning for college. We are led by these young people because their indignation has moved the adults who, quite frankly, have failed them."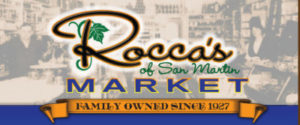 Latest posts by Marty Cheek (see all)