Published in the April 4 – 17, 2018 issue of Gilroy Life
Musicians are celebrating the opening of "music season" at many of the wineries throughout San Martin, Gilroy and Morgan Hill. If wine, music and sunshine are high on your list of things to do, consider checking many of the wineries in the South Valley wine region.
Personally, I enjoy performing at the local wineries around the area. Playing outdoors or inside the tasting rooms to an appreciative audience of responsible wine toting adults is certainly rewarding.
Clos LaChance comes to mind as a leader in live music at their winery with a wide variety of bands performing every weekend either on their spacious deck or out on their lawn area with some of the best surrounding scenery imaginable.
Guglielmo Winery has their summer series Vines & Vibes mid-week with the Bay Area's top bands performing over a three-month period throughout the summer.
Satori Cellars is a wonderful spot to kick back and sip tasty varietals while taking in the beautiful surroundings and live music on weekends.
Lion Ranch in San Martin sporadically features live music on their grounds but not as often and consistently as other wineries. However, when they have music it is a terrific outdoor spot right in their front yard.
Sunlit Oaks in Gilroy offers an outstanding view and picnic tables to sit and eat your own picnic while sipping their various wines. They have music from time to time and it is a to sit and hear live music while the cows dance in the adjacent fields.
Hecker Pass Winery puts out an annual music series called Wine Down Wednesdays with a wide mix of music on an excellent sound stage with mountainous views surrounding their spacious seating area. I am looking forward to another successful music series in their backyard.
Seeker Vineyard has their special I Love Music Series which began in March and spreads out all the way to November with live music scheduled once a month.
During the summer Sarah's Vineyard in Gilroy is a winery that offers occasional live music on their gorgeous lawn area adjacent to their tasting room. They will be featuring an upcoming fund raiser with Leadership Gilroy April 14. The nonprofit group's 4th Annual Spring Fling Event takes place from 5:30 to 9 p.m. The evening includes a selection of wines, gourmet dinner from Kneaded Bakery, and live music from Miko's Montaj. There will also be an auction and raffle prizes. Spring Fling is open to everyone in the community. All proceeds benefit Leadership Gilroy's annual community leadership training program and provides scholarships to participants. Tickets are available at www.leadershipgilroy.org.
There is one winery that I must note that is not in the South Valley but above the hills of Saratoga. Savannah-Chanelle is a place to check out just about four miles past downtown Saratoga up the oh-so-winding Highway 9. The turnoff on the left is easy to miss so pay attention. Once you get up their long driveway leading to the well-kept grounds you will be glad you made the drive. They are big proponents of live music and feature acoustic and electric bands every Friday from 5 to 7 p.m. and in the afternoon and evenings on Saturdays and sometimes Sundays too. It is about a 40-minute drive from Gilroy but a wonderful place to spend a relaxing afternoon.
These are just some of the musical wineries that are worth checking out. I know I may have left off some, so let me know and I will include them in future articles with more wine and music hotspots in the South Valley.
On another note, straight from his sold-out New York City performance, one of Spain's leading flamenco guitarists, José Antonio Rodríguez, will make a special April 14 appearance at 7 p.m. at Gavilan College, 5055 Santa Teresa Blvd.
Tickets are available at the Gavilan College Bookstore, BookSmart in Morgan Hill, Porcella's Music in Gilroy, at www.brownpapertickets.com/event/3382556, and at the door. The cost is $15 for general admission and $10 for students and seniors: Details: (408) 848-4794.
Thanks to my March column mentioning Station 55 Mexican restaurant in downtown Gilroy, the band One More Time played a showcase there last month. Allen Beale, band leader, sent his thanks for alerting him to the venue. Your welcome!
Got a music tip? Email harmonicaman1@yahoo.com.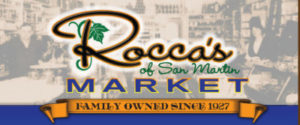 Mark Fenichel serves as the chief ad rep for Morgan Hill Life newspaper.

Latest posts by Mark Fenichel (see all)