Published in the May 2 – 15, 2018 Issue of Gilroy Life
The Gilroy Garlic Festival is still two months away, but there's news coming out of the Garlic Capital. First, the Gilroy Garlic Festival's 40th Queen will be crowned on May 6; second, MasterChef Season 7 Winner Shaun O'Neale returns to the festival; and finally, Olympic Champion Brian Boitano will host the 2018 Great Garlic Cook-Off.
Every year since 1979, the Gilroy Garlic Festival has crowned a "Miss Gilroy Garlic Festival Queen" to reign over the festivities. This year's 40th annual Queen Pageant will be held at Gilroy Gardens Family Theme Park at 3 p.m., Sunday, May 6. Ten contestants will be judged by a panel of five judges on personal interview, talent, garlic speech, and on-stage question. The winner will receive a $1,000 prize. This year's contestants include Searra Harding (17) and Sloane Pace (17) from Gilroy High School; Jennesa Andrade (18), Melinda Colbert (17), and Lauryn Longoria (17) from Christopher High School; Frida Arias (18) from the Dr. TJ Owens Early College Academy; Adrianna Molina (19) from Gavilan College; Sophia Bocher (24) and Kylie Kuwada (19), both students at Cal Poly; and Marciel Gomez (18), who attends the University of Nevada Las Vegas.
Katie Alatorre, chair of the Queen Pageant Committee, said, "All of our contestants are excited to be part of the Gilroy Garlic Festival's 40th annual celebration. We encourage everyone to come out to see these incredibly lovely and talented young women competing in a beautiful setting at Gilroy Gardens."
Shaun O'Neale got a taste of the festival last year and enjoyed the event so much he'll be back for more at this year. O'Neale will serve as emcee for both the Champions for Charity cooking competition and the all-new Garlic Chef Jr. contest Friday, July 27, and will also perform his own cooking demonstration on the Garlic Cook-Off Stage.
On his trip to the Garlic Capital of the World last year, O'Neale was especially impressed by the fact that the festival is run almost entirely by volunteers working to raise money for local schools and charities. "The Gilroy Garlic Festival should be the platform for how food festivals are run around the world," said O'Neale. "Garlic for everyone!"
The third annual Champions for Charity cooking competition features local firefighters, police officers, EMS professionals and military personnel competing to win $3,000 for a charity of their choice. Later in the afternoon, the all-new Garlic Chef Jr. competition will feature eight young chefs (younger than age 18) preparing a dish with at least six cloves of garlic for the chance to win $500.
Todd Trekell, president of the 2018 Gilroy Garlic Festival, said, "Shaun totally embraced the whole Garlic Festival experience last year, and we're so glad he's coming back as we celebrate 40 years of family fun. He really understands that what makes our event so special are the people in the community who all come together to make this the world's greatest summer food festival."
Finally, Olympic figure skating champion and television cook Brian Boitano is no stranger to performing under pressure — and that experience will serve him well as he hosts the Great Garlic Cook-Off at the Gilroy Garlic Festival Saturday, July 28, 2018. Boitano will emcee the Great Garlic Cook-Off from 10 a.m. to 12:15 p.m. and then do a cooking demonstration on the Garlic Cook-Off Stage at 12:30 p.m., sharing one of his own favorite garlic-laced recipes and answering questions from the audience.
This will be the 40th annual Great Garlic Cook-Off, which started back in 1979 and has grown to become one of the nation's best-known — and most intense — amateur cooking contests. Eight chefs from around the country will be competing on the Garlic Cook-Off Stage, preparing their own original recipes for the chance to win a grand prize of $5,000 and the coveted garlic crown.
As a champion figure skater, Boitano, won Olympic Gold in 1988 and more professional titles than any other skater in the history of the sport. He is a member of the U.S. Olympic Hall of Fame, The World Skating Hall of Fame, and the U.S. Skating Hall of Fame.
Boitano also gives a winning performance in the kitchen. In 2009 and 2010, he hosted the Food Network show "What Would Brian Boitano Make?" and published a popular cookbook of the same name. His recipes are designed for those with active lifestyles who care about nutrition but also enjoy great food.
"As we celebrate the Gilroy Garlic Festival's 40th year, we're extremely proud to welcome Brian Boitano to the Garlic Cook-Off Stage. Brian is of course a world-famous Olympic champion and TV cook, but he's also a local hero who hails from just up the road in Sunnyvale," Trekell said. "This event really is about bringing the community together, so we're thrilled to have Brian join us as we celebrate 40 years of family fun."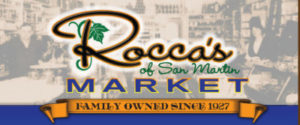 Robert Airoldi is the editor of Gilroy Life newspaper. If you have a story idea or an Around Town column item you want to tell him about, you can reach him at (408) 427-5865 or at editor@gilroylife.com.
Latest posts by Robert Airoldi (see all)