Published in the May 16 – 29, 2018 issue of Gilroy Life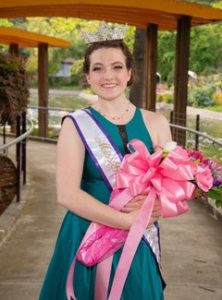 Congratulations to Sloane Pace and Chris Dufur for winning their respective Gilroy Garlic Festival contests. Pace was crowned the 2018 Miss Gilroy Garlic Festival Queen at the annual scholarship pageant held May 6 at Gilroy Gardens Family Theme Park. Queen Sloane and her court will represent the 40th annual Gilroy Garlic Festival at numerous pre-festival activities and throughout the three days of the festival, July 27, 28 and 29. Dufur, from Gilroy, won the annual Gilroy Garlic Festival Art Poster Contest.
A senior at Gilroy High School, Pace plans to attend U.C. Berkeley in the fall. As queen, she was awarded the $1,000 top prize as well as a $10,000 scholarship from Christopher Ranch. Pace also won the Garlic Speech competition with "The Garlic Cruise" and was awarded $1,000 from Olam.
First Runner-Up was Maricel Gomez, who received $500 from GGFA and $5,000 from Christopher Ranch and was also recognized as Best Talent for her dance performance to "Jailhouse Rock."
The rest of the 2018 royal garlic court will include Second Runner-Up Searra Harding, who received $250 from GGFA and $3,000 from Christopher Ranch, and princesses Sophia Blocher, Melinda Colbert, Frida Arias, Kylie Kuwada, Lauryn Longoria, Adrianna Molina and Jennesa Andrade, who were each awarded $1,500 from Christopher Ranch.
In other special awards, Longoria was named "Miss Congeniality." Colbert won the Past Presidents award and a $950 scholarship. Kuwada was selected for both the Founding Fathers Award (a $500 prize) as well as the Past Queens Award ($475).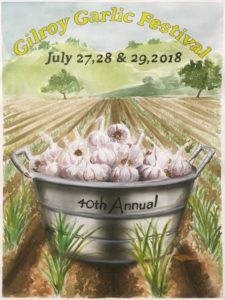 Joining Pace in the garlic glory is Dufur, the first-place winner of the Gilroy Garlic Festival Poster Contest. Dufur receives a $500 prize. Prints of his winning design will be available for sale during the festival.
"This was the first art contest I've entered — so it feels pretty good to win," he said. "I have a passion for art and enjoy having my work out there for people to see."
Dufur submitted three different entries in different styles; his winning poster was done in traditional watercolor paint and features a metal tub of fresh-picked garlic bulbs in a field against a backdrop of rolling green hills and trees.
Dufur said he was inspired by his teacher and mentor Scott Lance (who won in 2009), his twin brother (who is also an artist), and friends and family who encouraged him to enter the contest.
The contest welcomes submissions from across the country. The committee received 33 entries from across the country, including artists in Florida, Colorado, Massachusetts, and Texas. Ruth Ann Irving of Gilroy won second place and a $250 prize. Third place and a $100 prize went to Deborah Walker Schwarz, also from Gilroy. And Gilroy's own JoAnne Perez Robinson won $200 for the "Association's Choice" prize, voted on by volunteer members of the Gilroy Garlic Festival Association. For more information, go to www.gilroygarlicfestival.com.
In more Garlic Festival news, "Iron Chef" Michael Symon will host the Garlic Showdown this year. The festival has welcomed many famous chefs to the Garlic Cook-Off Stage but has never hosted a true Iron Chef — until now. At high noon Sunday, the Iron Chef-inspired competition features local professional chefs squaring off in a culinary battle for a $3,000 cash prize and ultimate bragging rights.
After the winner is announced, Michael will perform a live cooking demonstration and answer questions from the audience.
"This year the Gilroy Garlic Festival is celebrating 40 years of family fun — and we're thrilled to welcome Michael Symon, a genuine Iron Chef, to reign supreme at our own Garlic Showdown," said Todd Trekell, 2018 Gilroy Garlic Festival President.
Symon cooks with soul. Growing up in a Greek and Sicilian family, the Cleveland native creates boldly flavored, deeply satisfying dishes at his award-winning restaurants: Lola, Mabel's BBQ, Roast, Bar Symon and B Spot.
The Veterans of Foreign Wars Post 6309 will sell commemorative bricks at the Veterans Memorial Park will be on sale through the month of May.
Regularly $75 each, the brick pavers will only cost $50 through May in celebration of National Military Appreciation Month. But space for the commemorative bricks is running out.
"There are nearly 600 bricks already in place, and we only have space for about 60 more," said Bob Diaz, Commander of the VFW, which sells the bricks. "This is a lasting way to honor our veterans."
The brick pavers can include up to two lines of 20 spaces. Pavers typically include the veteran's name, branch of service and dates served. Applications are available through the VFW or at the Veterans Memorial Hall at 74 West Sixth St., Gilroy.
The VFW John A. Berry Post 6309 established the Veterans Memorial on the Ranch Site of Christmas Hill Park in June 2006. The monument features the logos of the six branches of military service, three flag poles and the brick pavers honoring local veterans.
In August 2014 the final brick was placed, however there is still demand for more bricks by local veterans and their families. As a result, the Gilroy City Council approved the expansion for up to 160 more spaces for the bricks.
Founded in Gilroy in 1946, the Veterans of Foreign Wars Post 6309 is a patriotic veterans' organization that fosters camaraderie among veterans of overseas conflicts. Its mission is to serve the veterans and the community and to advocate on behalf of all veterans.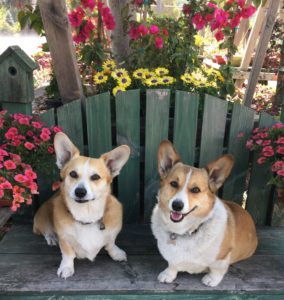 Finally, congratulations to Chris and Carrie Sullivan, owners of Westside Nursery, and their mascots Charlie and Cierra, in celebrating 25 years in business.
"Where has the time gone?" Carrie asked. "We take a lot of pride in offering our community the experience of a country-style nursery where you will find quality plants and trees, a friendly, family atmosphere and great prices. Come help us celebrate our anniversary this month."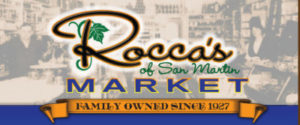 Robert Airoldi is the editor of Gilroy Life newspaper. If you have a story idea or an Around Town column item you want to tell him about, you can reach him at (408) 427-5865 or at editor@gilroylife.com.
Latest posts by Robert Airoldi (see all)