Published in the May 16 – 29, 2018 issue of Gilroy Life
South Valley is proud of the American spirit. Residents from Gilroy, Morgan Hill, and San Martin come together to celebrate the Fourth of July at the annual Freedom Fest series of events put on by the nonprofit organization Independence Day Celebration, Inc.
Freedom Fest isn't free. It takes more than $100,000 and at least 500 volunteers working many hours to put together the South Valley's birthday bash for the United States. They love being on a team devoted to creating a family-friendly affair that's free and fun for everyone.
The Freedom Fest organizers claim farm families started the July 4th celebrations in 1876, the centennial year of America. Although there's no recorded evidence to support this assertion, it is true that all three South Valley communities feel the American spirit on Independence Day.
A team of volunteers from throughout the region prepare Freedom Fest's six events. July 3 is when children come to the Downtown Morgan Hill Amphitheater to share songs of American pride at the popular Patriotic Sing. Immediately following it is the Downtown Family Street Dance.
The Fourth of July morning starts with the Freedom Run and a Car Cruise of classy chassis. The Independence Day Parade through downtown is the official Fourth of July Parade for Santa Clara County. That event's pomp and pageantry — as well as the fireworks and entertainment at the Outdoor Sports Center — bring tens of thousands of people together to celebrate life, liberty and the pursuit of happiness as an American family. Garlic City puts on its own celestial display of American spirit July 4 at Gilroy High School after sunset.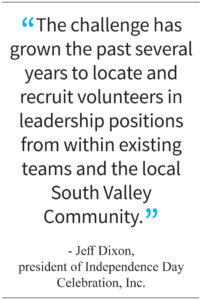 It's only six weeks to Independence Day and Freedom Fest truly needs the South Valley community's support to make it a success this year. The organizers asked us to get the word out that they need a lot of help in financial donations and volunteers to put on their various events. We want to extend the invitation to the people of Gilroy and San Martin because, just as the Gilroy Garlic Festival is a regional celebration of our agricultural heritage, Freedom Fest is an event for all South Valley residents to remember our common heritage of American ideals and values.
IDC President Jeff Dixon told us, "The challenge has grown the past several years to locate and recruit volunteers in leadership positions from within existing teams and the local South Valley community. The current need is to locate new leaders to enable a transition period of existing to future teams. We invite new residents to join Freedom Fest and find your niche."
If you're not be able to share a few hours a week helping the Freedom Fest organizers, please consider sharing some of your dollars and donate to the cause. Freedom Fest is entirely funded by businesses and individuals. It receives no money from any government agency. It completely relies on people who love the American spirit enough to send checks or give money through their PayPal account (found on their website).
"Freedom Fest is fortunate to have a dedicated team of long-standing volunteers and receives tremendous financial support from the community," Dixon told us.
If you are dedicated to the cause of freedom and the values we celebrate, please consider providing support either through time or treasure. We especially encourage families to get involved to teach youngsters an appreciation for the many sacrifices made by those in the military.
Freedom isn't free. And neither is Freedom Fest. Please support this South Valley event in whatever way you can.

If you would like to share your thoughts about this editorial, please email Robert Airoldi, the Gilroy Life editor, at editor@GilroyLife.com or call him at (408) 427-5865.

Latest posts by Gilroy Life Editorial (see all)