Published in the May 16 – 29, 2018 issue of Gilroy Life
Live outdoor music is here at the wineries, local festivals and downtown music events. The Gilroy Garlic Festival has their music line-up set for 2018. The line-up details will be featured in a future article but for now you should know they have a great mix of blues, rock, country, soul, funk, southern rock, surf rock, rockabilly, dance music, party bands and a DJ tent with a wide variety of local DJ's. Some of the many bands that I am happy to see at the festival this year include The Moondance Band, The Tsunami Band, Angelique Lucero, Ted Sanchez, The Mike Osborn Band, Tin Man, Vital Sign, blues singer Paula Harris, Los High Tops with singer Chantilly Lace Vincent and Santa Cruz favorites Extra Large.
Sunday will bring a day of country music as KRTY radio brings top notch national country acts to the Amphitheater Stage with artists including Mitchell Tenpenny, Travis Denning and Cale Dodds.  Mckenna Faith will close out the evening on that stage.  Local country band The Kelly McDonald Band will also be out there on the Vineyard Stage as will Mason Douglas and Jeff Ricketts and the Dirt Road Band. All fine Country acts. If you want to see the full music line-up in advance visit gilroygarlicfestival.com/festival/entertainment
The Morgan Hill Mushroom Mardi Gras May 26 and 27 is all set with two full days of music on two stages. Saturday on the Amphitheater Stage Bent kicks it off at 11 a.m. then Bay Area's favorites The Houserockers at 1 p.m. Blue Collar Man (a Styx tribute band) at 3:30 p.m. and Faithfully (a Journey tribute band) at 6 p.m. The other stage will be on Fourth Street and includes Under Cover at 11:30 a.m. followed by Jonesy a hippie hillbilly band at 1 p.m. One of the Bay Area's long-time Vintage classic rock bands (three of the members have been together for more than 34 years) Chubby's Allstars takes the stage at 3:30 p.m. followed by locals Vital Sign at 5:30 p.m.
The Sunday line-up is strong as well. On the Amphitheater Stage the day begins at 10 a.m. with Fourwayfree then at noon the high energy of Pacific Soul hits the stage followed by the The Joint Chiefs Band at 2 p.m. and closing out the day will be Santana tribute band Caravanserai at 4 p.m.
On the Fourth Street stage you can enjoy The Emphatics at 10:30 a.m. followed by long-time Mushroom Mardi Gras favorites Fast Lane and then Gilroy's Classic rockers JJ Hawg at 2:30 p.m. Closing out the day will be the country band Bootleg at 4:30 p.m.
The Premium Wine Tent will feature live music both days (The cost is $25 in advance and that gets you admission and 10 premium wine tastings and a comfortable shady place to hang out). Saturday from 1 to 5 p.m. you can enjoy the music of Fred McCarty and from 12:30 to 4:30 p.m. Sunday listen to acoustic folk, roots, blues, country, classic rock and originals of the Cook'NFenny Combo.
On another note, Morgan Hill's Friday Night Music will have you Chillin' beginning June 1 and ending Aug. 17 with bands including Entourage, Shane Dwight, Busta-Groove and Pacific Soul just to name a few. They also will have opening acoustic acts, school band acts and young child performers beginning at 6 p.m. Mama Mia's Patio Series has just begun with live music on the patio every Thursday throughout the summer 6 to 9 p.m. and Clos LaChance Winery has lots of live music in various spots on their beautiful grounds now throughout the entire summer. Of course, many other wineries will be offering live music including Guglielmo's Vibes & Vines series every Wednesday beginning June 6.
Got a music tip? E-mail harmonicaman1@yahoo.com.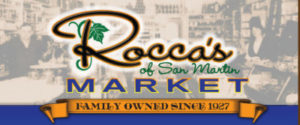 Mark Fenichel serves as the chief ad rep for Morgan Hill Life newspaper.

Latest posts by Mark Fenichel (see all)