Published in the May 30 – June 12, 2018 issue of Gilroy Life
Congratulations to this year's recipients of Gilroy Unified School District's Employee Recognition Program.
They were chosen from GUSD's four bargaining units and are: Rachel Mendoza, California School Employees Association who was nominated by Melissa Vernon for her contagious positive energy that makes CHS a great place to be and dedication to every aspect of her job; Sara Espinosa, Gilroy Federation of Paraeducators, South Valley Middle School, nominated by Maria Jose Garcia for going above and beyond in her work performance and the kind, loving care she shares for her students; Adrienne Summers, Gilroy Teachers Association who was nominated by Anna Pulido for her dedication to students and support she shows her colleagues; and Kermit Schrock, Management, who was nominated by Tami Espinosa for his willingness to help staff at all school sites with data analysis and program support.
"As always with these types of programs, it was a difficult decision because so many of our staff make incredible contributions in their own way on a daily basis benefiting our students, staff and community," Superintendent Debbie Flores said.
The Gilroy Garlic Festival is seeking both professional barbecue teams and amateur backyard grillers to compete in the third annual Gilroy Garli-Que BBQ Challenge at this year's Gilroy Garlic Festival.
Saturday, July 28, professionals will face off in the Gilroy Garli-Que BBQ Challenge, officially sanctioned by the Kansas City Barbeque Society. Teams will compete for $10,000 in prize money, trophies, and bragging rights — not to mention the coveted People's Choice Award. Each team will barbecue pork ribs, pulled pork, chicken, and brisket — plus an optional category for the Gilroy competition, "Anything Goes with Garlic."
Sunday, July 29 will be the Gilroy Garli-Que Backyard BBQ Rib Challenge, open to amateur grillers and local residents who have never participated in a sanctioned professional BBQ event but want to show off their best garlicky rib recipes. First place will receive a $150 cash prize, with $100 going to second and $50 to third. Garlic is a required ingredient
Teams interested in competing are encouraged to apply as soon as possible, as a limited number of spaces are available. Official contest rules and online application forms are posted at gilroygarlicfestival.com.
Good luck to all!
Looking for a fun night out and help raise money for scholarships that benefit local students? Check out South County Cal-SOAP's 3rd annual signature fundraiser, AlumNight 2018, which will celebrate another year of creating educated communities, one underrepresented student at a time. The event takes place from 6 to 8:30 p.m., June 21, at Solis Winery, 3920 Hecker Pass Road. Tickets are $55 and include live music, local culinary delights, award-winning wines, and a chance to win one of many prizes. The evening will be highlighted by 2017-18 Cal-SOAP Scholarship recipients who will share their high school experiences and their future plans as they embark on their post-secondary education. South County Cal-SOAP Edwin Diaz Educator of the Year award recipient, Ted Thomas, will also be honored.
Call (669) 205-5470, email southcountycalsoap@gmail.com or visit www.southcountycalsoap.org for tickets and more information.
Calling all artists! It's your chance to enter the Gilroy Rodeo Art Poster Contest. First place will win $350, second place $175 and third place $100. In addition, the first-place winner will receive five posters and one of each souvenir item produced with his or her artwork. For application and rules visit www.gilroy.org or email Lisa@LisaSoldMine.com or call Lisa Faria (408) 710-6085 deadline to enter is June 8.
Congratulations to the winners of the Gilroy Exchange Club at their May 16 Annual Blue and Gold Luncheon which honored our men and woman who keep our communities safe and protected. This year's honorees are firefighter Thomas Cooper with the Gilroy Fire Department, Battalion Chief Mike Mathiesen with the California Department of Forestry, Deputy Nicolas Carlin with the Santa Clara County Sheriff Department, officer Chris Miceli with the California Highway Patrol, officer Jason Greathead with the Gilroy Police Department, Marine Veteran Frank Masoni as the Veteran of the Year (posthumous award). Finally, Michelle Adams was honored with The Book of Golden Deeds Award recognizing unsung heroes.
The Gilroy Foundation continues to give, and this year the nonprofit gave out $526,750 in scholarships at various senior award ceremonies.  Eighty students from Gilroy high, Christopher high, the Gilroy Early College Academy, Mt. Madonna and Gavilan College received awards ranging from $250 to $50,000.
"We are so fortunate to have so many scholarships to award that we have three 'teams' of volunteers reading the students' applications," Executive Director Donna Pray said
Awesome job, students!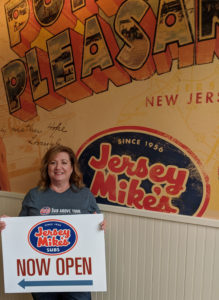 Speaking of the Gilroy Foundation, Laurie and Harry Sontag plan to open a Jersey Mikes in Gilroy June 13. As part of the company's culture, they partner with a local nonprofit, and the Sontags chose the Gilroy Foundation. They will hand out 10,000 cards that allow the bearer to donate $2 to the Gilroy Foundation and in exchange, they will get a free sub.
"It's something all Jersey Mike's do and giving is a big part of our company culture," Laurie Sontag said. Sounds like a great deal and a great cause. We'll definitely participate.
Robert Airoldi is the editor of Gilroy Life newspaper. If you have a story idea or an Around Town column item you want to tell him about, you can reach him at (408) 427-5865 or at editor@gilroylife.com.
Latest posts by Robert Airoldi (see all)