He takes over from Greg Varela, who led the squad to 16 consecutive CCS team championships
Published in the May 30 – June 12, 2018 issue of Gilroy Life
Gilroy High School's wrestling program has achieved great success over the years, having won an unprecedented 16 consecutive Central Coast Section team championships, and finishing the 2017-18 season ranked 20th in the nation.
But it recently elevated its game even further by adding UFC light heavyweight champion Daniel Cormier to its coaching roster. Cormier was named the head coach of Gilroy High's boys' wrestling team on April 19.
"We are very fortunate to find a coach with such an amazing background in the sport of wrestling and mixed martial arts," said GHS principal and assistant coach, Dr. Marco Sanchez, a former Olympian. "Daniel Cormier is real fired up and excited about the prospects for next year and so are our wrestlers."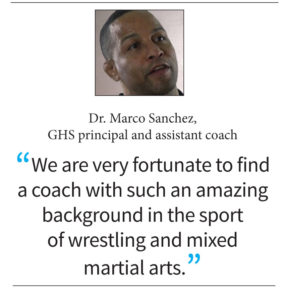 In March, the Mustang grapplers finished second in the California Interscholastic Federation State Championships. The squad qualified 12 athletes out of the Central Coast Section, and produced two state champions and one finalist, as well as numerous other state placers.
The team traveled to Virginia to compete in the National High School Coaches Association (NHSCA) High School Nationals, where four Mustangs won national champions and the team finished with six All-Americans. All three graduating seniors on the team will wrestle at Top 10 Division I colleges this fall, and nine of 12 state qualifiers will return to next year's team.
Adding Cormier is an impressive pin for a program which has already accomplished so much and set high standards for its wrestlers.
Cormier follows in the footsteps of Greg Varela, who is stepping down after 16 years, the past nine as head coach of the Mustangs. Under the leadership of Varela and his coaches, Gilroy's grapplers have become top-notch competitors year after year. His successor praised Varela in an Instagram post, saying: "Coach Greg left the cupboard full and did a great job with this program. His hard work is appreciated."
Cormier is a busy man. The mixed martial arts (MMA) fighter is currently training for his next UFC bout, which pits him against heavyweight champion Stipe Miocic at UFC 226 in Las Vegas, July 7.
Having his hand raised against Miocic would not only earn him the heavyweight title and make him a dual title-holder, but give him an imposing record of 21-1-0, with 1 NC, in the UFC. The 39-year-old Cormier has indicated that he will retire at age 40 to focus on other pursuits.
Not that Cormier needs any help filling out an already remarkable resume.
In addition to his MMA career, the Lafayette, Louisiana, native is a former All-American wrestler out of Oklahoma State University and was the senior U.S. National Champion from 2003 to 2008. He's also a two-time Olympian, finishing fourth at the Games in Athens. He served as the squad's team captain for the 2008 Games in Beijing, although illness prevented him from competing. He made his MMA debut in 2009.
Away from the octagon, Cormier is known for his insightful commentary as part of UFC Tonight on Fox Sports 1 (FS1). He and Miocic are coaching the two teams competing on the current season of The Ultimate Fighter: Undefeated, which also airs on FS1. He trains at American Kickboxing Academy in San Jose, and coaches kids from ages 5 to 12 there through his Daniel Cormier-AKA Youth Wrestling Club.
But perhaps most importantly, Cormier is a devoted husband and father. He lives in Gilroy, with his wife, Salina, and two children. The coaching position at Gilroy High School affords him an opportunity to spend more time with his family as his MMA career winds down.
In addition to the day-to-day operations of managing the program, Cormier will also be responsible for producing the Mid-California Wrestling Championship (Mid-Cals), a prestigious high school wrestling tournament that hosts the top teams from throughout the country.
Last year's tournament featured 81 teams from throughout California, Oklahoma, and New Jersey, and is considered one of California's premier wrestling tournaments.
Rounding out Cormier's staff are Kyle Crutchmer, Shawn Bunch, and Deron Winn. Sanchez, the NHSCA 2015 Assistant Coach of the Year, returns, along with 2018 NSCA Assistant Coach of the Year, Matt Corona, and Bill Newton.
It's been reported that Cormier will not accept payment for the head coaching position.
Instead, he'll donate his stipend back to the program.
This portends to be another banner year for the Gilroy High School wrestlers. But, only time will tell.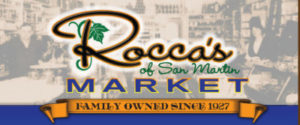 Donna Lane is a storyteller and San Jose native who earned her journalism degree at San Francisco State University. She lives in Gilroy with her family, who inspire her to celebrate life each day.

Latest posts by Donna Lane (see all)