Published in the May 30 – June 12, 2018 issue of Gilroy Life
For those of you that do not mind the 15-minute drive to Morgan Hill it is worth the short ride to Morgan Hill's Friday Night Music Series at the Downtown Amphitheater at the corner of East Dunne Avenue and Monterey Road. They promise to have you Chillin' all summer long. This Friday, June 1, was the first of the Friday summer series which ends Aug. 17 with bands including Rock The Heat June 8, Forejour (Foreigner & Journey Tribute band) June 15, Pacific Soul June 22, Soul Kiss June 29, Superbad July 6, Busta-Groove July 13, Shane Dwight July 6, Caravanserai July 27, Isaiah Pickett August 3, Blue Collar Men August 10, and Entourage who was also the series opener returning for the closing show on Aug. 17. They also will have opening acoustic acts, school band acts and young child performers beginning at 6 p.m.
Mama Mia's Patio Series has started with live music on the patio every Thursday throughout September from 6 to 9 p.m. Among the many outstanding acts, Shane Dwight will be making a few solo appearances at Mama Mia's relaxing Thursday Night Patio Series.
Clos LaChance Winery has lots of live music now throughout the summer. June 10 features The Mary Ellen Duo 1-4p.m., June 17 is a Father's Day fling with The Cook'NFenny Combo (with special guest Sean Woodward) 1-4p.m., June 21 Bent 7-10p.m., June 28 Rock The Heat 7-10 p.m., and on June 30 Mom's Night Out with Matt Mesih and the Messengers. Of course, many other wineries offer live music including Guglielmo's Vibes & Vines series every Wednesday beginning June 6 through the end of July.
Gilroy invites you to enjoy live music and a variety of food trucks this summer during Downtown Live. The event will run 5 to 9 p.m. Thursdays at 5th and Monterey streets. Food trucks arrive at 5 p.m. and the bands start at 7 p.m. The band schedule includes Arena June 21, Miko's MonTaj June 28, JJ Hawg July 12, HackJammers July 19, Bleach/Zoe Tree July 26, The Emphatics Aug. 2, Probable Cause, Aug. 9 and closing out the series Sweet Daddy & The Bad Cats Aug. 16. Details: visitgilroy.com/event/fifth-street-live-in-downtown-gilroy/
On another note, a nice one or two-day musical adventure would be a simple trip to the San Jose Jazz Summerfest, a showcase for jazz, blues, funk, R&B, salsa, world and related genres. San Jose Jazz Summer Fest is nationally recognized as one of the biggest Latin festivals in the country. Always guaranteed to be an ecstatic annual celebration of diverse Latin and American musical styles. Over the years the Salsa Stage has grown to become one of San Jose Jazz Summer Fest's musical and social pillars. For 2018, the stage's bookings are in the hands of beloved national radio personality Betto Arcos, who can be heard on programs such as NPR's "All Things Considered" and PRI's "The World." SJZ Summer Fest returns to downtown San Jose for its 29th festival season from Friday, Aug. 10 to Sunday, Aug. 12, and Betto Arcos has festival patrons covered for the most anticipated epic Latin dance party of the year. More details of this festival in a future issue.
The Morgan Hill Blues Festival is gearing up for their second festival Sept. 1, Labor Day weekend with many great acts. It will be held at the Morgan Hill Downtown Amphitheater. Save the date. Also, every Thursday evening The Milias Restaurant at Sixth and Monterey streets features Just Friends. They are always bringing in others to join them on stage so stop in and enjoy a fun evening. You never know who may show up.
Congratulations to "Night In The Garden" Alzheimer's fundraiser house concert at the home of Bruce and Tracy Magee for raising more than $1,000.
Got a music tip? E-mail harmonicaman1@yahoo.com.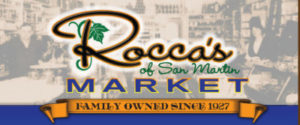 Mark Fenichel serves as the chief ad rep for Morgan Hill Life newspaper.

Latest posts by Mark Fenichel (see all)