New arena now being built for Aug. 11-12 inaugural rodeo
Published in the June 27 – July 10, 2018 issue of Gilroy Life
Long before high-tech corporations and venture capital business deals ruled the region, cattle ranches and family farms drove Santa Clara County's economy. Instead of sipping lavender lattes at hipster cafes or scrolling social media on their devices, residents turned to community rodeos for entertainment and fun social interaction.
Erik Martin, along with a group of dedicated volunteers, want to revive that buckaroo tradition. Their inaugural Gilroy Rodeo will be held Aug. 11 and 12 at a newly built rodeo grounds located on the 62-acre Furtado Dairy along Ferguson Road near Pacheco Pass. They hope to bring in between 2,500 and 5,000 spectators each day who will enjoy the skills of cowboys and cowgirls working with horses and bulls in 150-by-310-foot arena now under construction.
Martin, who runs a construction company, grew up on a cattle ranch. Starting at age 17, he worked at a ranch in Pescadero and participated in that community's annual rodeo. His passion for the competitive sport based on the working skills of vaqueros and cowboys motivated him to bring rodeo back to Santa Clara County after nearly a quarter century.
"There was a rodeo there every year," he recalled of the Pescadero rodeo of his youth. "It was just a good time. We had a lot of fun there. It was the highlight of the year, you know what I mean. You got to see all your friends and people you haven't seen for a long time. It was like a reunion. Just good times and just good clean fun."
At age 43, Martin wants his kids to have the same memories of fun at a community rodeo where competitors don't have to be at a professional level to participate.
Gilroy has not held a rodeo since 1956. That year the locally loved Gymkhana, held on what is now the site of South Valley Middle School, ceased operations. And there hasn't been a rodeo in Santa Clara County since the mid-1990s when the San Jose Firemen's Association's rodeo ended its decades-long run. As times changed and fertile fields gave way to suburban sprawl, the rodeo traditions came to a close in the county.
Martin wants to change that. He explored the local rodeo history and decided to bust out of the chute and give it a go. Reviving the local rodeo would keep the western tradition going for young people such as his 4-year-old son Maverick, 2-year old daughter Cora-Lee and one more child on the way.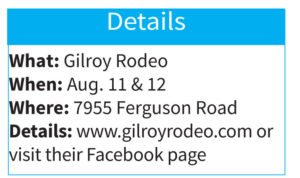 His wife, Kendra, is "a Gilroy girl" who grew up on a ranch with a dairy along Ferguson Road, east of U.S. 101. Two years ago when Martin got the idea to hold a rodeo on the property, she didn't disagree. In fact, to his surprise, she encouraged him. They started cleaning up the premises, enlisting the help of friends, relatives, high school students, and volunteers from the community who wanted to see the rodeo tradition return.
"No one said, 'That's a terrible idea,'" Martin said with a laugh. "Instead it was, 'What can I do to help?'"
But it entailed more than just organizing the rodeo, a large enough endeavor on its own. They had to build a facility, concurrently.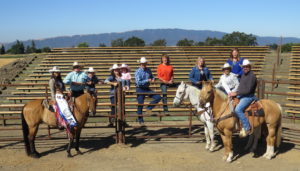 "It's a hell of an undertaking," Martin admitted.
That task was, at times, a tangled lasso of logistics. It meant clearing the barrels of obtaining permits, working with animal control, considering traffic and parking issues, and much more. But Martin and his supporters wouldn't be deterred. His knowledge as the owner of a construction company helped in the enterprise.
"This is an opportunity to make connections between city folks and country folks. We're working hard to make sure it's done right, because it's going to mean so much to this community," he said. "We're building the arena and seating, and it's going like gangbusters."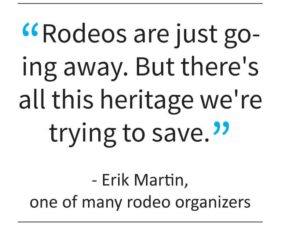 The Gilroy Rodeo is a nonprofit organization that will serve as a fundraising opportunity for Future Farmers of America, 4-H and other high school ag clubs. Students will earn money for their clubs by volunteering their time working at the event.
The two-day competition will include a mix of traditional rodeo and ranch events, featuring the standard eight California Cowboys Professional Rodeo Association events. These are calf roping, steer wrestling, break away roping, barrel racing, team roping, saddle bronc riding, bareback riding, and, every daredevil's favorite, bull riding. CCPRA events will be open with a one-day permit, and they are open to everyone. Sign-ups will open in early August.
Visitors will be treated to more than just the thrills and spills of the action in the arena. There will also be a kids' corral, featuring a petting zoo of farm animals. A Cowboy Church at 9 a.m. Sunday, Aug. 12, will be an opportunity for contestants, officials, and visitors to come together in the arena for worship.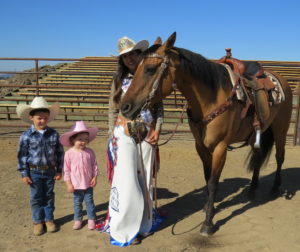 Music, dancing, and a taste of what it takes to be a working cowboy or cowgirl will round out the Gilroy Rodeo. The event will serve as an educational, community-building experience as well, celebrating this region's deep connection to local agriculture and the rural beauty of the South Valley, Martin said.
"Open your eyes and you'll see the hills that surround Gilroy, all the ranching," he said. "But what does it take to put a steak on a plate?"
Visitors will have the chance to learn more about local ranchers and their products, such as grass-fed beef, at the event, which will include demonstrations and information booths. Think of it as a family-fun example of the farm-to-table concept.
"The more of the local economy you can stimulate, that will save ag as we know it," Martin said. "That's what it's all about. Otherwise, how are we going to preserve this heritage?"
What's more, Martin said, it's a way to "get kids off their cell phones" and get them involved in outdoor activities where they can learn good work ethics.
"On a ranch, there's no time for that. There's always something to be done," he said. "And there's a lot to be said for it. It's the way I grew up. I hope this brings that way of life to people, and that it's an eye opener."
Rodeo is a family-friendly experience that is entertaining to fans of every age group and walk of life. Carrying on the multi-generational tradition of rodeo will be Gilroy Rodeo Grand Marshal Joyce Vieira, along with her granddaughter, Jade Katen-Ynzunza, the 2018 Gilroy Rodeo Queen. Vieira owns and operates a ranch on Day Road. She grew up on her parent's dairy where starting at the age of 8 she gathered up more than 200 cows each day after school and brought them into the barn to be milked.
The 22-year-old Katen-Ynzunza is a former barrel racer, an alumnus of Gilroy High School, and a student at Northern Arizona University, studying marketing and biology. Born and raised in Gilroy, in high school Katen-Ynzunza was a queen one year for a student-level rodeo.
The two women's involvement in the Gilroy Rodeo is a testament to the lasting history of ranch competitions and their hopeful future, she said.
"At that time, I said I'd love to bring the rodeo back to Gilroy. And now, eight years later, they're bringing  back the Gilroy Rodeo," she said. "I did a lot of rodeo in high school. Now I'm in college finishing up my last semester, so I'm a little less around the rodeo these days but it's something near and dear to my heart."
Silicon Valley might be world-famous for its fast-lane life and multi-billion-dollar deals. But the ways of its western heritage will hopefully stay alive thanks to the group of men and women dedicated to bringing the sport of rodeo back to Santa Clara County this summer. Reflecting an age where the original low-emission vehicles were best operated from a saddle, the Gilroy Rodeo will let local ranch hands show off their roping and riding skills
"Rodeos are just going away," Martin said. "But there's all this heritage we're trying to save."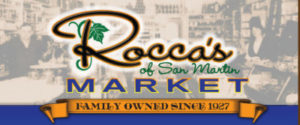 Donna Lane is a storyteller and San Jose native who earned her journalism degree at San Francisco State University. She lives in Gilroy with her family, who inspire her to celebrate life each day.

Latest posts by Donna Lane (see all)