Published in the June 27 – July 10, 2018 issue of Gilroy Life
Last month I was in the local Safeway store on Tennant Avenue looking for a melon when I came across the produce guy neatly stacking nectarines and pulling out the older ones. I went over to ask him to help me pick a good melon and when he turned around I was surprised to see it was Larry Boushey, local guitarist and music composer.
I met Larry when I saw him playing in town a few years ago. I was quite impressed by his chops but not impressed that he was playing to a pre-recorded backing track. Then I learned that in addition to being a great guitarist he is also an incredible composer and recording engineer. He told me how he records and creates all his tracks in many styles including smooth jazz, rock and blues. As a multi-instrumentalist he layers his own music on bass, guitar and keyboards then mixes and masters the recordings and plays all the lead parts. He calls his music "inspirational instrumentals" and that is a really good, honest description of the sound he produces.
Looking back, Larry grew up in San Jose near Guitar Showcase. In 1978 he began taking $25-a-month guitar lessons at their music school with guitar and keyboard pro, David Petrucci. Larry's first band was formed in 1980 and their repertoire consisted of a variety of music from country to hard rock. His band mates included Darin Dixon former owner of The District in Gilroy and The Music Tree in Morgan Hill.
His lessons continued into 1983 when he decided to play on his own and after school he would spend countless hours practicing. With his amplifier placed between his stereo speakers he would play along with cassette tapes of his favorites like Van Halen, Journey, Dire Straits and Pink Floyd. Although he could not achieve the level of playing similar to Eddie Van Halen or Mark Knopfler he wasn't discouraged and during his junior year of high school joined another band which gave him some freedom to play some of his own songs. The following year, 1986, he got hired on as a courtesy clerk at Safeway and within two years he was promoted to the produce department.
In 1988 he bought a four-track recording studio set up and began composing his own music in a variety of styles. A year later he joined another band with guys 10 years older, and he was the young kid in the band. That band lasted four years when he left to pursue his own original sound. He soon began his spiritual journey while attending Bethel Church where he met a very good singer who was extremely influential. Together with some additional musicians they formed a Christian rock band, The Eleventh Hour, which showed some promise and offered them the opportunity to record two CDs with 20 original songs and perform in a variety of places.
The year 1998 brought Larry to a new chapter as worship leader for a singles group at the Calvary Baptist Church in Los Gatos. That's where being a guitar man paid off when his future wife Amy walked into the picture. They married in 2001 and moved to Morgan Hill in 2002. Larry has been the produce guy at Safeway for more than 32 years, has two boys and loves coaching soccer, but music continues to be his hobby and passion. He has performed in many places locally including the Downtown Morgan Hill Wine Stroll, Mushroom Mardi Gras (makes sense as a place for a produce guy to perform), GVA Café and Taste of Morgan Hill. His goal is to continue recording and always improve his musical skills.
So next time you're walking down the produce aisle, know those fruits and vegetables were put there by someone who is a whole lot more than just the local produce guy. I just want to conclude this column by saying thanks, Larry, for picking me a delicious melon!
Got a music tip? Email harmonicaman1@yahoo.com.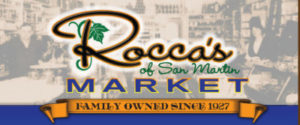 Mark Fenichel serves as the chief ad rep for Morgan Hill Life newspaper.

Latest posts by Mark Fenichel (see all)