Parade and festivities will celebrate South Valley's "Wild West" past
Published in the June 27 – July 10, 2018 issue of Gilroy Life
Bonanza Days will be back.
Started 50 years ago, the popular tradition brought people to Gilroy to celebrate the Wild West heritage of the South Valley. The 2018 Leadership Gilroy class is now organizing a version of the event as its community-benefit project.
The Bonanza Day Parade has deep roots in Gilroy stemming from the Gymkhana rodeo that began in the 1930s. When the Gymkhana ended in 1957, the city of Gilroy had no community celebration for a decade. George Milias and other prominent Gilroyans started Bonanza Days in 1968. Back then the celebration was a four-day event and featured spectacularly decorated floats and local school marching bands. It drew people from throughout California, and many of the onlookers dressed in western attire to get into the buckaroo spirit. The tradition ended in the early 1980s as the Gilroy Garlic Festival grew in popularity.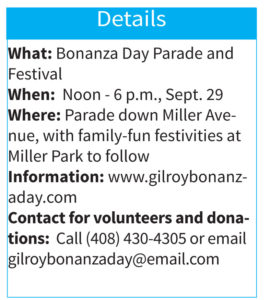 As a longtime resident of Gilroy, class member Dan Mitchell participated in the original Bonanza Days. The cowboy theme and the multicultural inclusiveness helped it build its regional popularity, he said.
"As it was meant to bind the community in the '70s, it is the focus of this year's Leadership Gilroy class of 2018 project to get people out of their homes, put down their phones and video games and come out and meet their neighbors," said the CFO at Heinzen Manufacturing International.
The class envisions their project will bring the entire community together around a celebration of Gilroy's agricultural traditions, said class member Raquel Lopez, a sixth-grade dual immersion teacher at South Valley Middle School.
"The Bonanza Day Parade will be an event that will encourage established residents and new residents to come out and enjoy Gilroy's heritage together," she said. "The class intends that all aspects of our community join together, such as small businesses, community organizations, residents and, most importantly, the children in our schools."
In March Leadership Gilroy class members attended a two-day retreat to Hacienda de Leal in San Juan Bautista and during that time began brainstorming ideas for a project, she said. At one point, there were more than 20 proposals listed on the flip charts. Eventually, the Bonanza Day Parade project was selected by the class.
The parade will start at noon Saturday, Sept. 29. It will follow Miller Avenue to Miller Park where a family-fun event will continue the festivities until 6 p.m., Lopez said.
Fourteen Gilroy schools will build floats that honor Gilroy's heritage, giving students the opportunity to share what they have learned about the city's past with the rest of the community. Each school float will be judged in a contest to win prize money for the school. Some schools will have their marching bands in the parade.
The schools include Glen View, Rucker, Rod Kelley, El Roble, Eliot, Las Animas, Antonio del Buono, Luigi Aprea, South Valley, Brownell, Solorsano, Gilroy High School, Christopher High School and Gilroy Prep.
"The students are using their creativity and modern twists on old themes to try and win first place," Lopez said.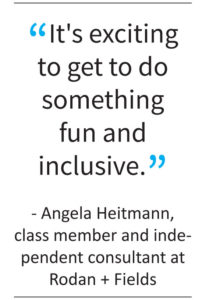 The celebration at Miller Park will include activities from the original Bonanza Days such as tug-a-war and the "hoosegow" (a "jail"). Gilroy leaders will be soaked for fun and fundraising in a dunk tank.
Angela Heitmann, an independent consultant at Rodan + Fields Skincare, chose to get involved with Leadership Gilroy because she had recently moved here from Santa Cruz County.
"It's exciting to get to do something fun and inclusive. Our goal is to celebrate the people who shaped Gilroy — past and present," she said. "The project scope allows all 17 class members to operate within our sphere of influence, experience, and talent.  Every single person brings something valuable to the table."
The class seeks partnerships, sponsorships, and donations to put on the parade and festivities. Sponsorships to help off-set float building materials is one of the first fundraising goals and various levels of donations are available depending on how much money is given. People can find information on Facebook at Leadership Gilroy Bonanza Day 2018 or by emailing the class at gilroybonanzaday@gmail.com.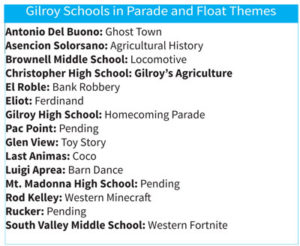 Mitchell encourages all South Valley residents to have fun at the parade and the Miller Park festivities.
"We also are taking an opportunity to focus on the school children in our community," he said. "Getting the school children working together on a community project teaches civic involvement and builds competitive natures for them to learn from. Whose float will win? They all will be winners as they have come together for a common themed event that is a fun experience."
The parade will serve as a showcase of all that Gilroy has to be proud of, Heitmann said.
"There are local businesses, organizations, and schools that are already developing their creative contributions to the parade," she said. "Our Leadership Gilroy class will also build a float.  As a new resident of Gilroy, I couldn't ask for a better way to help families feel included in this town."
The Bonanza Day Parade requires a small army of volunteers to support the project, Mitchell said. He encourages people who want to celebrate the community's heritage to visit the project's website or Facebook page for information on how to get involved.
"Bringing back Bonanza Days to me recalls a time when the community came together for a common cause," he said. "I remember having a street legal dune buggy that I would give the kids rides around Christmas Hill Park. They loved it. No charge, just making it fun for the event goers. The reward was seeing the community enjoying each other's company and fellowship with each other. I know our Leadership Gilroy class of 2018 had this common goal when we chose to bring back Bonanza Days."
Longtime Gilroy residents have fond memories of Bonanza Days in years gone by, he said. Many remember the original event fondly and are happy to see the spirit of the celebration come back as a one-day parade and festival.
"Had it not been for the huge success of the Gilroy Garlic Festival starting in 1979, the Bonanza Days event might still be around for locals to participate in and enjoy," Mitchell said.
The Bonanza Day Parade is planned be one-time event.  However, depending on the success of the event and interest in the community, many Leadership Gilroy students have expressed interest in continuing the parade in years to come.
"Other support groups have also expressed willingness to continue this event at various capacities," Mitchell said. "Our Leadership Gilroy class is taking care to preserve our templates and model structure to continue it in future years as well as possibly passing our successful model on to future interested groups."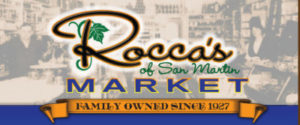 Latest posts by Marty Cheek (see all)