Published in the July 11 – July 24, 2018 issue of Gilroy Life
It was a beautiful Saturday afternoon at Operation Freedom Paws, which held a dedication ceremony to celebrate the raising of the American Flag on a new pole that was recently installed at their San Martin facility.
The raising was performed by the American Legion District 28 Color Guard in front of about 150 people patriotic people.
"To our clients, especially our veterans, the flag flying at our center represents many things: who we are and what we stand for as a group, a family and a nation," said Mary Cortani, president and executive director.
Founded in January 2010, Operation Freedom Paws is a nonprofit organization that matches dogs with individuals who have Post Traumatic Stress, Complex-Post Traumatic Stress and/or Traumatic Brain Injury symptoms, or other physical, neurological, psycho-logical or mobility needs.
They train the individual to train their own dog, and then certify them together as a service dog team. Most of the dogs come from rescue shelters. Each is then matched to a specific client's physical and psychological needs. There is no charge to the client — all they ask is a commitment to complete the 48-week program.
This unique opportunity enables their clients to feel safe and secure, and to manage their day-to-day lives. The very special therapeutic canine-human relationship helps them get back out in their communities and begin to view their future with renewed hope.
"When I was drafted in April 1968 I stood in front of the flag of our country and raised my right hand and took an oath to serve our country," said client Denny McLaughlin. "After Vietnam and many years of turmoil I found OFP. It has become a fun, safe place for my dog Abbey and me. To be able to see our country's flag flying brings a lot of my life full circle."
I'm glad we have a program that is producing results for our vets. Good job, Operation Freedom Paws!
Congratulations to Allison Jordan, a graduate of Gavilan College, who earned the Karl S. Pister Leadership Award to attend the University of California, Santa Cruz. The award is available to qualifying students from 13 greater Bay Area community colleges. One student from each college is selected to receive $10,000 for each of two years to attend UCSC.
"As a student, Allison demonstrated a love of learning," said Sara Salinas, anthropology instructor who recommended Jordan for the scholarship. "Her level of commitment necessary to succeed in college was impressive."
As a 14-year-old freshman at Gilroy High School, Jordan started getting basic college units in general education, communication studies and economics. She used her academic credits earned at Gavilan, plus required classes in high school, to graduate high school halfway through her junior year.
"I was really focused on getting a masters and Ph.D., and I wanted to get out of high school," said the now 18-year-old.
High school counselors fought her on it, saying it wouldn't look good applying to college at 15. So, she went to the principal. Since then area high schools now work with students who want to create accelerated pathways.
"I am very grateful for the education I received at Gavilan and the help from everyone along the way," Jordan said.
This is the time of year that the Santa Clara County Animal Shelter braces itself for kitten season. Last year, they received almost 800 orphaned kittens that required foster care because they were too young to be adopted or live at the shelter, and in many cases, required around-the-clock care. This accounts for nearly half of the shelter's yearly feline intake, condensed into several hectic months. You can imagine that this undertaking presents many challenges and is an emotional and stressful time for staff who work so hard to save these little lives. They need your help to make this kitten season a success. If you are able to help, please call the County Animal Shelter in San Martin at (408) 686-3900 or visit www.countypet.org.
Supervisor Mike Wasserman's Summer Photo Contest is back. Submit your favorite photos that show why Santa Clara County is the best place to be in the summer. Snap some photos of your favorite images of landscape, farmers markets, parades, county parks, neighborhood barbecues, pets, or other fun images of summer in Santa Clara County. The deadline to submit your photo is July 27. Simply email your photo (one per person) to photocontest@bos.sccgov.org along with your name, address, and where in the county the photo was taken. For more information, including rules and photos of past winners, visit www.sccgov.org/sites/d1/photos/photo-contest/Pages/photo-contest.aspx.
Can't wait to see this year's winners!
If Lady Luck shined on you and you had the good fortune to see the excellent musical production of "Guys and Dolls" performed by the South Valley Civic Theatre in June or July, you might have noticed that Gilroy Life had a bit of a cameo. The show's producer Scott Lynch, a Gilroy business owner who loves performing on the local stage, contacted Gilroy Life Publisher Marty Cheek to see if the newspaper might want provide a donation get some fun publicity on the sign of the news stand built for the set.
We jumped at the offer and also included sister publication Morgan Hill Life on the sign.
Other local businesses that got the "billboard" treatment in the romantic comedy were Tiffany Ford Motors in Hollister, Fifth Street Coffee in Gilroy, Pinnacle Bank, Portraits by Rebecca in Morgan Hill, and Brotin Designs Inc. serving the South Valley's interior design needs.
"We instantly jumped at the chance to get Gilroy Life and Morgan Hill Life a small role in the classic comedy from the 1950s," Cheek said. "We support all our local theater, so when Scott let me know about the sign for the news stand, we knew we just had to be part of the show."
SVCT starts up its 50th season with the children's show "Aladdin, Jr." opening on Sept. 21.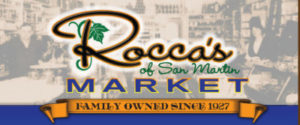 Robert Airoldi is the editor of Gilroy Life newspaper. If you have a story idea or an Around Town column item you want to tell him about, you can reach him at (408) 427-5865 or at editor@gilroylife.com.
Latest posts by Robert Airoldi (see all)