Both principals have experience in nearby districts
Published in the July 11 – July 24, 2018 issue of Gilroy Life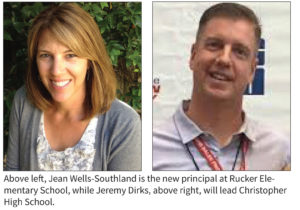 Christopher High School and Rucker Elementary School students will be welcomed by two new principals this fall. Jeremy Dirks replaces Caroline Calero to lead at Christopher. Jean Wells-Southland replaces Christine Anderson to lead at Rucker.
"I am extremely excited to be joining the Christopher High School staff and community," Dirks said. "I believe that the staff are dedicated to doing what is best for all students and I am honored to be a part of the CHS team."
He previously served as the vice principal at South Valley Middle School during the 2017-18 school year. Before that, he was the assistant principal at San Benito High School in Hollister for three years. During his time at San Benito High, Dirks was responsible for a wide range of duties at the 3,000-student campus with a broad range of programs. Before serving in administrative roles, he was a social studies teacher at Gilroy High School for ten years, also serving as varsity basketball coach and activities director on campus.
Dirks earned his bachelor's degree in social science from San Jose State University in 2002. He earned a teaching credential from Chapman University and a master's in educational leadership and administration from Brandman University in 2013. He lives in Hollister with his wife, Elizabeth, and son and daughter. Dirks attended Gilroy schools and graduated from Gilroy High School in 1993.
"Having a leader who has served as a successful high school classroom teacher, activities director, high school assistant principal and coach is a win for everyone at the site," said Dr. Deborah A. Flores Ph.D., Superintendent of the Gilroy Unified School District. "Jeremy's high school experience is extensive, and his track-record is solid. We are thrilled to have him lead the Christopher High School staff and students beginning this school year."
Wells-Southland was appointed as the new principal for Rucker by the GUSD Board of Education at the May 17 meeting. From her time working at Rucker as a literacy facilitator from 2015-2018, she knew that the school was a special place to work, she said.
"The staff, students and families are what have kept me at Rucker and are what makes taking on the new role of principal so exciting," she said. "I am looking forward to working with the Rucker community to build connections and strengthen our student outcomes for learning and social emotional growth."
Prior to her tenure in Gilroy Unified, she worked for Partners in School Innovation. With that nonprofit organization, she collaborated with district and school leaders as well as teachers to develop result-oriented cycles of inquiry and structures to support teacher professional learning. She was the principal of a secondary charter school Silicon Valley Flex Academy from 2011-2014, and taught primary grades in the Morgan Hill Unified School District at Nordstrom Elementary and the Charter School of Morgan Hill from 2001-2011.
Wells-Southland and her husband have been Morgan Hill residents for 22 years and have three adult children and a grandchild.
"We are excited to welcome Jean Wells-Southland to our administrative team," Flores said. "She is an established leader in the Rucker community and has a wide array of professional experience as a classroom teacher, private sector consultant, and administrator throughout her career. I know she will hit the ground running to maintain the high level of academic rigor that is currently in place at Rucker."