Gilroy Garlic Festival's many menu items fulfill every stomach's desire
Published in the July 11 – July 24, 2018 issue of Gilroy Life
During the past 40 years, the Gilroy Garlic Festival has evolved into a world-renowned event, celebrating the humble, fragrant clove that rules this region. Attractions at the festival have come and gone as time has progressed.
But the one constant has been an outstanding variety of culinary offerings, sure to tempt even the pickiest palate.
With about 60 food vendors scheduled to participate, there's truly something for everyone.
"Gourmet Alley has always been the heart of the Gilroy Garlic Festival and should be every visitor's first stop to get the official food of the Festival," said Todd Trekell, the 2018 Garlic Festival President. "Although a lot has changed since the first festival back in 1979, many of the original recipes — including calamari, scampi, stuffed mushrooms, pasta con pesto, and pepper steak sandwiches — still remain F\festival favorites today."
Gourmet Alley is the place to be when the festival takes place, July 27, 28, and 29 in Christmas Hill Park.
In this gigantic outdoor kitchen, the "pyro chefs" put on a spectacular flame-up show while preparing garlic-laced calamari and scampi in huge iron skillets, with the help of community volunteers.
In keeping with the idea that one shouldn't mess with the past's perfection, the festival isn't offering any new dishes this year.
There will be plenty of garlic bread and garlic fries to feed the masses. But don't let that stop you from venturing out of your culinary comfort zone and indulging your taste buds.
"The delicious deep-fried Gilroy Garlic Shrimp that we introduced at last year's festival was a huge hit, so we'll definitely be bringing that back in addition to Zesty Garlic Fried Calamari and all the classics," said Brad Royston, the 2018 Gourmet Alley co-chair.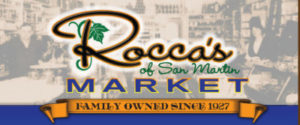 Donna Lane is a storyteller and San Jose native who earned her journalism degree at San Francisco State University. She lives in Gilroy with her family, who inspire her to celebrate life each day.

Latest posts by Donna Lane (see all)