This garlicky guide will help you plan your visit
Published in the July 25 – August 7, 2018 issue of Gilroy Life
Turning 40 used to mean reaching the dreaded point in life when things stop being fun. But for the Gilroy Garlic Festival, which celebrates its 40th annual event this year, the fun is just beginning. The festival, which runs from July 27-29 at Christmas Hill Park, offers some new attractions, along with plenty of the old favorites that have made it one of the most famous food festivals in the world. In fact, visitors to the 2018 festival are invited to "Party Like It's 1979."
"The first one wasn't in 1978," clarified Brian Bowe, the Festival's executive director. "It's not like birthdays. But there will be all kinds of fun stuff."
The newest addition to the festival is the Garlic Chef Junior cook-off, which will feature eight young chefs, ranging in age from 6 to 15, competing Friday, July 27. Starting at 2 p.m. on the Challenge Butter Cook-Off Stage, this competition will be hosted by MasterChef Season 7 winner Shaun O'Neale, a festival favorite. The young winner will receive a $500 notebook computer.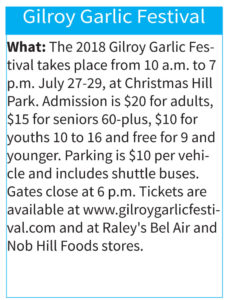 Another new addition will be Iron Chef Michael Symon, who will host the Garlic Showdown, one of the festival's most popular events. Symon's appearance will mark the first time the festival has welcomed an Iron Chef to its stage. Four professional chefs, including reigning 2017 champ Carlos Pineda, will compete for a $3,000 prize. That competition kicks off at high noon Sunday, July 29. Symon will give a demonstration afterward.
"We're especially excited about the celebrity chefs," Bowe said. Joining O'Neale and Symon will be popular festival emcee, Food Network star, and Olympic champion figure skater, Brian Boitano. He'll oversee the 40th Annual Great Garlic Cook-Off, which gets underway Saturday, July 28, at 10 a.m., with the winner announced at 12:15 p.m. The eight amateur chefs participating in this year's Cook-Off bring their original recipes from all over the U.S., and will be competing for a $5,000 cash prize, as well as the chance to wear the coveted garlic crown.
"The Great Garlic Cook-Off has been a staple of the festival since year one," Bowe said. "Brian will do his own demo at 12:30 p.m. Saturday. And all three chefs will do interactions with the audience, so people can ask questions."
There will be many more cook-offs and demonstrations, including an appearance by Alexis Higgins, the winner of MasterChef Junior Season 3, the Champions for Charity cook-off, featuring teams of first responders, and the Gilroy Garli-Que BBQ Challenge. For a complete schedule of events, check the festival's web site.
Blending old and new will be a special garlic giveaway this year. Garlic grower Don Christopher, along with visionary Rudy Melone, and master chef Val Filice, was one of the three founding fathers of the first Gilroy Garlic Festival in 1979. Ever since, Christopher Ranch and the Christopher family have been integral parts of the festival's tremendous success. As part of the Gilroy Garlic Festival's 40th annual celebration, Christopher Ranch is giving away free genuine California-grown garlic bulbs to the first 4,000 festival guests each morning.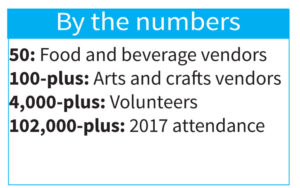 The event even has a new look this year thanks to a cool vintage vibe and the unveiling of a new costume for Herbie, the festival's garlic-lovin' mascot.
Gourmet Alley remains one of the festival's big draws for foodies to find garlicky specialties on the menu.
"There won't be any new dishes this year," Bowe said. "But we're sticking with the new (from 2017) fried garlic shrimp, one of the best-selling dishes we've ever had. We'd done sautéed shrimp forever — that's one of our mainstays. But the fried shrimp is really amazing."
It takes about 4,000 volunteers to run Gourmet Alley, making it an impactful event on charities and nonprofits in the local community. These volunteers prepare every delicious bite of the official Gilroy Garlic Festival food. You'll find schools, sports teams, church groups, and more among the famous Pyro Chefs.
Festival visitors looking for a steal of a deal will want to check out the online special, Gourmet Alley Combo Plate. They'll save $2 off regular admission when they buy their ticket online and save an additional $2 when you order a Gourmet Alley Combo Plate with their online ticket. There are two options for the Combo Plate, allowing guests to sample many of the festival's all-time favorites. Combo Plate 1 features half a peppersteak sandwich, calamari, pasta con pesto, and garlic bread. Combo Plate 2 offers half a sausage sandwich, scampi, mushrooms, and garlic bread.
Feeling a bit stuffed? There's more to do than eat at the festival. Burn off some of those garlic-laden calories by moving to a variety of music options. Teens and young adults can pulse to the beats of the Electric Clove Dance Tent, presented by radio station 99.7 NOW! behind the Cook-off Stage.
Those looking to pick up on the vintage vibe will enjoy the throwback tunes of the '70s and '80s. For more traditional tunes, check out the Hot Country Sunday lineup presented by KRTY 95.3 for this year's festival.
"KRTY has been working with us for years to bring us country acts," Bowe said. "This year's acts include Mitchell Tenpenny, Travis Denning, and Cale Dodds. It's exciting to see these guys play at the festival and see where their careers go."
Live entertainment will take place on three stages in total, with a variety of acts including rock 'n roll, jazz, blues, reggae, and swing. For a full schedule of entertainment, check the festival's website.
Additionally, the arts and crafts areas on both sides of the park showcase unique, high-quality creations from more than 100 artists, while the Garlic Mercantile stores offer shirts, gourmet products, cookbooks, wine glasses, and many other festival souvenirs.
And of course, the Gilroy Garlic Festival is a fun place for visitors of all ages. The children's area returns this year, featuring an entertainment stage, rides, and attractions like a zip line, rock walls, and bounce houses. Children 9 and younger are free, and youth ages 10-16 are $10 at the gate.
It's important to make the festival affordable for families, Bowe said.
"We didn't want to be so expensive for a family to get in that it was hard to bring the whole clan. So, we really changed our pricing structure last year," he said. "We always want to put out the family-friendly attitude. The festival is not just a fun place but a safe place to come."
Ticket prices are as follows. Adults (ages 17-59) will pay $20 at the gate, Seniors (60+) and active military (must show ID) $15. Everyone can save $2 when they buy tickets in advance. Parking for the festival is $10.
"But by far, the best deal going is for the locals," Bowe said. Anyone who lives in Gilroy, Morgan Hill, San Martin, Hollister, San Juan Bautista, or Aromas and shows a valid ID can save $5 on Friday's admission.
"An even better deal for locals is the three-day pass, which is only $30," he said. "And with that, you'll get a cloth wristband on Friday."
Just can't keep up with all the festival news and happenings? Don't worry. There's an app for that. The Gilroy Garlic Festival app returns after a successful debut in 2017.
"Most people buy their tickets on their phone and show the QR code to get in," said Katherine Filice, who oversees the festival's promotions. "More people buy their ticket online than buy it at the gate. Fifteen years ago, 100 percent of the tickets were bought at the door. This makes it easier to get in and out. Just go right to the gate and show your ticket."
All visitors are encouraged to download the free app, which is available from the App Store and Google Play, before they arrive. It's packed with useful features, including a live upcoming event feed, map with filters, driving directions, full event schedule, booth listings, and more.
Who says life slows down at 40? At this year's Gilroy Garlic Festival proves, it's just revving up after four decades of hometown food fun.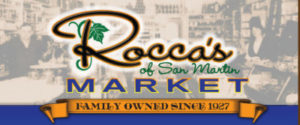 Donna Lane is a storyteller and San Jose native who earned her journalism degree at San Francisco State University. She lives in Gilroy with her family, who inspire her to celebrate life each day.

Latest posts by Donna Lane (see all)