Published in the July 25 – August 7, 2018 issue of Gilroy Life
The Veterans of Foreign Wars John A. Berri Post #6309 recently installed new officers, including a descendant of the post's namesake. Morgan Hill resident Alfred Alciati was elected the new commander. Alciati is the second cousin of John A. Berri, for whom the Gilroy VFW Post was named. Berri was the first veteran from Gilroy to give his life in defense of our country in World War II.
"It's an honor to lead the local VFW," Alciati said. "Especially the John A. Berri Post."
Alciati, 69, served in the U.S. Navy during Vietnam where he worked as an illustrator/draftsman for the Integrated Operational Intelligence Center, which was responsible for mapping and reconnaissance of North Vietnam. The Live Oak High School graduate later earned an associate of science degree in drafting technology from Gavilan College. Alciati went on to work as a building official, first for the city of Morgan Hill then as senior inspector for the County of Santa Clara totaling 35 years.
Other officers named include Senior Vice Commander Bob Diaz, who most recently served five years as Commander; Junior Vice Commander Joe Gonzales; Finance Officer Joe Perez; Adjutant Phil Garcia; and Chaplain Jesse Sanchez.
Congratulations, to all!
A big thank you to the nice folks at the Community Closet in San Martin for making the beginning of the school year next month extra special.
From 10 a.m. to 1 p.m. July 23 to July 28, families in need can stop by the site run by St. Vincent De Paul and pick up free school clothes— both new and gently used. The closet is located at 13570 Depot St.
The Morgan Hill branch of the American Association of University Women and the Rotary Club of Morgan Hill will donate backpacks.
And they have a lot of stuffed animals they've been collecting to give away to the kids.
"The kids love it," said volunteer Maria Skoczylas.
If you want to donate clothes or participate in the back-to-school give-away, please call Debbie Molyneaux at (408) 500-5659.
It's good to start the school year in style. The Community Closet makes sure all kids have that opportunity.
Interested in learning more about aviation history and aircraft operations? Then seminars scheduled to start in October may be just the thing. The Wings of History Air Museum in San Martin will conduct monthly aviation seminars at its facility next to the San Martin Airport. Each seminar is geared for a specific target group by age from adult to juniors. Anyone with interest can email museum1903@gmail.com for details.
Gavilan College just got someone new in its administration. Denée Pescarmona is the college's Vice President of Academic Affairs. She will be charged with oversight of the academic divisions of Gavilan College: Liberal Arts and Sciences, Career Education, Community Education, and Noncredit Instruction.
Pescarmona earned her bachelor's degree in English from the University of San Diego and her master's degree in English from Arizona State University. She has been married to her husband, Evan Franke, for 15 years and they have an 11-year old daughter. Pescarmona and her family plan to live in Morgan Hill.
Welcome to South Valley, Denée.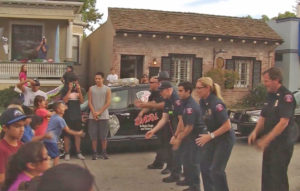 Gilroy residents and families are welcome downtown between 5:30 and 8:30 p.m. Tuesday, Aug. 7, for the city's fifth annual National Night Out celebration of first responders.
The free event is America's night out against crime. Attendees can enjoy music, games, raffles, a photo booth, crafts, face painting, a bounce house and lots of giveaways. There'll also be a resource fair.
"It's good to bring families out and the public in a safe forum so they can see the different services available to them and interact with police and firemen," said Gilroy City Councilmember Dion Bracco.
Last year's event included friendly dance-off competitions in which cops and firefighters whirled and twirled with kids and adults to the beat of DJ music to show-off their groove moves. We'll see if Police Chief Scot Smithee might strut his stuff this year.
The event will be held on Fifth Street between Eigleberry Street and Monterey Road. Hope to see you there at this positive police-community partnership program.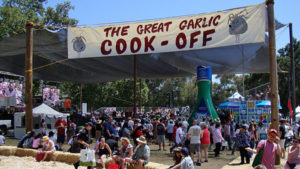 Though he'll be a long way from Kitchen Stadium, Iron Chef Michael Symon will host the Garlic Showdown at high noon Sunday, July 29, where four professional chefs will battle for a $3,000 cash prize (and ultimate bragging rights).
Reigning Garlic Showdown champion chef Carlos Pineda will defend his 2017 title. Pineda is the program manager and executive chef at the Culinary Academy and Kneaded Catering Company at Rebekah Children's Services. Born and raised in Gilroy, he graduated with honors from the Professional Culinary Institute in Campbell in 2007.
Showdown contestant chef Miriam Vega was born in Michoacan, Mexico, and moved to Morgan Hill at the age of five. After working in the food industry for many years, she decided to enroll in culinary school at the age of 33. Attending the Art Institute and Culinary School in her native country, she honed her skills and passion for fresh, clean cooking. In 2014, she opened her own family restaurant: La Nina Perdida – Tastes of Mexico. Breaking the notion of what is "authentic" Mexican food has been a challenge, but with creativity and supportive customers, she and her team have brought to Morgan Hill a quaint, vibrant, and innovative traditional Mexican Cuisine destination.
Chef Annie Smith's passion for cooking began with a white peach tree in her back yard, which inspired her to make her first homemade pie when she was eight. Annie's humble beginnings date back to Vietnam in the late 1970s, when she set sail at the age of two on a tiny wooden boat from Saigon with her mother and aunt.
Having grown up in a seaside town on the Central Coast of California, chef Jason Ryczek is both familiar with and fond of all the bounty local seafood has to offer. He is a veteran of the hospitality and restaurant industries, having worked in various positions since junior high. His culinary training began in Jason Marcus' San Diego restaurant Red Pearl Kitchen. He later moved to Los Angeles to continue developing his skills at various brasseries and steakhouses. After arriving in San Francisco in 2013, Jason spent three years in the kitchen of Waterbar.
The format of the Garlic Showdown was inspired by competitions like Iron Chef. Each chef must use a top-secret ingredient (not revealed until the competition begins) to prepare two entrees and side dishes. A panel of judges will determine the winner based on presentation, originality, flavor, texture, and use of the secret ingredient. The winner earns $3,000.
Judges are Gloria Melone (local chef and wife of festival co-founder Rudy Melone), Bill Christopher (owner and CEO of Christopher Ranch), Ken Christopher (executive VP, Christopher Ranch), and Mike Zukowski (the 2017 Gilroy Garlic Festival Board President).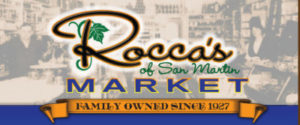 Robert Airoldi is the editor of Gilroy Life newspaper. If you have a story idea or an Around Town column item you want to tell him about, you can reach him at (408) 427-5865 or at editor@gilroylife.com.
Latest posts by Robert Airoldi (see all)