Published in the August 8 – 21, 2018 issue of Gilroy Life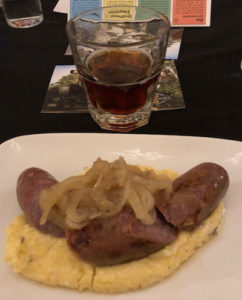 I enjoyed perhaps one of my best dining experiences Monday, July 30 at the Milias Restaurant annual Beer Dinner. Owner Adam and Natalie Sanchez and Ann Zyburra, along with Merchantduvin Sales Manager Jay Harmon did a fabulous job pairing the beer and food for the seven courses.
It started with a Lindeman Strawberry Lambic beer paired with a spicy fired chicken and waffle bite and ended with a Samuel Smith Organic Chocolate Stout paired with a waffle cup filled with blackberry ice cream with shaved chocolate.
The five courses in between got better as the 60 diners went through each course. They included an Ayinger Brauweisse paired with a Hefeweizen Alfredo shrimp and fettuccine; a Saison Belgian Farmhouse Ale paired with an apricot lamb tagine over Israeli cous cous; a Trappiste Rochefort 10 Belgian Ale — the brewery was founded in 1020! — paired with herb roasted chicken with roasted wild mushrooms; a Samuel Smith Nut Brown Ale paired with braised bratwurst and caramelized onions on smoked cheddar polenta; and a Samuel Smith Imperial Stout paired with a chipotle rubbed, thinly-sliced brisket with a chipotle biscuit and honey.
And, to top off the night, I was lucky enough to sit next to and chat with one of my favorite San Jose Sharks players, the retired Mike Rathje and Mark Wilson, chief operating officer and general manager for the San Jose Giants minor league baseball team. He was kind enough to let all of us at the table try on one of his San Francisco Giants World Series rings.
Great job, Adam, Natalie, Ann and Jay. Enjoyed an awesome meal!
Gilroy Unified School District has three new assistant principals who will start later this summer.
Eric Kuwada, at Christopher High School; Mike Nebesnick, at Brownell Middle School; and Zane Boehlke, at South Valley Middle School. Their official appointments will occur at the next GUSD School Board meeting Aug. 9.
Dr. Deborah A. Flores Ph.D., superintendent of the Gilroy Unified School District, said, "We are thrilled with each of the candidates who are moving into leadership roles at our secondary school sites. All three of these leaders are well-respected in their fields, knowledgeable about our district and have well-established rapport with
staff and our school community."
Kuwada is a long-tenured teacher in Gilroy Unified School District, with more than 30 years teaching experience and 17 years in various leadership roles. He is one of the founding members of Christopher High School and has been the Department Chair of the Science Department and a Digital Arts Instructor since 2009.
He is graduate of San Jose State University and holds a Tier 1 Administrative Credential from the Santa Clara County Office of Education.
Kuwada and his wife, Marah, an academic coordinator at CHS, live in Gilroy, with their two children, Ryan and Kylie. Kylie was a member of the 2018 Gilroy Garlic Festival Queen and her court.
Nebesnick has been with Gilroy Unified School District since 1993 and has held a variety of roles at GUSD school sites for the last 16 years. Most recently, he served as the interim assistant principal at Brownell Middle School during the 2017-18 school year. He holds a Bachelor of Arts and Master's Degree from San Jose State University.
Nebesnick, a graduate of Gilroy High School, and his wife, Lynn, live in Gilroy. They have three daughters, Katelyn and Megan, who are both graduates of Gilroy High School and Kelly, who is currently a student at the school.
Boehlke comes to South Valley Middle School from Christopher High School where he served as an English teacher and technology teacher on special assignment where he managed site-wide professional development with particular focus on data-driven assessments for both students and teachers.
He is a graduate of San Francisco State University and holds an Administrative Credential from Concordia University of Irvine. He and his wife, Rachael, live in Hollister with their young daughters, Scarlett and Magnolia.
The 2018 Garlic City Car Show — the 17th Annual Car Show in downtown Gilroy is coming and it promises to be a great event.
There will be more than 225 cars on display, 12 food vendors, 35 specialty vendors, three music stages plus a family zone with jump houses, pony rides, face painting and more.
The free event takes place from 10 a.m. to 6 p.m. Hope to see you all there.
After spending a summer as interns involving research and working on projects headed by STEM faculty at San Jose State University as well as some nonprofit organizations, 32 Gavilan College STEM students majoring in science, technology, engineering and math, will present the results of their summer research, discuss their experiences and answer questions.
The presentation will take place from 10 a.m. to noon, Aug. 17, with lunch served afterward. The Gavilan College Gilroy Campus is located at 5055 Santa Teresa Blvd. in the Natural Sciences Courtyard. Sounds like great experiences for the students and for others to learn what they learned during the summer.
There's some good news for South County as the California Water Commission recently announced that the Pacheco Reservoir Expansion Project will be awarded $484.55 million under Proposition 1, the full amount the Santa Clara Valley Water District requested.
The project will expand Pacheco Reservoir's storage capacity to provide for increased emergency water supplies, improved water quality, and ecosystems benefits throughout the region and the Sacramento-San Joaquin Delta, according to a news released from the district. This reservoir will serve as an insurance investment to support a secure water supply for the future.
"Today's good news portends well for Pacheco's delivery of investment value to the public and environment," said Richard Santos, chair of the Santa Clara Valley Water District Board of Directors. "I will work to keep momentum going on finding the best solutions for Santa Clara County."
The water commission also approved the district's request for early funding of $24.2 million. Given these approvals, the district can proceed with the next steps in completing environmental documents and permit applications without delay.
This award will fund half of the total cost estimate of $969 million. Santa Clara Valley Water District and project partners, San Benito County Water District and Pacheco Pass Water District, will also pursue federal funds. The remainder would be paid through local water rates over several decades.
Given the growth of our region, that's smart planning for the future.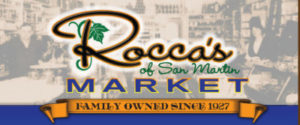 Robert Airoldi is the editor of Gilroy Life newspaper. If you have a story idea or an Around Town column item you want to tell him about, you can reach him at (408) 427-5865 or at editor@gilroylife.com.
Latest posts by Robert Airoldi (see all)