Published in the August 8 – 21, 2018 issue of Gilroy Life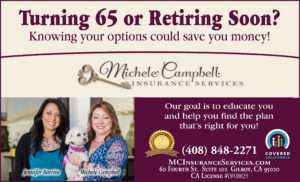 At 65 you can enroll into Medicare for the first time. (There are exceptions for people on disability and younger than 65 which can get on Medicare earlier.)  Your Initial Enrollment Period (IEP) starts three months before your 65th birthday, includes your birth month and ends three months after your 65th birthday.
The effective date starts on the 1st of your birthday month, with the exception of a birthday on the 1st of the month, you start one month earlier. You have a total of seven months to enroll in a Medicare Advantage plan and/or a Part D Prescription plan. If you enroll into a Medicare Supplement, you have six months from your effective month of Part B to enroll in a plan.
But how do you know what Medicare plan to choose?
Medicare Supplement plan?
Medicare Advantage plan?
Part D (Rx) plan?
Choosing a plan can be a daunting process when you start reading all the material that's out there. It is complex and if you make the wrong choice, you have to live with it for the remainder of that calendar year, in most cases. Medicare is confusing at first, but once you understand the basics, it's easier to understand as you use it. If you need help with learning about Medicare, an agent is one of the best ways to understand how it all works. If you want to do some of your own research, here are some things to consider when choosing a plan:
Research which plans are available in your area?
Check out www.Medicare.gov or use the current "Medicare and You" Handbook.
What is the Star Rating for the plan?
Do you need a separate drug plan (Part D) or is it included in your plan (Advantage plan)?
Are your drugs covered under the plan?
What pharmacies can you use or who are the preferred pharmacies?
Do they have mail order service?
What are your out of pocket costs?
Premiums, deductibles, co-pays?
Hospital costs?
Diagnostic testing?
What is your maximum out-of-pocket cost?
Does your doctor(s) or hospital take that plan?
Do they take Medicare?
Are they in network?
Do you need referrals to see a specialist?
How well does the plan cover other needs?
Vision coverage?
Dental coverage?
Transportation?
Does it have coverage out of the country?
These are some of the important questions you should know before purchasing a plan. If this seems overwhelming, you're not alone. No one needs to know about Medicare until you go on Medicare, unless you've dealt with it with a parent being on Medicare.
Many people ask, is this covered, or is that covered? A simple answer is, if it's medically necessary, it most likely is covered. It's pretty much the same as your group or individual coverage, when it comes to the actual coverage. It's the amount you pay out of your pocket that should be your concern. Knowing these costs up front and not when you incur them, makes all the difference in how you feel about your coverage. If you don't want to do your own research, give us a call and we'll help you to find the best plan to fit your needs and budget.
Michele Campbell is the owner of Michele Campbell Insurance. She can be reached at (408) 848-2271 or email michele@mcinsuranceservices.com for a free consultation.

Michele Campbell owns and operates Michele Campbell Insurance in Gilroy. If you have questions or need help, reach her at (408) 848-2271 or at michele@mcinsuranceservices.com.

Latest posts by Michele Campbell (see all)