Owners Molly and Marcus Adams plan to open three sister restaurants in the next several months
Published in the August 8 – 21, 2018 issue of Gilroy Life
Seven and a half years ago, fate and a love for fine dining took Molly and Marcus Adams from high-tech jobs to a career running a series of restaurants throughout Silicon Valley. When the couple saw an opportunity to open four of their eatery brands in downtown Morgan Hill, they couldn't resist coming to the community known for its passion for good food and fine wine.
After two years of construction at the corner of Third Street and Monterey Road, the Adams' first Morgan Hill restaurant, Willard Hicks, opened July 10 to great fanfare. It has drawn patrons from throughout the South Valley who come to try out its Angus steaks and other items on the extensive menu. The other eateries – Opa! authentic Greek cuisine, Mo's Breakfast + Burger Joint, and Mexican comfort food Tac-oh! — will open over the next several months.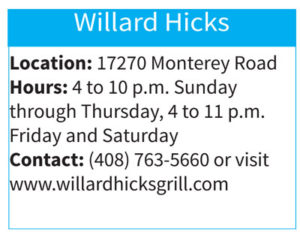 In 2015, the Adams signed a lease for the property on the site of a former liquor store. To make the deal even more attractive, the Downtown Parking Garage stands adjacent to the restaurants, making it easy for patrons to leave their vehicles and follow a small wooden bridge that leads into the central patio area. With a rustic charm, a well-stocked bar, and a selection of booth or alfresco dining, Willard Hicks is making its mark as the South Valley's newest grill for top-choice cuisine.
(The Adams' second restaurant schedule to open will be Tac-oh! by late August. That will be followed by the other two in the fall.)
"When we came down here, I found I just love Morgan Hill. It's just so charming and great," Molly, 44, said. "The people here are really friendly. I thought Morgan Hill was super charming and quaint. We like to put our restaurants in these smallish type communities."
With the reputation for excellent food and service their restaurants have built in Silicon Valley, people from the north will surely come to Morgan Hill to check out the new downtown restaurants, Marcus, 46, said.
"People want to leave San Jose, and they like to come down here and discover Morgan Hill," he said.
Molly added: "This is now a destination and hopefully we can add to that."
An eighth generation Texan who was raised in a small town called Lake Jackson near Houston, Molly said it was a quirk of fate that took her from the Lone Star State to building a series of four restaurant brands in the Bay Area.
"People always ask me, 'How did you get into the restaurant business?' And I tell them, 'Oh, it was a complete accident.'"
She worked at a satellite office in Texas for Mountain View-based Silicon Graphics and liked the high-tech company. When her contract ended, she was invited to come to work in the company's headquarters. At age 21, finding she was ready for a bit of West Coast adventure, she took the offer.
"I knew only one person in Silicon Valley. I had only $300, I'm not kidding," she said. "I packed my car and drove 30 hours." She stopped at motels for sleep, paying for the room with her mother's credit card.
During her time at Silicon Graphics, she met Marcus at a party at the Agenda Lounge in downtown San Jose's First Street. He worked there as a deejay at night and for network company Brocade during the day. They got married. After several years of working at high-tech companies, in 2011 Molly decided to try a different type of career. "I just wanted a change," she said. "I told Marcus … I wanted to retire from high-tech. So, we started looking at small neighborhood bars, lounge type things."
One of her favorite places to dine was Opa! located in the Willow Glen neighborhood of San Jose. Soon, the Adams found themselves in a partnership as owners of the restaurant.
"We always thought that Opa! would be the only brand," Molly said. "But fast-forward over the years, there's been these opportunities and these situations like this (in Morgan Hill) that basically got us further into the restaurant business. I got into the restaurant business thinking I wanted a change of pace, but I got a change of pace more than I thought I would."
Mo's was born because Marcus and a former business partner loved burgers and breakfast and they thought there was a need for easy-going eatery in Campbell. The brand expanded to include Almaden as well as Morgan Hill. Tac-oh! started in Willow Glen in the spot where Opa! was born after the Adams moved the Greek cuisine eatery to a larger space. Later, they moved the first Tac-oh! to downtown Morgan Hill in the same building as Agenda.
Willard Hicks was born when an opportunity to open another restaurant in the space in Campbell came up. The Adams knew they wanted a steakhouse but they couldn't agree on what to call it. Then Molly's sister suggested naming it after the streets their first family homes in San Jose were located on — Willard Avenue and Hicks Avenue.
Molly and Marcus love building their Silicon Valley restaurants and look forward to opening the three other ones in downtown Morgan Hill. Marcus is even bringing his love of music into Willard Hicks with DJs performing classic rock, soul, jazz and even a little country. And he sees a possibility to one day have live music performed in the patio area of the restaurant site.
"There is literally never a day that's like the last day," Molly said of the restaurant business. "But I would say more than that, I love the people part of it. I really like the people part of it from everything from our guests and the guest experience and being able to share food with them and share an experience with them.  And hopefully if we're doing what we're supposed to do, we're keeping them happy."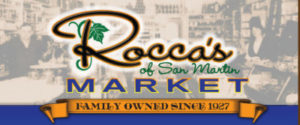 Latest posts by Marty Cheek (see all)