Charlotte Hernandez took over the role of San Martin postmaster June 23
Published in the August 22 – September 4, 2018 issue of Gilroy Life
Unless there's a member of Congress as a resident, the position of postmaster is usually the highest-ranking federal official in a town or city. Charlotte Hernandez now fits that role for San Martin, managing 10 employees who sort and distribute the U.S. mail six days a week at the rust-colored building at 200 East San Martin Avenue.
The 40-year-old postal employee transferred from the Gilroy Post Office last October and started working at the San Martin branch serving the rural community's 7,000 residents. Working with customers at the front counter, Hernandez quickly saw the vital role the branch plays in ensuring the South Valley rural community stays connected to the rest of the world. She officially stepped in the role of San Martin postmaster June 23, replacing Denise Galaveis. Friends and family enjoyed a celebratory luncheon with her at Clos LaChance Winery.
Running the branch is managing a community business, Hernandez said of her new job as postmaster.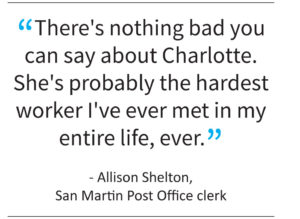 "You're the one who usually takes care of all the finances, makes sure the mail goes out and there's no mail that comes back, all the customers with P.O. boxes and delivery all have their mail delivered," she said. "Being a small office, I'm able to work at the front counter. At bigger offices, we can't. So I'm considered a working postmaster, which I love because I get to meet and talk to the customers."
The branch's employees have a lot of regular customers whom they know by name as well as their kids and grandkids, she said. The workers love getting to know San Martin's residents in that personal way and keeping in touch with people.
"People don't realize it but the mail carriers who deliver your mail, we're there six days a week. We see your kids grow up, we know what kind of mail you get, we know what kind of car you drive," Hernandez said. "If anything were to happen that we feel is suspicious, we'll call and say something. We're basically like security in a way."
Prior to joining the postal service, Hernandez worked for 11 years at the Salinas and San Jose Red Lobster restaurants as a server and bartender. She had a son and when he was less than a year old, her father suggested she get a new job with the U.S. Postal Service. The job's early morning hours would give her more time later in the day to take care of the boy.
She applied for a postal position and in August 2000 started a new career at the Gilroy branch. During the 17 years she was there, she worked hard and rose in the ranks to eventually become a supervisor.
"Gilroy grew so fast. I still have a lot of connections with a lot of the customers and businesses there," she said. "We're all here to serve the customer and the community. Obviously, the post office is a staple in the community. When customers come in, they have an image of you right away, so we try to make sure everyone is upbeat."
The daily camaraderie forms a bond of postal workers committed to making sure the mail gets delivered to the right addresses, she said.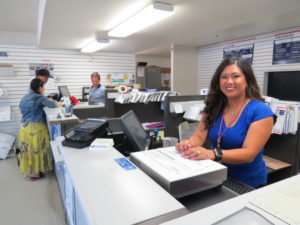 "I met a lot of co-workers who became family," she said. "I met my husband, Christian, through the postal service."
She sees the same spirit of dedication to their jobs in San Martin, too. And because of its smaller size compared to Morgan Hill and Gilroy, she knows many of the residents who come into the post office on a regular basis to pick up their mail or drop off a package. The friendly attitude of the community makes it a joy to come to work, she said.
"I consider San Martin a small town with a big heart," she said. "People here are always so caring and always so nice and they take care of each other, which I love."
Born in Fort Ord when her father was a supply sergeant with the U.S. Army, Hernandez's formative years were spent exploring America and Europe as her family traveled to different military bases. They moved twice to Nuremburg, Germany, as well as Washington state and Fort Bragg, North Carolina, where she graduated from high school.
"One of the things my dad made sure of is that every summer we got to travel," she recalled of her youth. "We would go to Italy or we would go to France. He wanted us to experience different places around Europe because we never knew if we were ever going to go back. When we were there in Germany, the Berlin Wall broke in 1991."
She considers herself a "California kid" and came back to the Golden State to make a home here. After marrying Christian Hernandez, the couple started raising five children— Christian, Jr., Anthony, Julian, Diego and Natalia.
The U.S. Postal Service provides much value to small communities like San Martin in shaping the local economy and society, Hernandez said. An independent agency of the federal government authorized by the United States Constitution, the U.S. Mail has served the nation well since the Second Continental Congress formed it in 1775. Benjamin Franklin was appointed the first postmaster general.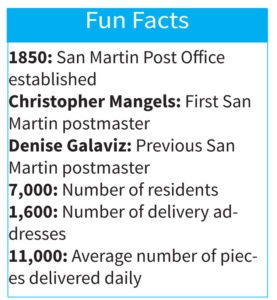 "People think that the post office is going down. But we're such a strong company and a strong business that we're always going to be here to serve the customers," she said. "Where else are you going to have a letter sent for 50 cents or get the packages to rural areas? A lot of carriers like UPS or FedEx can't go to rural areas. A lot of people have P.O. boxes for the security aspect, and UPS and FedEx can't deliver to them."
When Hernandez gave tours to elementary students at the Gilroy Post Office, many children were amazed at the process of delivering the mail. She would show them machines that would laser scan a letter or package to help the carrier sort it for the right destination.
The mail piece is then put on a truck and taken to a massive postal facility in San Jose where it's sorted for the carrier route it needs to go into. The mail piece gets sorted by what airline it needs to go to if it's out of the region. Young people who are experts at texting often find "snail mail" a quaint system of communication delivery, Hernandez said with a laugh.
"They don't know how to write a letter now a days," she said. "We're trying to teach them to put an address from and to on the envelope … and then you put on a stamp. It's amazing. All that for 50 cents. Some people think that's a lot of money, but it's not. It's a big process."
San Martin Post Office employee James Myrick first met Hernandez when she started at the Gilroy branch.
"Charlotte was brand new, coming on as a carrier, and she worked her way up from the bottom," he recalled. "I have nothing but respect for her. She's awesome. I watched her grow from a carrier to a clerk to a supervisor. And now she's our postmaster. She's a quality person. She's the best."
Hernandez keeps a positive spirit in the daily adventure of delivering mail, said Allison Shelton, a clerk at the San Martin Post Office.
"There's nothing bad you can say about Charlotte," she said. "She's probably the hardest worker I've ever met in my life, ever. We're beyond thrilled to have her here."
Hernandez is a postmaster dedicated to the best-quality of life for the San Martin community, Shelton added.
"She's not just about business. She works for the people, also. She works for her employees, which makes us want to better serve the customers," she said. "Everyone's happy. It's like a small community here so it's like a family. Everyone comes in here and everyone knows everyone. And Charlotte interacts with people in such a friendly and caring basis so that people truly understand that she cares."
For Hernandez, serving her San Martin customers as postmaster is more than a job, it's a commitment to building a community.
"I just want people to know that we're here to serve them," she said. "We're here to serve the community, and we truly do care about their business. That's what I love about the post office."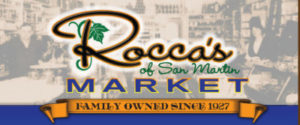 Latest posts by Marty Cheek (see all)