Published in the August 22 – September 4, 2018 issue of Gilroy Life
The Garlic City Concert Series presented by The District Theater is coming to Gilroy's Christmas Hill Park for a five-week series beginning Aug. 31 and running through the entire month of September. The event is free and family friendly with live bands and DJ's covering the music. The event opens with The Chicano Allstars and DJ Jammin' J plus DJ Jimmy G. There will be numerous food trucks each week, craft beers and premium wines along with specialty vendors.
Sept. 7 the LA Project will provide the live music and DJ Jimmy G will cover the mix sounds. Area favorites The Hitmen will be on hand to provide the live music Sept. 14 with DJ Tomas covering the music mix. The Sept. 21 show is still not confirmed but the final show Sept. 29 will be Superbad.
Now that Morgan Hill's Friday Night Music Series is done, this is the perfect place to continue your Friday night dancing fix. There are a few dress code rules such as no baggy pants, gang colors, white tees, back packs, bandanas and sports team attire. And, of course, no outside alcohol is allowed. It will be a nice local event to put on your calendar every week and, hopefully, an annual outing for years to come.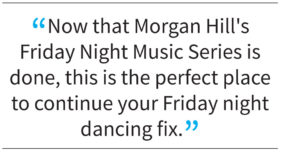 If you like the blues be sure to kick off your Labor Day weekend at the Second Annual Morgan Hill Free Blues Festival Sept. 1 at Morgan Hill's Downtown Amphitheater at Monterey Road and East Dunne Avenue. Tony Johns does an amazing job organizing and producing this musical extravaganza.
Included on the bill this year, it's Burnin' Vernon at 11 a.m., Alvin Draper 12:45 p.m., Street Lucy 2 p.m., Paula Harris 3:15 p.m., Henrik Martin 4:45 p.m., then Kaye Bohler will do two sets starting at 6 p.m., followed by headliner Maxx Cabello Jr. at 8 p.m. The festival is free. Organizers do ask that you support the vendors and buy food and beverages.
On another note, Zebop, the top-quality Santana tribute band will be playing Friday, Aug. 24 at Fortino Winery. This is a rare South County appearance for guitarist Antonio Jose Marquez and his extremely tight band. Not only has Antonio had many encounters with Santana but his playing is as close to Carlos Santana's playing as you will ever hear.
This year marks the 49th anniversary of Woodstock Music & Art Festival, which took place on Max Yasgur's 600-acre dairy farm in Bethel,, New York. Many old hippies continue to celebrate this most legendary music event Aug. 15, 16 and 17 in remembrance of the now famous summer of '69.
I bring this up because I still have many fun memories of attending the event. At the time no one had any idea of the impact this music festival would have on current and future generations and how it would propel many bands to stardom.
Some of the bands that declined to play included The Beatles, Rolling Stones, Bob Dylan, and The Doors. It was later learned many of the bands that snubbed the offer to perform were extremely remorseful. It would be wonderful to see a concert made up of the bands that didn't play the event come together to celebrate the 50th anniversary in 2019.
Local Morgan Hill music teacher Greg Chambers was pleased to report they had more than 180 attendees to his fundraiser at The Granada Theater in Morgan Hill and raised a few thousand dollars for the Sobrato/Martin Murphy Band Programs. Although this has no effect on Gilroy schools it might be a good template to follow for other schools.
Got a music tip? Email "Fenny" at harmonicaman1@yahoo.com.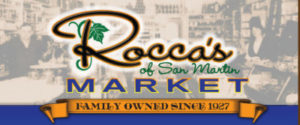 Mark Fenichel serves as the chief ad rep for Morgan Hill Life newspaper.

Latest posts by Mark Fenichel (see all)