Published in the September 5 – 18, 2018 issue of Gilroy Life
The front porches at many homes in downtown Gilroy will be singing with live local music at this year's Porchfest Gilroy 2018. On Saturday, Sept. 15, local musicians will be donating their time and talent to be part of this year's popular front porch music event.
Bring your chairs and coolers and enjoy a wide variety of free live local music spanning the entire list of music genres including jazz, blues, bluegrass, rock, bebop, folk, country, originals and oldies. The music begins at 1 p.m. and goes until 6 p.m. The music is absolutely free and you are invited to bring your well-behaved children to this annual musical event.
At 1 p.m. Classic Echoes an eclectic mix of rock and alternative will be at 365 5th St. Harpist Pamela Scholtz will be at 7551 Hanna St.  I will be with the Cookin' Fenny Combo at 7441 Hanna St., performing a mix of folk, roots, blues, Americana, country, classic rock and originals. At 7631 Hanna you will find the Gilroy Ukulele Jam strumming their blend of folk, traditional and contemporary music.
The 2 o'clock hour offers The Dan Beck Band playing jazz and blues at 7541 Hanna St. Bluer Than Blue will be at 366 5th St., with their mix of bluegrass and country western pop. Garlic City Jazz performs jazz, bebop and hard rock at 7431 Hanna St. This is the Christopher High School band. The Firehouse Dogs an eclectic blues band will be at 440 4th St.
At 3 p.m. you can find Blue Jazz at 7571 Hanna St. Wrench will be showing off their punk rock talents at 410 5th St. The Alpine Duo offer German/Austrian folk music at 7441 Hanna St., and just down the block at 7631 Hanna St., Mad Adore plays a variety of eclectic classic rock and current hits.
In the 4 o'clock hour Behind The Barn will perform bluegrass and country western tunes on the porch at 7550 Hanna St. At 366 5th St., The B & G Band will be offering eclectic rock and oldies, and Cowboy Gil will be riding high on his horse with his blend of country, pop, folk and Mexican songs at 440 4th St.
The final hour takes place on Hanna Street beginning at 5 p.m. Train Wreck will be rockin' at 7580 Hanna St. Kelli & Trevor will be performing folk music at 7500 Hanna St., and Tom Drake will be performing his solo rock 'n' roll at 7461 Hanna St.
This month Wineries of Santa Clara Valley are celebrating their Fall Passport event which is an entire month-long party at 32 wineries in Gilroy and Morgan Hill. Many of the venues including Clos La Chance, Seeker, Satori and Morgan Hill Cellars will be offering live music along with samples of their fine wines. You can purchase a ticket that is good throughout the month for tastings and special deals on select wines and other benefits at all participating wineries. Passports are available on line or at five locations (Guglielmo Winery, Fortino Winery, The Grapevine in Morgan Hill, Bubbles and the Gilroy Welcome Center).
Passports may be available during the month of the event as long as supplies last for $45. If you purchase your tickets by Sept. 7 your name will be put into the drawing for a stay at Rosewood Cordevalle in San Martin. The winner will be announced during the Kick Off Celebration. (You do not need to be present to win.)
At the kickoff celebration Sept. 7, a $60 ticket gets you a night of wine tasting while enjoying the flavors of local restaurants and live music at Coyote Creek Golf Club. Your purchase also includes your Passport to wine taste the entire passport month and when you visit the many participating local restaurants, wine bars, hotels and transportation company partners during the entire month, you will receive exclusive discounts such as free corkage, half price appetizers, overnight stay discounts and discounts on transportation. For all the information visit santaclarawines.com.
On another note, the two-day Taste of Morgan Hill Festival will take place on Monterey Road in downtown Morgan Hill Sept. 29 and 30. There will be lots of music on two stages with fantastic food and fun for the entire family.
Got a music tip? Email harmonicaman1@yahoo.com.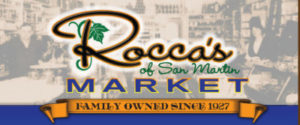 Mark Fenichel serves as the chief ad rep for Morgan Hill Life newspaper.

Latest posts by Mark Fenichel (see all)