Cecelia's Closet feeds and clothes local families
Published in the September 5 – 18, 2018 issue of Gilroy Life
More than 200 South Valley residents dressed as cowboys and cowgirls danced under the stars to country music at Coyote Ranch to enable local families in financial need to better face life's obstacles.
Last month's sold-out Evening at the Ranch fundraiser for the Edward Boss Prado Foundation brought together people from Gilroy, Morgan Hill, San Jose and as far as Pleasanton to the western-themed party.
Laura Gonzalez-Escoto co-chaired the Evening at the Ranch event with an eye for a cowboy theme.
"This is horse country. Let's go out there," she said. "We wanted to pick a place that's familiar to the old-timers and also wonderful for the newcomers. There are so many organizations that do an annual gala, so we didn't want to do the same thing every year."
The nonprofit Prado Foundation started when longtime Morgan Hill resident Cecelia Ponzini unexpectedly lost her son Edward to heart failure in 2003. His death at a young age gripped her with a burning desire to honor him for his kind and giving nature.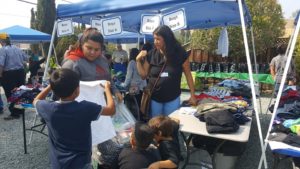 With the help of the South Valley community, the Prado Foundation in the past five years has built up charitable programs that create a huge impact on the lives of thousands of people by providing resources helping children and families in Morgan Hill, San Martin and Gilroy.
At elementary and middle school, Edward would often share his lunch with other children who did not have anything to eat. That inspired Ponzini to create the No Child Left Unfed program to fund Gilroy and Morgan Hill schools to make sure children don't have empty stomachs that will negatively affect their learning.
"For Gilroy, I didn't want to just go into one school because I didn't think it would be fair," Ponzini said. "So I partnered with the YMCA because there are kids from all elementary schools going there for the after-school programs."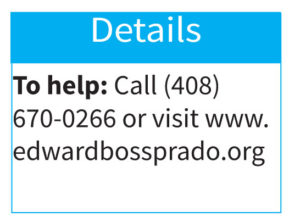 The program is designed to be low-maintenance, she said. When the fund runs to the last $20, the schools call her and she delivers another check. If a student might be short a dollar or two to pay for a school lunch, the cafeteria workers take it from the fund.
In both Gilroy and Morgan Hill, the Prado Foundation the week of Thanksgiving provides hundreds of turkeys for families in need. In December, the foundation holds a Christmas toy drive that makes sure hundreds of local children receive a fun holiday gift.
In mid-August, nearly 100 volunteers assist low-income students from South Valley schools who can't afford new clothes to receive donated back-to-school attire. They want to make sure the young people will feel proud when they step into the classroom and meet their classmates the first day.
Aug. 25 the families of about 350 children participated in the foundation's Fit For Fall program held at Cecelia's Closet, a small home in the Madrone neighborhood of Morgan Hill that serves as the foundation's headquarters.
The kids met volunteer "personal shoppers" who helped them choose good-quality new and used shirts, blouses and pants. The kids also received brand-new socks and underwear. To encourage a healthy diet, every family receives a bag of fresh produce provided by local growers.
"We want to do it with dignity. People need food. They need clothing," Ponzini said. "It's the right thing to do."
This year, the foundation has expanded its assistance programs to include the Voices Charter School in Morgan Hill. The school asks families sponsor a snack-time for students on a once-a-month basis. The Prado Foundation helps support this by providing funds to buy healthy nibbles from Costco.
Earlier this year administrators at Kaiser Permanente Medical Center, a sponsor of the Evening at the Ranch event, met with Ponzini and other Prado Foundation board members to develop a Cecelia's Closet for patients at the South San Jose hospital. They were impressed by the efficient way the nonprofit made sure low-income people received good-quality clothing.
Previously, people would drop off used clothes for a small charity closet in the emergency room area. The housekeepers tried to maintain it, but they didn't have the skill or time to do so properly.
Ponzini saw that most of the clothes were not suitable to help the homeless and obese people who needed new attire after being helped by the doctors and nurses. She told the administrators: "To be honest with you, the items that you have in there, we don't give stuff like this."
Ponzini requested everything in the Kaiser closet be taken away and that the hospital not accept any more clothes. She wanted to make sure a quality control was placed on the donations. The new program was launched June 1. Ponzini went into the Kaiser closet area and scrubbed the shelves and floors to make them spotless. Then she and volunteers stocked it with attire that people would feel proud to wear.
"This program is for the homeless person whose clothes are so dirty that they give them paper clothing. Paper clothing will last you three days," Ponzini said. "This is for that patient who is just down on their luck. Now they can leave the hospital a little more healthy and clean and with dignity."
The Prado Foundation always welcomes people who want to donate their time as volunteers for its various programs. It accepts financial donations and puts on only one fundraiser a year.
Morgan Hill resident Steve Cox and his wife, Stacy, enjoyed this year's Evening at the Ranch because it let them have some old-fashioned cowboy fun with folks from the South Valley.
"We were impressed with what we heard from Cecelia Ponzini on everything the Edward Boss Prado Foundation was doing," he said. "Their foundation not only identifies and serves those in need, but does it fast and effectively and cuts through the red tape."
Based on the popularity of this year's event at Coyote Ranch, the board is planning a "Disco Fever at the Ranch" party next summer, Ponzini said.
As a member of the Prado Foundation board as well as a volunteer at Cecelia's Closet, Gonzalez-Escoto finds it fulfilling to be involved helping out the people of her community.
"When I retired (from government social service work), it was really important for me to, as they say, give where you live," she said. "I made it a commitment that I was going to do all I could to serve Morgan Hill."
For Ponzini, working with volunteers to help families in the area has helped fill a void in her life and drives her to spend many hours a week in the mission of the foundation named after her son.
"When you lose a child, you've lost everything. You have other children, but this pain does not go away," she said. "I have learned to live with it. If I'm not doing something, I'd get depressed. I need to stay busy. This is who I am and this is why I do it. Does it make me feel good? Absolutely."
With the struggling families who receive assistance with food, clothing and other necessities, the Prado Foundation also helps many residents in South Valley find an outlet to do good for other people. Ponzini finds there are many people with a desire to volunteer and give through the foundation.
"People want to help. They often don't know how to help. This is a beautiful way to help your neighbors," she said. "When I do it, I can almost hear my son cheering, 'Good, mom!'"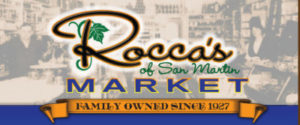 Latest posts by Marty Cheek (see all)