Published in the September 19 – October 2, 2018 issue of Gilroy Life
Imagine it's 50 years ago and you're standing in the heart of downtown Gilroy on a sunny Saturday afternoon. You see friends, family, and neighbors lining the streets dressed in their finest wild west attire. The faint smell of popcorn is in the air.
Curious, you push past the crowd, look down the street and are astonished when you see a "jail" moving toward you down the street. A hand reaches out and plucks you from the crowd. The next thing you know, you are hand-cuffed, placed in the "jail cell," and whisked away by the parade, waiting with anticipation for some friend to bail you out.
You might be now asking yourself: what does 1968 and the Wild West have to do with me? Bonanza Days started in 1968 as a four-day event to celebrate and recognize the cowboy heritage of the Gilroy community. This event created a multicultural mingling of friends, families, and neighbors coming together to celebrate the city's diversity and the true heart of Gilroy.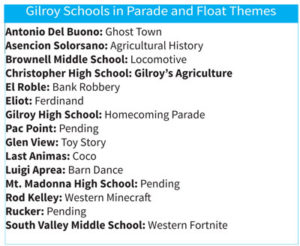 Now it's 2018 and this year's Leadership Gilroy class project is to revive this iconic event. Bonanza Day will be held Saturday, Sept. 29. Starting at noon, it will feature a one-day, one-time-only community parade down Miller Avenue, concluding at Miller Park. The parade will show off local businesses, nonprofit organizations, marching bands, and a float contest with all 14 schools within Gilroy Unified School District. Following the parade, there will be games, food, and other family-fun festivities at Miller Park until 6 p.m.
As a member of this year's Leadership Gilroy class, I can honestly say that neither picking this project — nor executing it — has been an easy task. Fortunately over the course of the past 10 months, Leadership Gilroy has given us the tools to lead and encourage each other and ultimately to push our team to be successful in this project.
Leadership Gilroy is a nonprofit organization focused on building leaders for the benefit of our community. It has provided us with leadership and team building skills, as well as a deeper understanding of the community.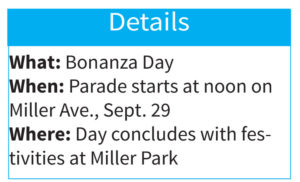 The 17 students in this year's class have worked countless hours to put together an event that would benefit the local community and bring everyone together. With Bonanza Day we would love to encourage established, longtime and new Gilroy, San Martin, and Morgan Hill residents alike to come out, meet their neighbors, play some games, watch the show, and celebrate being a part of the amazing South Valley community we live in.
Depending on the success of this year's event we would love to see another group or organization continue the celebration of this amazing community and all the residents who make it home. We strongly encourage anyone who would like to volunteer to be a part of this event to reach out and visit our Facebook page (Leadership Gilroy Bonanza Day 2018) or to visit our website (www.gilroybonanzadays.com) to find out how you can get involved. We all hope to see you at Gilroy Bonanza Day 2018.
Margaret Goldsmith is a member of the Leadership Gilroy Class of 2018. She wrote this column for Gilroy Life.

This guest column represents the views of the writer and not necessarily that of Gilroy Life. If you're interested in writing a guest column for this newspaper, please email the editor at editor@gilroylife.com.

Latest posts by Guest Column (see all)