Project scheduled to be complete by June 2019
Published in the September 19 – October 2, 2018 issue of Gilroy Life
Gilroy drivers, get ready for "Construction Ahead" signs. First Street is getting a year-long upgrade.
In late August crews completed work on the sewer line rehabilitation project along Gilroy's main traffic artery connecting the downtown with the city's west side as part of the First Street Infrastructure Improvement Project. Stretching from Wayland Lane to Monterey Street, the sewer line rehabilitation is the first step in a three-phase plan for First Street's infrastructure.
"First Street is critical for the economic vitality of businesses as well as an important component for east/west traffic circulation in Gilroy," said Gilroy Mayor Roland Velasco. "We will do all we can to minimize impacts to our businesses and residents."
The First Street sewer line rehab cost about $250,000. The construction contract for the First street water line project is about $5.5 million. Both the sewer line and the water line project will be paid out of the city utility enterprise funds.
"As far as timing, the sewer line rehab has been substantially completed," Velasco said. "The water line work has started preliminary layout and underground utility testing."
First Street construction activities will begin in the week starting Sept. 17, and the entire project is expected to be completed in summer 2019. The Caltrans First Street/Highway 152 resurfacing project is in semi-final design stages and is expected to begin construction in summer 2019. Caltrans has allocated about $15 million for the rebuild of First Street, Velasco said.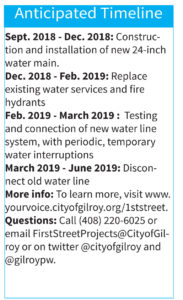 Now that the sewer line activity is done, work will be redirected to water line rehabilitation, and finally to Caltrans paving improvements.
About 25 people, including Velasco and various city officials and staff connected to the First Street Infrastructure Improvement Project, attended an open house meeting Aug. 28 at Brownell Middle School to answer public questions about the First Street upgrade. Project Manager Julie Behzad reviewed the project's location, provided a summary of its scope, and outlined the project's benefits. They include extending the life of the sewer system, increasing water utility capacity, improving fire service laterals and fire hydrants, and extending the life of the roadway.
Public Works Director Girum Awoke said this project includes the installation of a larger capacity, more reliable water pipe, valves, fire service laterals, and fire hydrants. The current line is 16 inches in diameter, and over the decades has begun to rust. The rehabilitation includes the construction and installation of a new 24-inch water main.
During construction, Gilroy residents and visitors can expect some lane restrictions, as well as temporary, periodic water service interruptions, Behzad said.
"Our goal is to minimize the impact of construction as much as we can," she said.
Water service interruptions won't occur until at least February or March, she said. Affected residents and business owners will receive 72-hour notices for interruption in service. Driveway access may be temporarily impacted for those who only have one driveway. Notices will be sent to property owners in advance of these impacts.
Despite the road running through the city, First Street is not a city-owned road as it falls under the jurisdiction of the state through Caltrans as part of State Highway 152. That's why work will take place weekdays between 9 a.m. and 3 p.m., as overseen by Caltrans. The only exception would be if there were an emergency requiring work be done during different hours.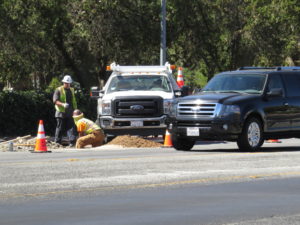 "At no time will you be unable to travel on First Street," Behzad said.
Due to the dynamic nature of construction, all dates and times are subject to change due to unforeseen operational factors or inclement weather, she said. But the goal is to maintain access to merchants along First Street and maintain access for pedestrians, as well. Citizens can check for construction updates on social media or through real-time traffic apps.
After the sewer line and water line work have been completed, final repaving work by Caltrans can begin. The timeline for this work will be set by Caltrans. Additional information will be provided as it becomes available.
The team responsible for the completion of these projects told members of the public at the meeting the city made it a major goal to keep the flow of traffic running smoothly. They've already had multiple meetings to determine the best way to minimize impact while this work is completed. Behzad assured the audience her team would be quick to respond to any issues.
"If anything needs our attention, please let us know," she said. "We'll address it right away."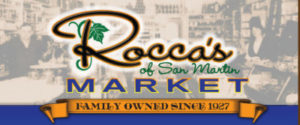 Donna Lane is a storyteller and San Jose native who earned her journalism degree at San Francisco State University. She lives in Gilroy with her family, who inspire her to celebrate life each day.

Latest posts by Donna Lane (see all)