"Aladdin Jr." opens Sept. 21 at the Morgan Hill Community Playhouse
Published in the September 19 – October 2, 2018 issue of Gilroy Life
Wishes come true for a street urchin smitten by a spirited princess, and the pair step into a whole new world of comedy and romance in South Valley Civic Theatre's musical "Aladdin Jr." With a cast of 48 actors, performances at the Morgan Hill Community Playhouse start Sept. 21.
The children's show opens the theater group's 50th season. It stars Oliver Kaelin as the mischievous Aladdin who with the help of Genie, played by Angelina Villafranca, befriends Princess Jasmine, played by Jillian Puente.
The story is based on the 1991 Disney film and is set in the Arabian city of Agrabah. The villainous Jafar, played by PJ Crocker, is the Grand vizier of the Sultan, played by Landon Sepulveda. With his parrot Iago, played by Max Brown, Jafar seeks the magical lamp hidden within the Cave of Wonders but learns that only a "diamond in the rough" may be allowed entrance. He realizes Aladdin fits that description. Princess Jasmine, who refuses to marry a suitor, disguises herself as a commoner and escapes the palace into the streets, where she meets Aladdin.
A sixth-grader at Valley Christian School in San Jose, Kaelin describes the character he plays as a trickster with a heart of gold.
"He's a liar. He's not really a con man, he's just really good at lying," he said at a rehearsal. "But he's not into big lies, he just lies when he steals food and needs to cover for himself."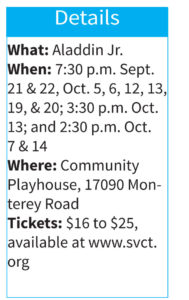 Eventually, as the adventure based on an Arabian Nights story proceeds, Aladdin starts to act like a prince and he and Jasmine fall in love with a little help from Genie.
"Even though he's just a guy from the streets, he's someone who she likes," Kaelin said.
A seventh-grader at Brownell Middle School in Gilroy, Puente enjoys the magic of staged musicals and has performed in several SVCT productions including "Mary Poppins," "The Little Mermaid," "Willy Wonka," "Annie," and "Mulan."
She and Kaelin have been doing SVCT shows together for three years. For both of them, the best part of doing shows is getting to make new friends. Both of them said they haven't watched the animated film version of the show because they wanted to develop their characters without the influence of the movie.
The show has special effects to bring the audience into the magical world of Arabia. When Genie appears, the jinn is accompanied by a lot of strobe lights to create a mystical aura. For the famous magic carpet ride scene, Kaelin and Puente step on a rug fashioned to an electric skateboard guided around the stage with a remote control.
"I control it and I sing and I have to try and not make (Jasmine) fall and get run over by somebody," Kaelin said of the magic carpet.
It's a good show for families to take their children to, Kaelin said, although he warns the story has a dark side.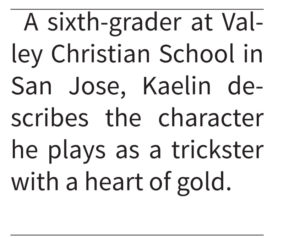 "There are some evil parts, and that's what makes it kind of creepy," he said.
Jillian got the acting bug when she saw the SVCT teen "Shrek Jr." several years ago.
"She saw it with my mom and she loved it so much," her mother, Jennifer, said. "And she came home and said, 'Mom, I want to do shows there. I don't' want to go anywhere else.'"
Jillian tried out for "Mulan Jr." and got a part. Jennifer was a volunteer on the building the set. When SVCT did "Mary Poppins," Jillian convinced her mother to try out for a role. Jennifer played the "bird woman" and had a scene with Kaelin, who played the role of Michael Banks, the mischievous boy. The musical theater is becoming a family affair. Jennifer's son Jarrett is performing in "Aladdin Jr." as his first time in a SVCT production.
"It was a really fun experience to be on stage with Jillian," she said.

Latest posts by Marty Cheek (see all)