Published in the October 3 – 16, 2018 issue of Gilroy Life
As a journalist, I'm occasionally asked how to tell the difference between true news and the fake news distributed by social media and bogus websites. Sometimes the fabricated reports are obvious. But many times it's hard to determine even for a professional. That's why I'm glad the Gilroy Public Library invited former journalist, professor, and media researcher Dr. John McManus to bring his candid perspective and practical method to separating real from fake or misleading news.
McManus will speak at the library at 10:30 a.m. Saturday, Oct. 13. The author of "Don't be Fooled: A Citizen's Guide to News and Information in the Digital Age" will provide "basic tools and habits of mind" for evaluating the reliability and trustworthiness of the information we receive from the news media and other sources online.
"Here in Silicon Valley we have access to an abundance of information," said Nancy Howe, Santa Clara County Librarian. "Sometimes it's hard for even the most technologically sophisticated person to discern which sources to believe. Dr. McManus sheds light on some of the best practices for ensuring that the news we consume is properly sourced and accurate."
This event is co-sponsored by the Gilroy chapter of The American Association of University Women and is part of the Santa Clara County Library District's efforts to support Information Literacy Awareness Month.
If you're like me and concerned by the state of today's news and how to tell the difference between the truth and lies, this is a talk you don't want to miss.
Congratulations are in order for recipients of the Gavilan College 2018 Community Spirit Awards.
"The awards give us a chance annually to celebrate the great things happening in our communities, and to shine a spotlight on the diverse ways the college interacts with every member of the community — individuals, businesses, and organizations —  in order to create a vibrant and wonderful place to live and work," said Gavilan President/Superintendent Kathleen Rose
In Gilroy, the Gavilan Spirit Awards go to Kneaded chef Carlos Pineda, the Gilroy Elks Lodge and Old City Hall Restaurant. For Morgan Hill and San Martin, Gilroy Life publisher Marty Cheek joins the South Valley Islamic Community and the Morgan Hill Art School; and in San Benito County artists Rolan Resendiz and Joel Esqueda join LULAC and Teknova.
The honorees in the Gilroy category will be presented with their spirit award at the Gilroy Chamber of Commerce breakfast, 6:45 a.m. Nov. 14 at the Hilton Garden Inn.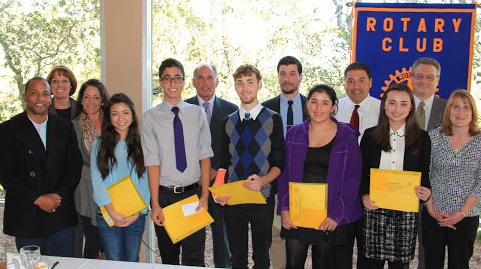 Last year the Gilroy Rotary Club's Community Grants Program distributed more than $50,000 to support local agencies and programs. Since Gilroy Rotary began its program in 1991, Gilroy Rotarians have distributed close to $900,000 to address community needs.
Gilroy Rotarian Pat Dwyer sent me an email last week asking to let readers know that the club will formally kick off its 2018-2019 Community Grants Program. "Through fundraising and individual contributions, the members of Gilroy Rotary provide critical financial support to a wide range of local community needs, with a special focus on education, youth, seniors and local impact," Dwyer said.
Program guidelines and applications for funding will be available after Oct. 8 on the Gilroy Rotary website at www.gilroyrotary.org or by contacting the club at: Gilroy Rotary Charitable Giving, PO Box 1912, Gilroy, CA 95021. Completed applications (and Compliance Forms if applicable) must be received by Monday, Nov. 12.
For the first time, Theatre Bay Area, America's third largest regional theater service organization, has nominated a South Valley theater group.
Limelight Actors Theater was nominated in three categories: Outstanding Direction of a Musical (Diane Milo), Outstanding Performance in a Principal Role in a Musical (Alicia Teeter) and Outstanding Production of a Musical.
The TBA Awards are designed to honor excellence in professionally-oriented theatre produced throughout the San Francisco Bay Area.
Award finalists and recipients are determined through a peer-based, Bay Area-wide adjudication process. The fifth annual TBA Awards Celebration is Nov. 5 and open to the public. Tickets are available at www.cityboxoffice.com, or call (415) 392-4400.
Congratulations to Executive Director Kevin Heath and the actors, directors, production staff and others who put on so many wonderful shows. And I'm truly looking forward to seeing the heartwarming holiday comedy "Mom's Gift" in November.
Robert Airoldi is the editor of Gilroy Life newspaper. If you have a story idea or an Around Town column item you want to tell him about, you can reach him at (408) 427-5865 or at editor@gilroylife.com.
Latest posts by Robert Airoldi (see all)